News
Wounded veterans, in their own words, on their healing trip to Ireland
Photos by Alison McLaughlin
Last month, 22 combat-injured veterans—many awarded Purple Hearts for their service in battle—took part in one of two seven-day trips to the outermost reaches of Northwestern and Western Ireland, playing some of the world's most breathtaking links courses and taking part in group therapy sessions and numerous mindful activities. The trips, designed to help these veterans recover from their visible and invisible injuries, were conducted by Fairways for Freedom™, a public charity that creates such retreats for veterans and "ambassadors" who sponsor them (www.fairwaysforfreedom.us).
On the first trip, a group of 11 veterans and four ambassadors visited six magnificent courses along the west coast of Ireland, from County Sligo (Rosses' Point) to Enniscrone to Carne (pictured below). The group stayed the entire week at Mount Falcon Estate, where they also took part in a special type of yoga designed for veterans, local fishing, archery, golf instruction and peaceful walks through the Irish countryside.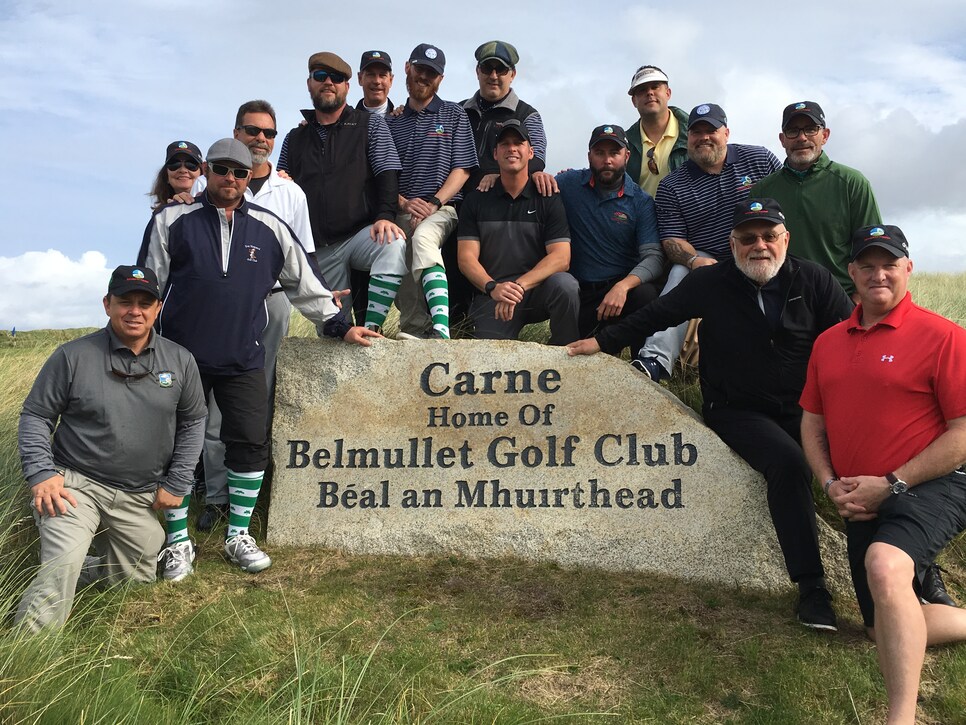 The following week, a second group of 11 combat-injured veterans toured Northwest Ireland, accompanied by six sponsoring ambassadors. They stayed at the Red Castle Hotel and the Rosapenna Hotel & Golf Resort and played such golfing gems as both courses at Ballyliffin (pictured below), including the club's Glashedy Links (site of the Irish Open last July), Portsalon and both courses at Rosapenna (Sandy Hills and Old Tom Morris). The veterans and ambassadors played golf together almost every day and socialized on and off the course, building a sense of camaraderie and lifelong friendships.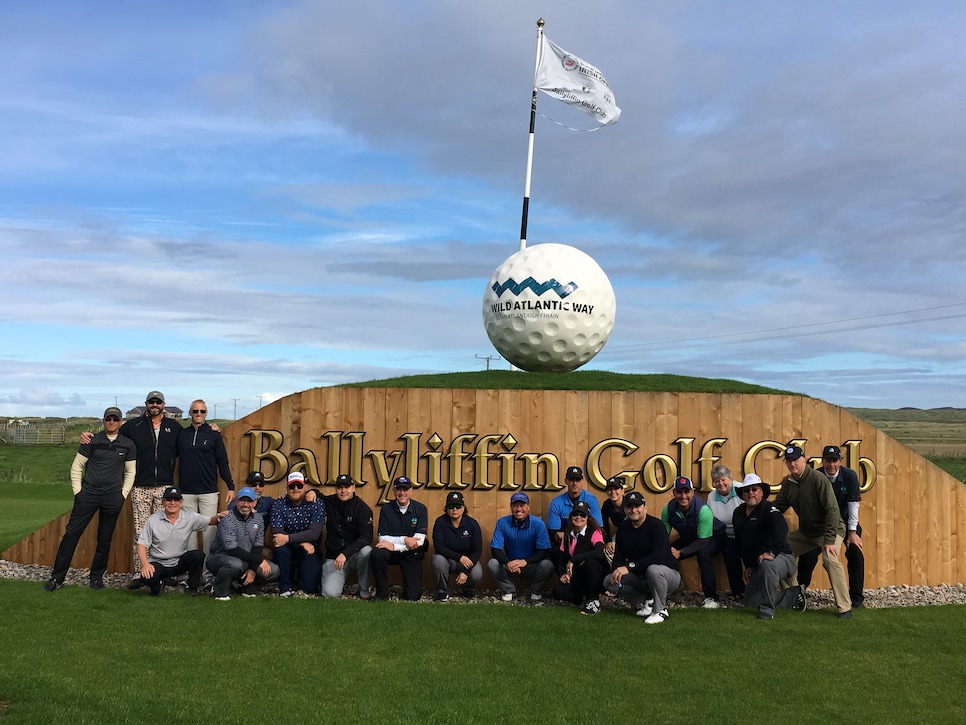 Fairways for Freedom™ was founded four years ago by the writer of this article and his wife, Patricia Donnelly, PhD, a sport psychotherapist who conducts sport mental sessions as well as Veterans Yoga Project therapies and other mindfulness training with the veterans. Guest psychologist David Joseph, PhD, assisted on the second trip. Corporate sponsors included Titleist, Smathers & Branson, Greg Norman Apparel, Ship Sticks, and ProTag America. Both trips were coordinated through the North & West Coast Links Golf Ireland tour company.
The veterans on the first trip included:
• James P. (Jimmy) Connors, U.S. Air Force (Ret)
• Michael Daley, U.S. Army (Ret)
• Bobby Farmer, U.S. Army Special Forces (Ret)
• Darren Markwick, U.S. Army Special Forces
• Jason Miller, U.S. Air Force (Ret)
• John Sanabia, U.S. Navy SEAL Chief Warrant Officer Five (Ret)
• Clinton Schofield, U.S. Army
• Grant Sutherland, III, U.S. Army Special Forces
• John Vitale, U.S. Air Force (Ret)
• Charles Weber, U.S. Army Ranger (Ret)
• Gilbert Zavala, U.S. Army (Ret)
The veterans on the second trip included:
• Manuel (Manny) Arriola, U.S. Army Medic (Ret)
• Ramey Brown, U.S. Army Airborne (Ret)
• Gabriel (Buddy) Gengler, U.S. Army (Ret)
• William Hayes, U.S. Navy (Ret)
• Lisa Kukula, U.S. Navy (Ret)
• Tracy Linch, U.S. Marine Corps Special Operations Command (Ret)
• Paul Mills, U.S. Army Special Operations (Ret)
• Aaron Ojard, U.S. Navy (Ret)
• Carlos Ozuna, U.S. Army (Ret)
• Kristen Vescera, U.S. Army (Ret)
• Timothy Young, U.S. Air Force, Pararescue Jumper (Ret)
The trips to the Emerald Isle encompassed much more than simply invigorating golf on incredible courses. So who better to describe the wide array of experiences than some of the veterans themselves. The following vignettes show the impact these trips had on their lives.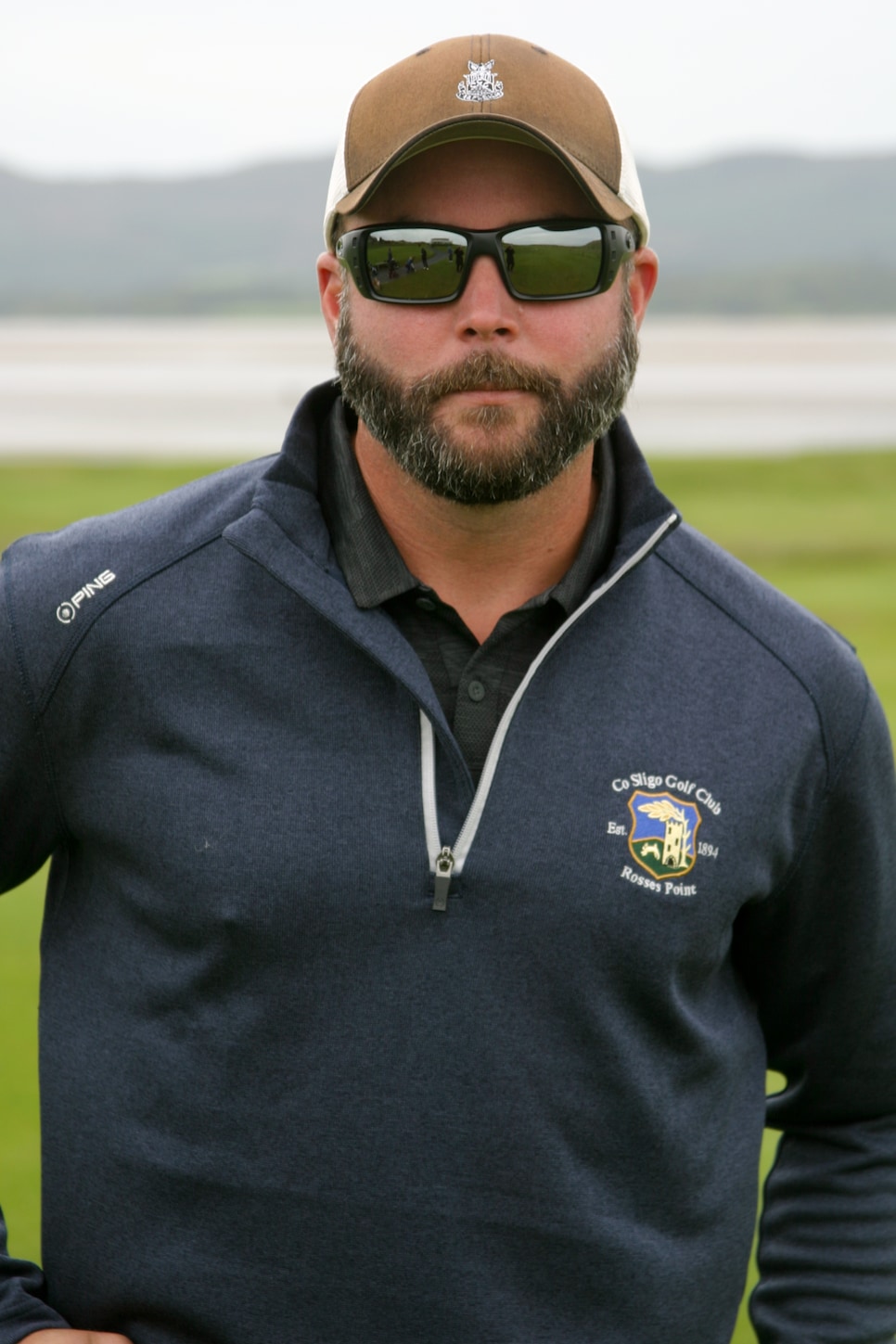 "The ambassadors and fellow participants made this an unforgettable experience. We played immaculate golf courses from sunny and warm weather to sub-tropical storms, and I would do it again tomorrow. Everything from the golf, accommodations, food, and fellowship was absolutely first class."
—Grant Sutherland, U.S. Army Special Forces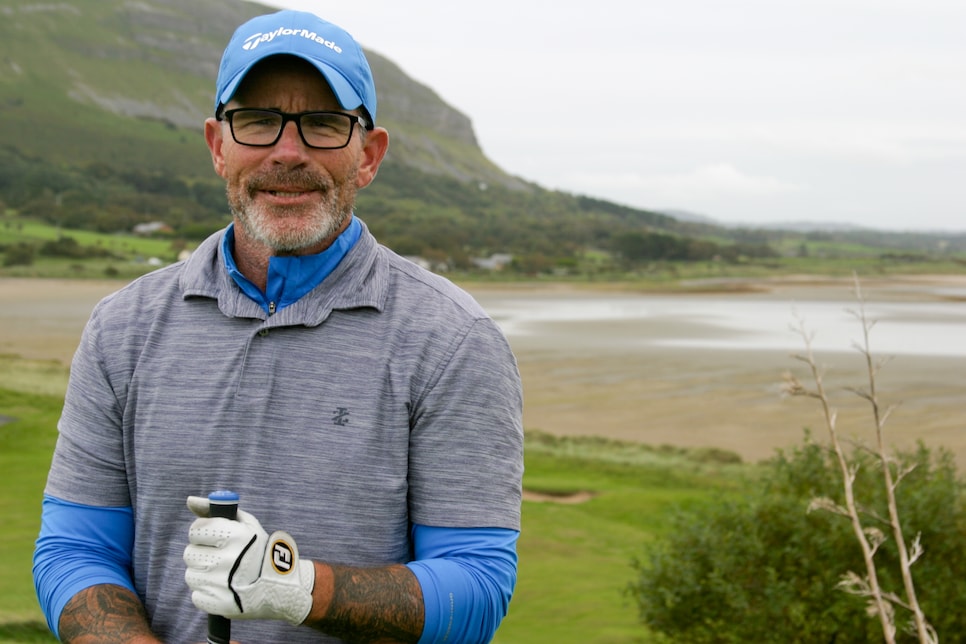 "Spending a week with fellow veterans in a stress-free environment was a true blessing at the perfect time for me. Meeting new friends, learning yoga and playing golf on some of Ireland's great courses is an experience I will never forget."
—Darren Markwick, U.S. Army Special Forces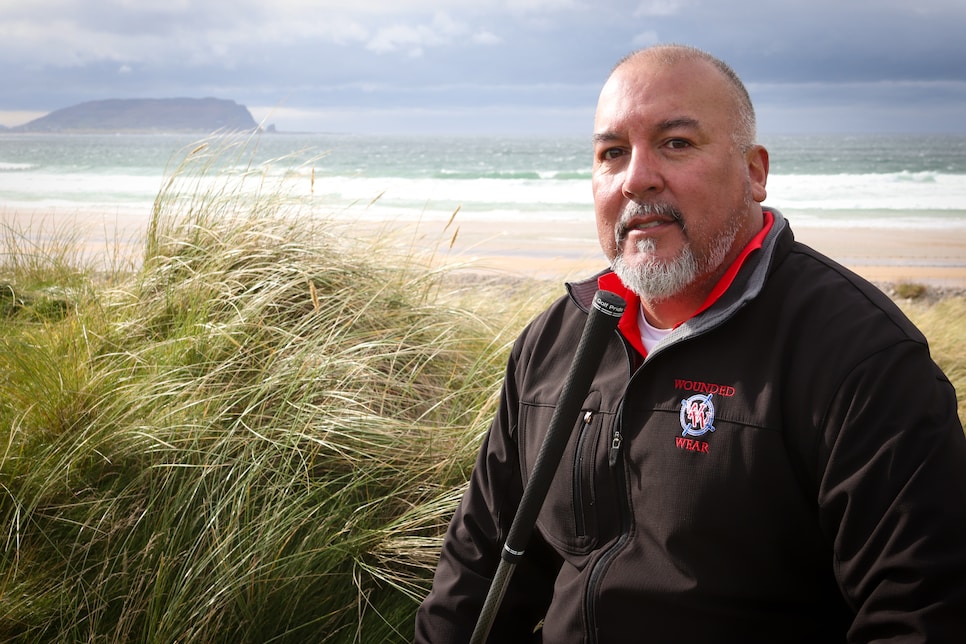 "As a combat medic, all came to me when they were sick or injured, but I didn't have any one to come to when I was in a bad place or feeling out of sorts. So I look for programs like Fairways for Freedom, where I don't have to be Doc and I can seek the assistance I need to decompress or share how I feel." —Manuel (Manny) Arriola, U.S. Army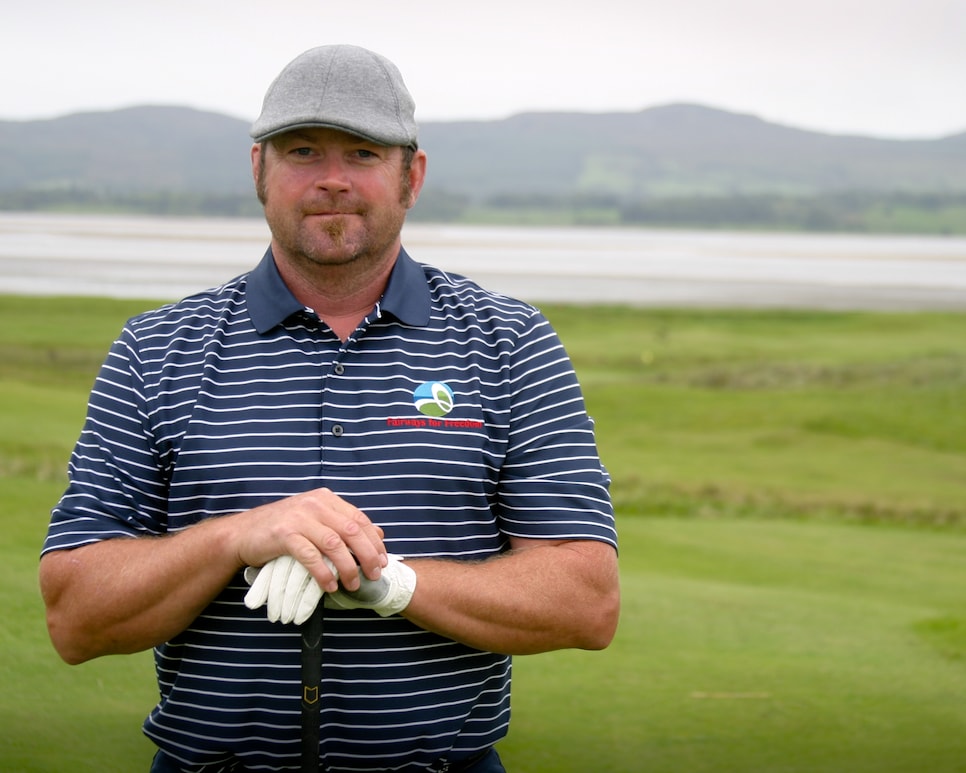 "The yoga, group sessions and of course golf form long-lasting bonds and memories for everyone. I've played twice since I've been back. The new grip and swing I was instructed to use has been a game-changer." —Charlie Weber, U.S. Army Ranger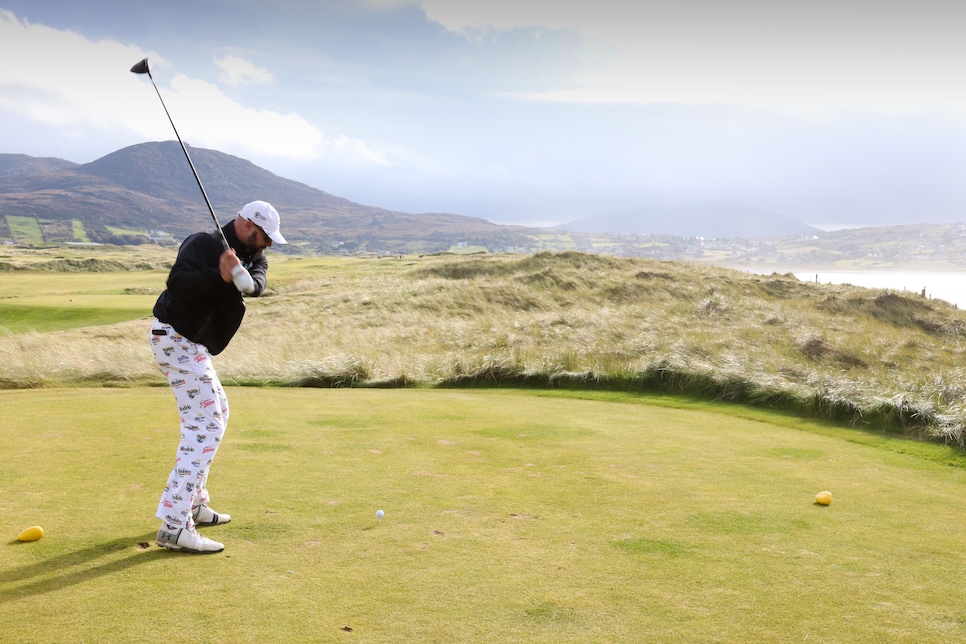 "Meeting new friends, playing a game that saved my life on courses designed the way it was supposed to be played has unfortunately ruined golf for me in America. Dealing with pain throughout my body every day is a real struggle. Getting up in the morning barely able to walk to the yoga room, I forced myself to push through the pain in my hip, back and neck. Drill Sergeant Patricia [Donnelly] ordering my body into positions it hadn't seen in years got the blood flowing, muscles warmed up, stretched and allowed me to enjoy golf every day." —Aaron Ojard, U.S. Navy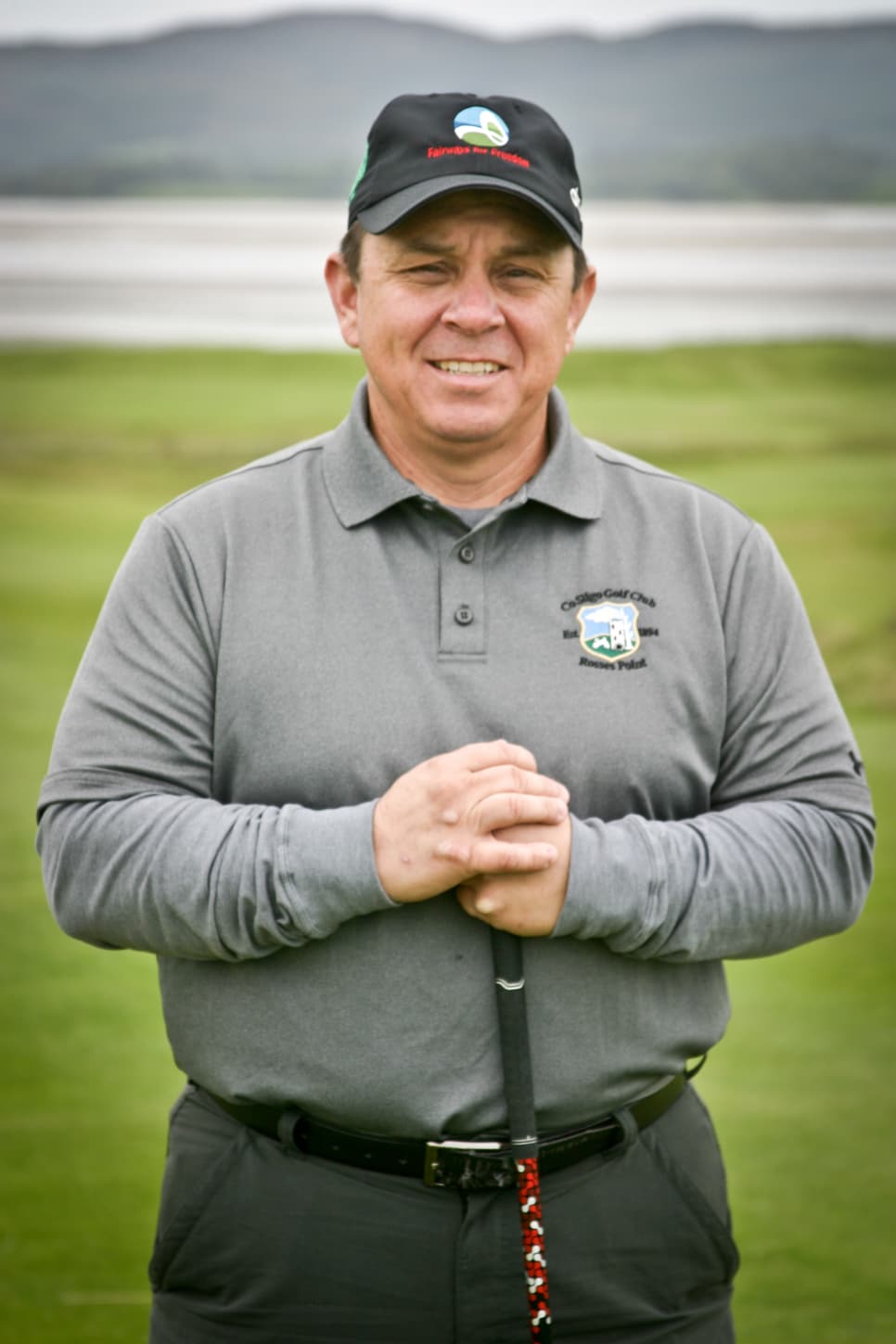 "The trip to Ireland allowed me, as a wounded veteran, to spend time with other veterans both golfing and traveling. While talking with them I learned that many are going through the same ordeals as I am."
—Gilbert Zavala, U.S. Army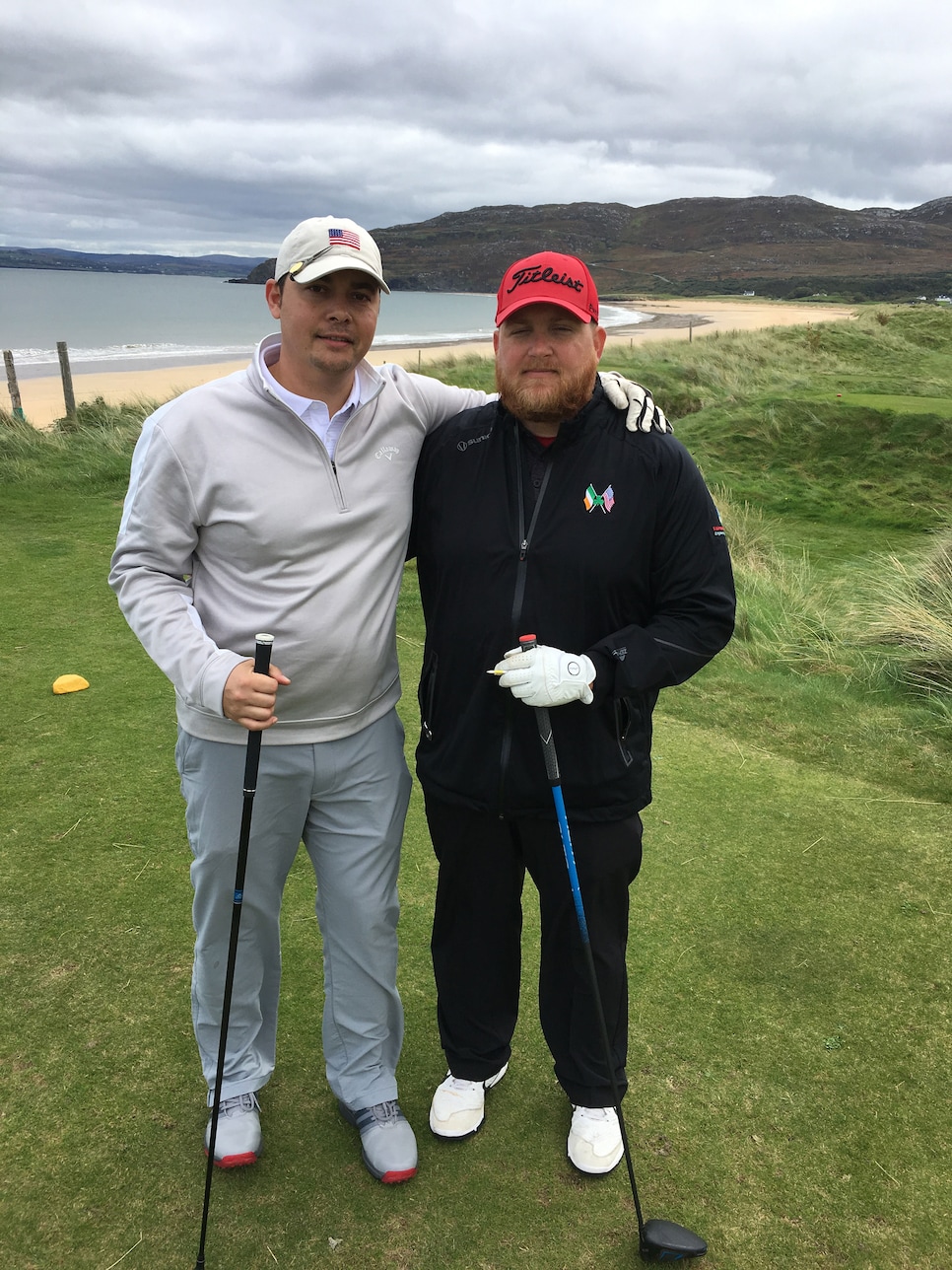 "I got the chance to spend some time with one of my best friends from the Army and also met a group of wonderful people. Whether civilian or former military, we have exchanged contact info, made arrangements to play golf, and more importantly agreed to stay in touch and reach out should any of us need support or just someone to talk to. The wake-up yoga, the group therapy sessions, the local Irish tours and of course the wonderful golf courses made this experience one of the best things I've ever been a part of." —Carlos Ozuna, U.S. Army (left), with Ramey Brown, U.S. Army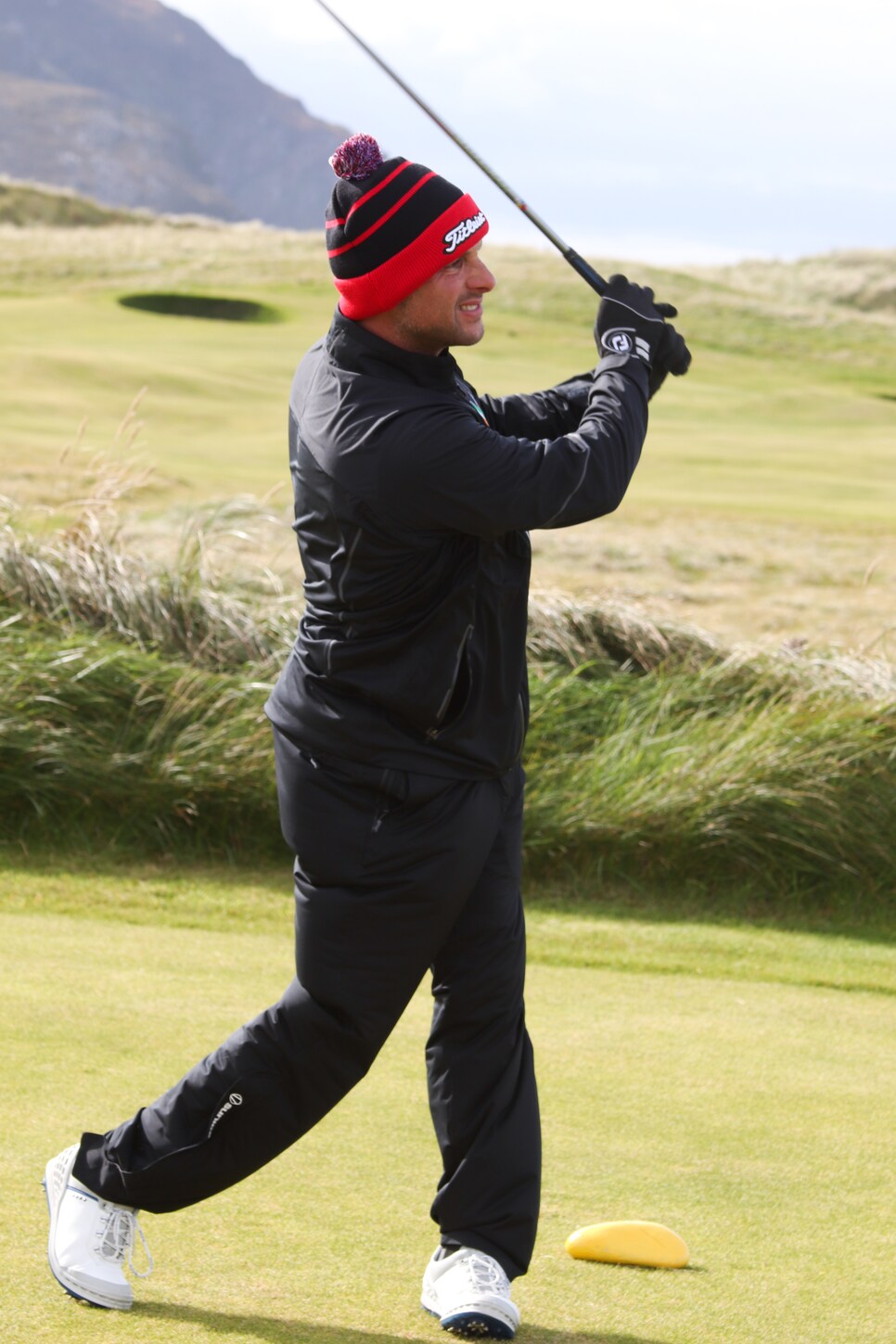 "The vistas of Ireland intertwined with the smiles and laughs of fellow veterans, ambassadors and the Irish caddies, was life-changing. The purity of thought in hitting a golf ball leaves little time or energy to think about emotional pain or physical injury pain. Watching a golf ball following its intended flight from the center of the clubface manufactures a confidence that invigorates other corners of my life, showing me that I can meet challenges and overcome them. When that moment passes, and your brothers and sisters in arms tap your shoulder in approval, an emotion appears. As I type this I can't keep the tears from falling down my cheek."
—Gabriel (Buddy) Gengler, U.S. Army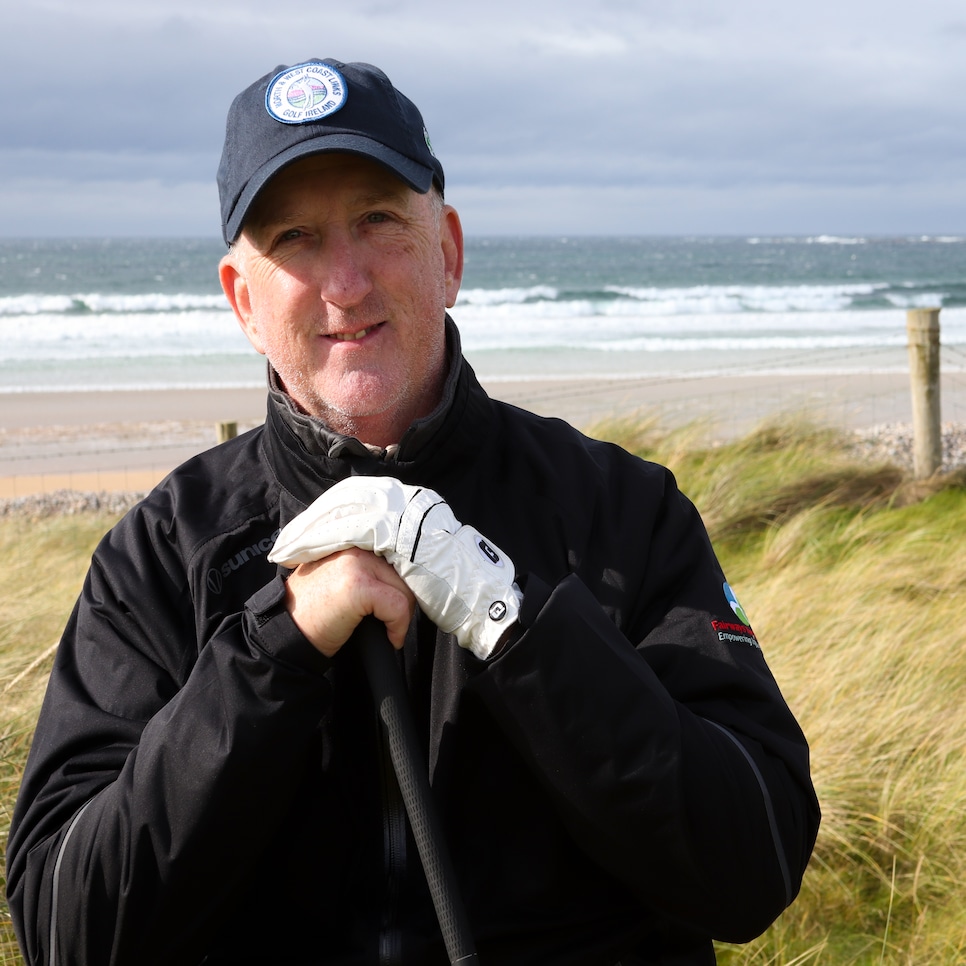 "The beauty of the country was overwhelming. What I am most thankful for was the opportunity to meet the wonderful staff and ambassadors—don't forget the caddies—and the HONOR to be with fellow veterans who will forever be my friends."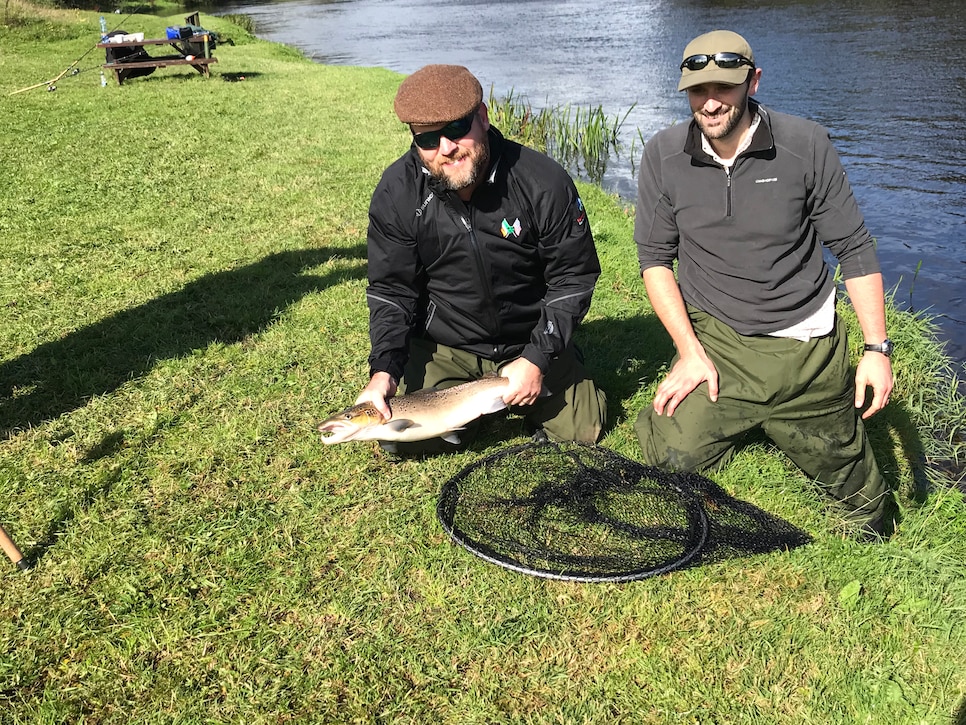 "Not only did we get to play golf on some of the most beautiful links courses in the world with other veterans, it was so amazing to get to fish for salmon and trout in a peaceful setting. This allowed us to form bonds with other veterans off the golf course."
—Bobby Farmer, U.S. Army Special Forces (left), with fishing guide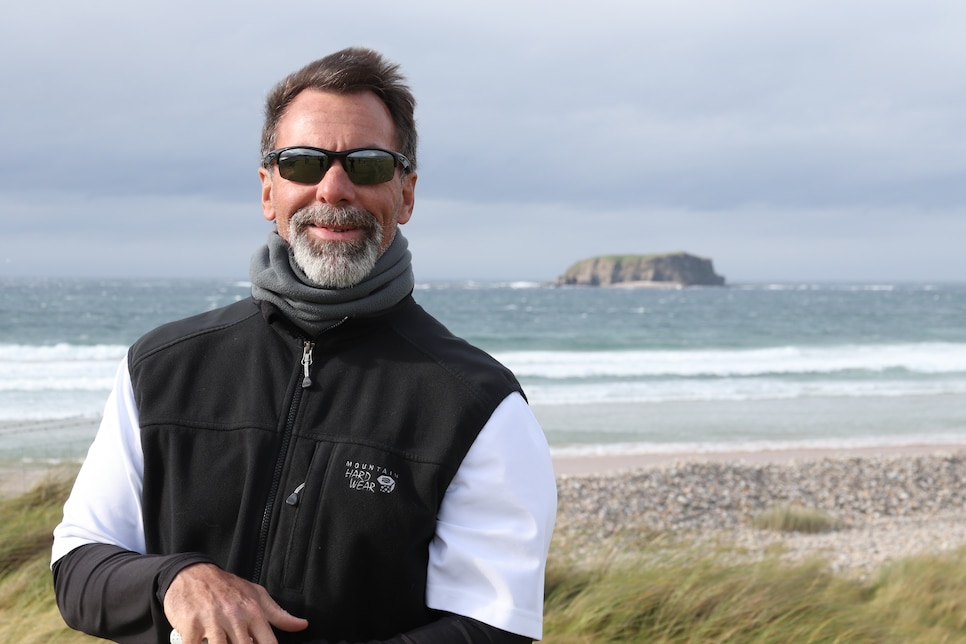 "Breathing is crucial in our daily yoga sessions. By concentrating on our breathing, it can reduce our stress/anxiety as well as keep us in the present or bring you back/out of a past trauma event. These are similar to fundamentals taught to me in my military training. I was humbled the first time I participated in FFF's yoga session, which is designed specifically for combat veterans with PTSD/TBIs.
—John Sanabia, U.S. Navy SEAL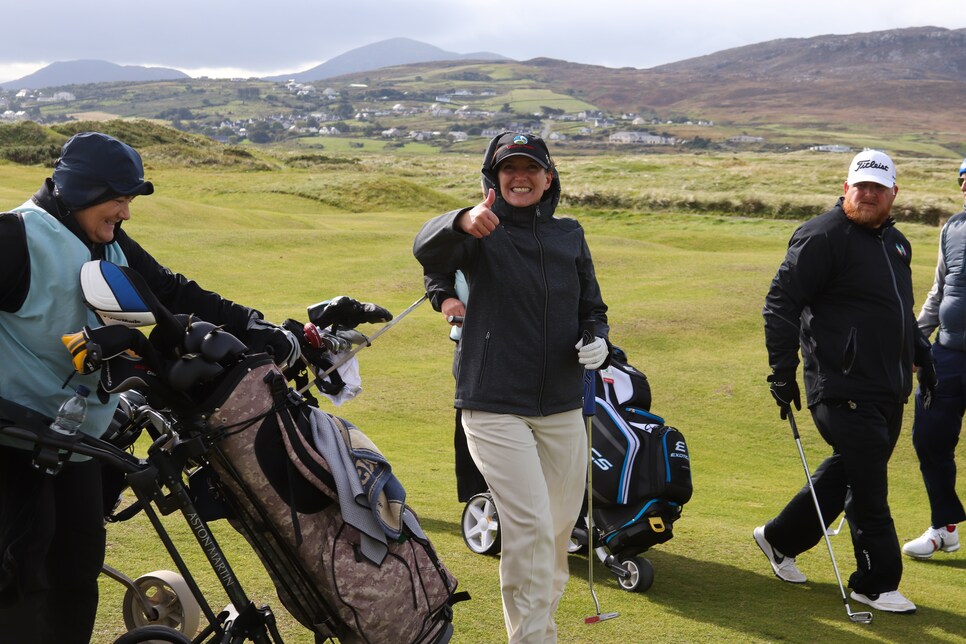 "The good-natured, fun and competitive environment that was created for us allowed me to have a new appreciation for the game of golf while making lifelong friends. The beautiful Irish countryside provided a breathtaking backdrop for the unforgettable memories made." —Kristen Viscera, U.S. Army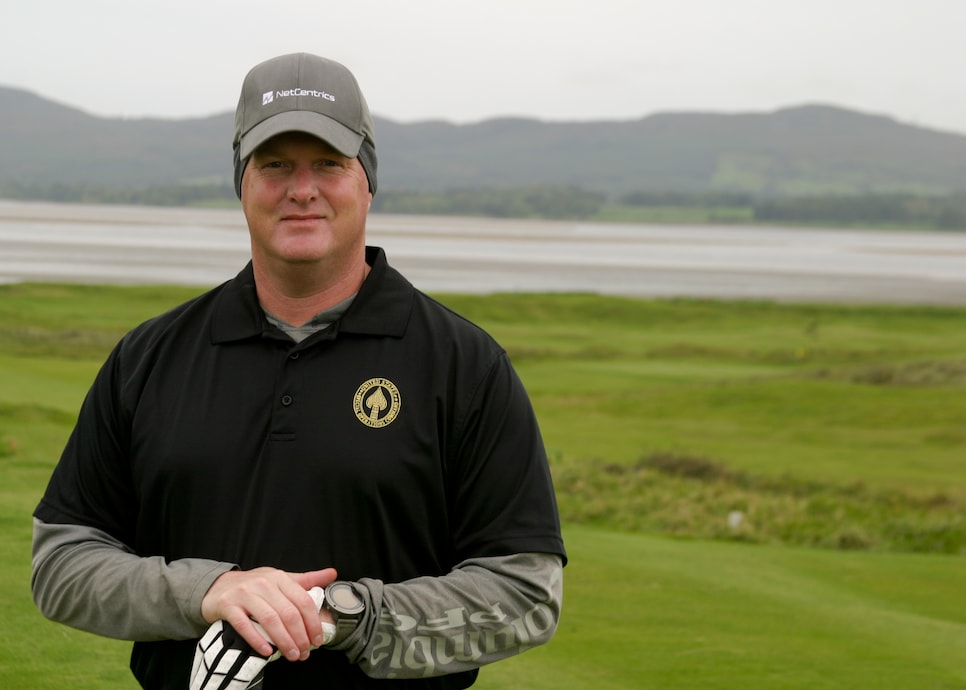 "I loved the absolutely amazing Irish traditions—like the music session the final evening—as well as the hospitality, and landscape. For me, this was the most therapeutic opportunity to become self-aware, reground, and build a path toward psychological recovery." —Clint Schofield, U.S. Army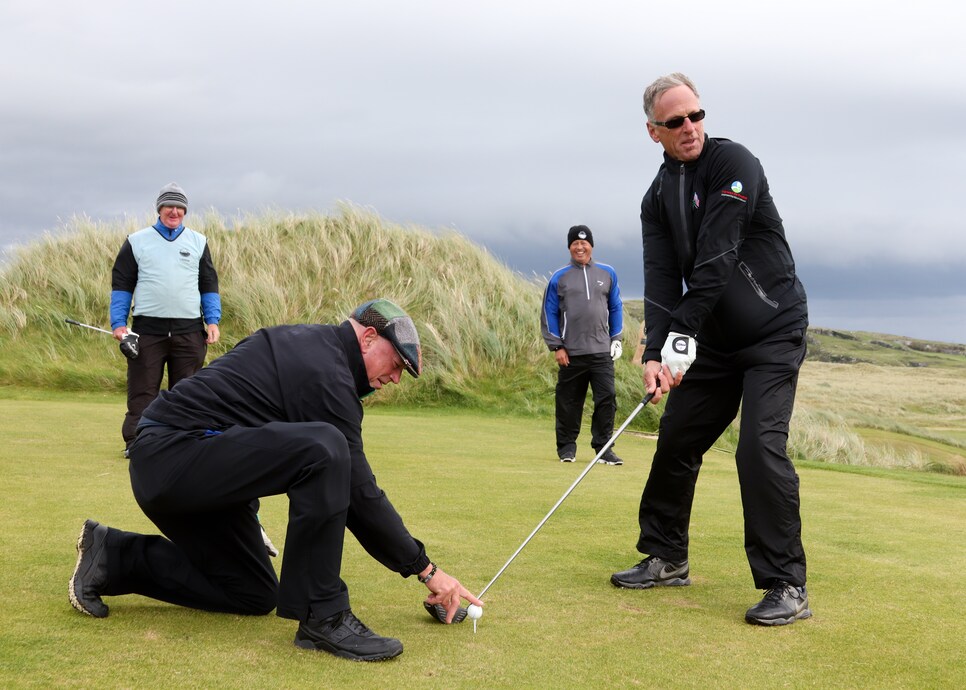 "The most memorable experience of the trip for me was to learn that I am not the only one suffering from military experiences that shaped my life and made me who I am. I was surrounded by 10 other combat veterans who each night go to bed with some of the same painful issues I've tried to resolve since my retirement of service to this great country."
—Timothy Young, U.S. Air Force Pararescue Jumper (at address)
"This experience provided me with the complete, holistic healing that I have been seeking. In those surreal moments, with the majestic views of Ireland's finest golf courses that I would later face, I realized I was living without the fear of dying from Post Traumatic Stress." —Jason Miller, U.S. Air Force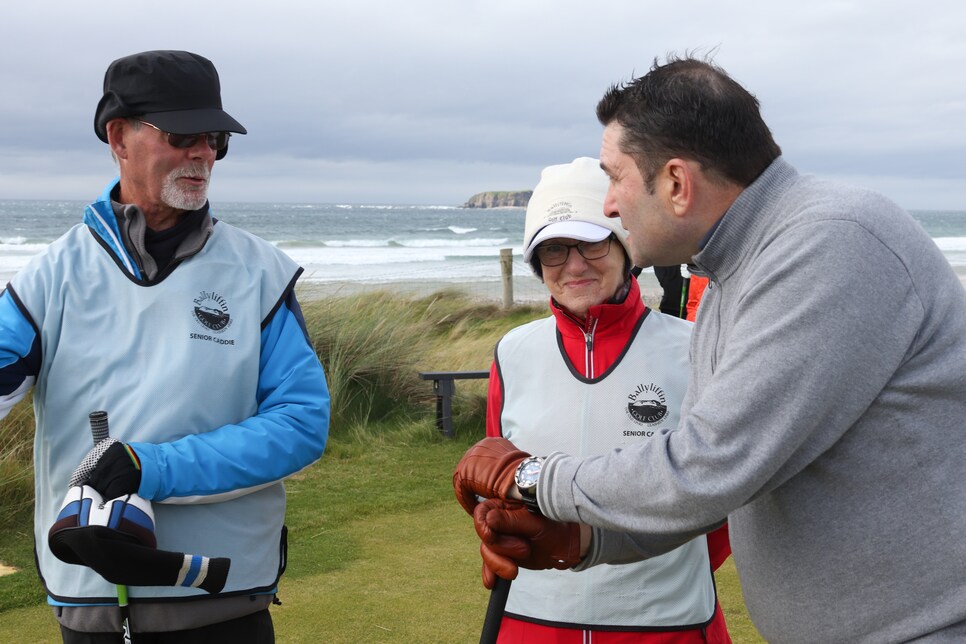 "Although many injured veterans have limitations in their body movements, playing golf encourages us to get outside and appreciate beauty, it helps with our concentration issues, and it allows us to choose whether to engage with others. It is the best environment for healing."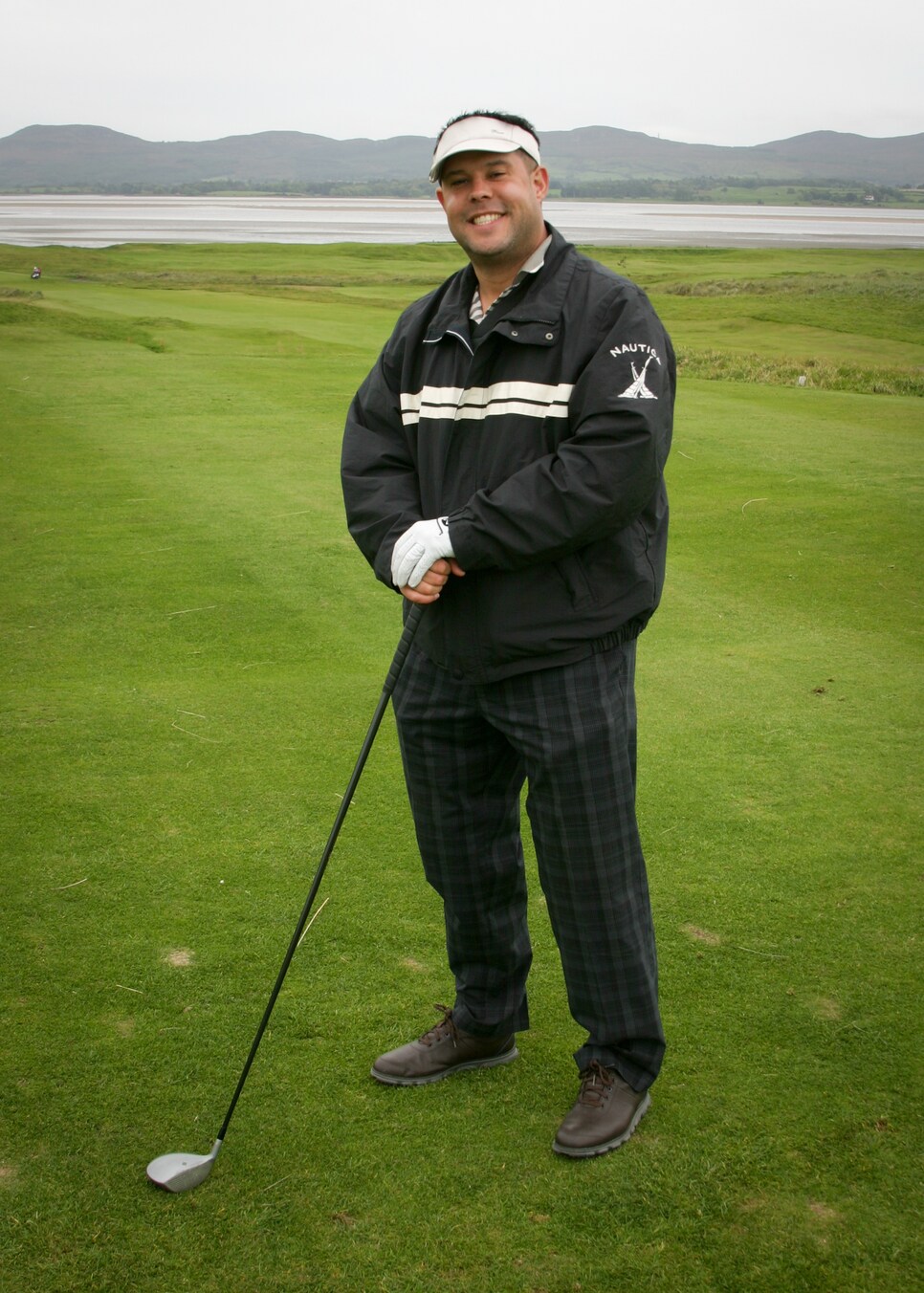 "All of us have different issues from combat and our experiences at war—the things we have seen and had to do. Golf is one of the most peaceful and yet competitive games ever invented. For us to feel loved, appreciated and treated with dignity after service that had its bad days and good is an act of true kindness. When we stand here in the hills of Galway on a green and brought together to celebrate golf, how can we truly thank such compassionate and loving supporters?"
—Jimmy Connors, U.S. Air Force