The Loop
World's greatest putting contest
My golf club's annual men's member-guest is the world's second greatest golf tournament, after the Masters, and our member-guest putting contest, which begins on Friday at noon and concludes on Saturday evening, is the world's greatest putting contest. It takes place on the practice green:
Our superintendent, one of our former superintendents, and our pro create the course, which has four holes. For ten bucks, you and your partner go around twice. Scoring is best-ball, and the four pairs with the lowest eight-hole scores qualify for the final. If your ball rolls off the putting surface -- as it's likely to do, since the holes are cut close to the edges, and the green is triple-cut and rolled -- you are assessed a penalty stroke. In the photo below, Tony, at the far left, is wearing an Ian Poulter wig visor, to replace the hair he's lost to chemotherapy, and Hacker (real name) is getting ready to incur a one-stroke penalty: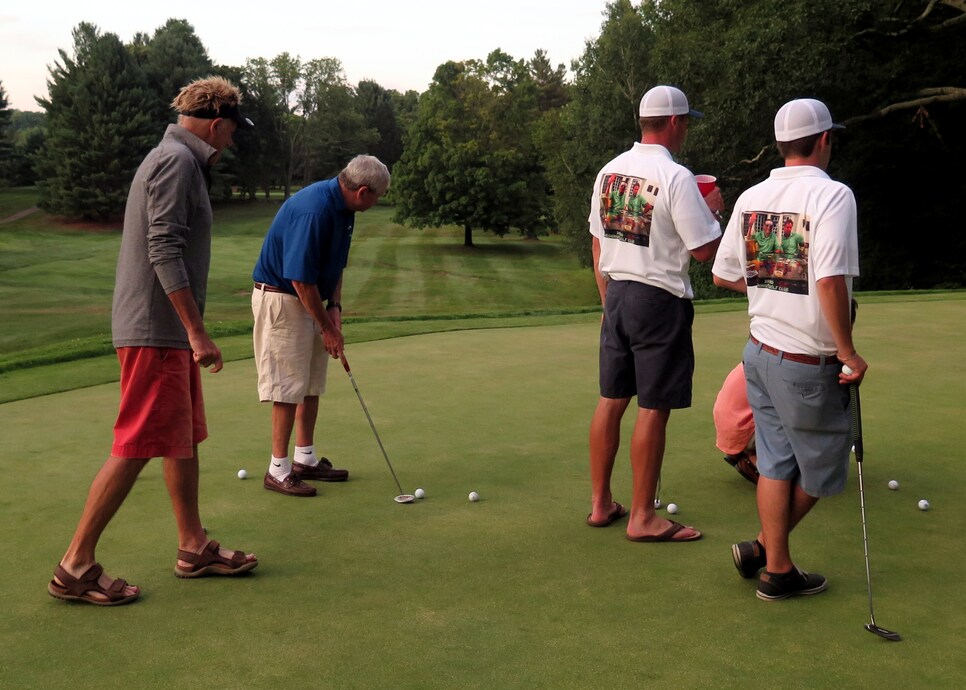 Qualifying continues into the evening: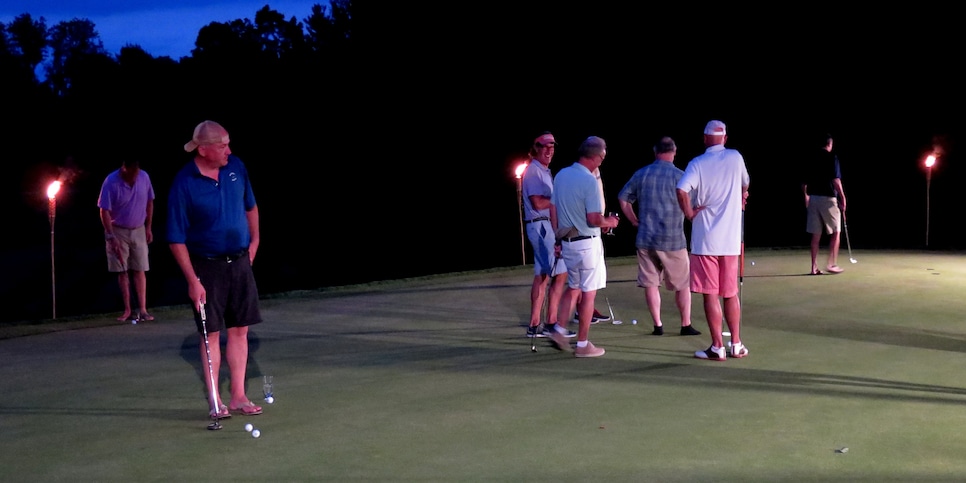 Once the sun has gone down completely, C.J. and Jaws supplement the club's Tiki torches with a couple of super-powerful shop lights they own:
This year's course was especially diabolical because the fourth hole included a double water hazard: two bowls of blue-dyed water embedded in the green so that the tops of the bowls were flush with the putting surface. To have any chance of making the putt, you had to slide your ball between the hazards, as Reese is attempting to do here: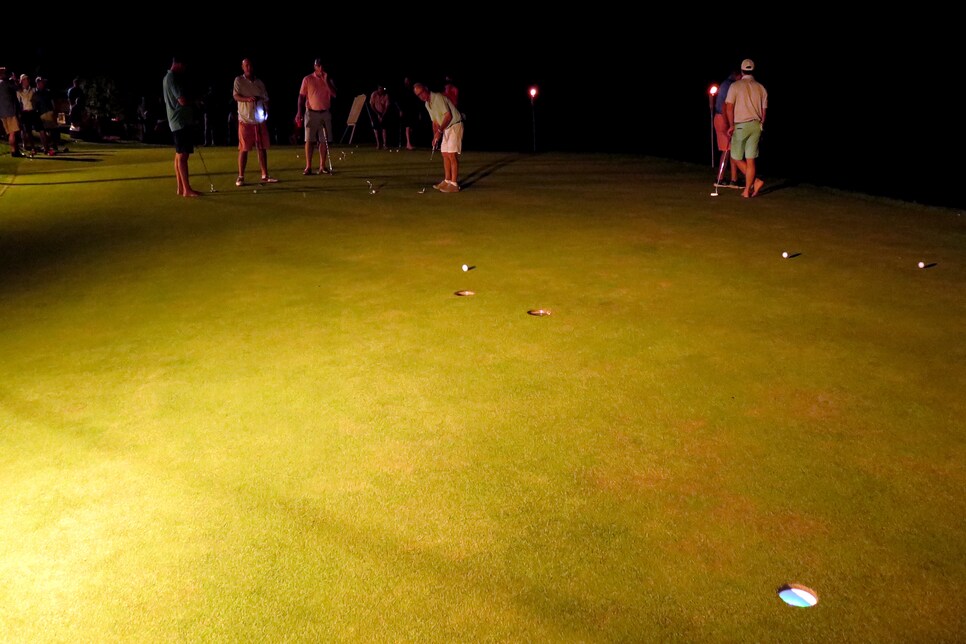 The two balls you see on the right-hand side of the photo above are actually the tee markers for the water-hazard ball drop. Many players had to use the drop, including my brother and me. Late in the evening, one of the guests lifted one of the bowls out of the ground and drank a little of the water, to see what would happen. Somewhat surprisingly, nothing happened -- at least, not immediately.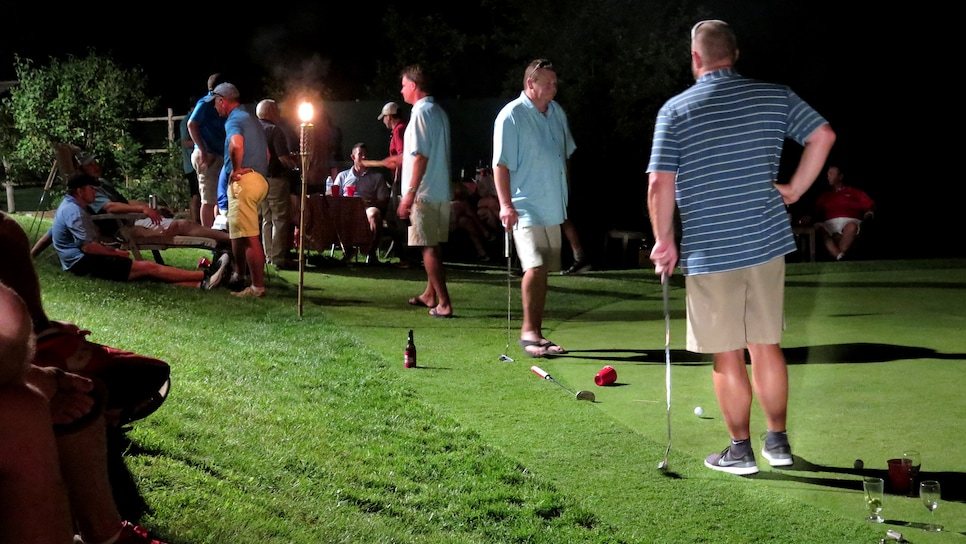 My brother's and my best round was one under par. That got our names onto the scoreboard for a little while, but we ended up missing a playoff for the final by a stroke. So we ate pizza (supplied by Peter P.) and watched the main event from the gallery. Not everyone in the gallery gave the action his undivided attention: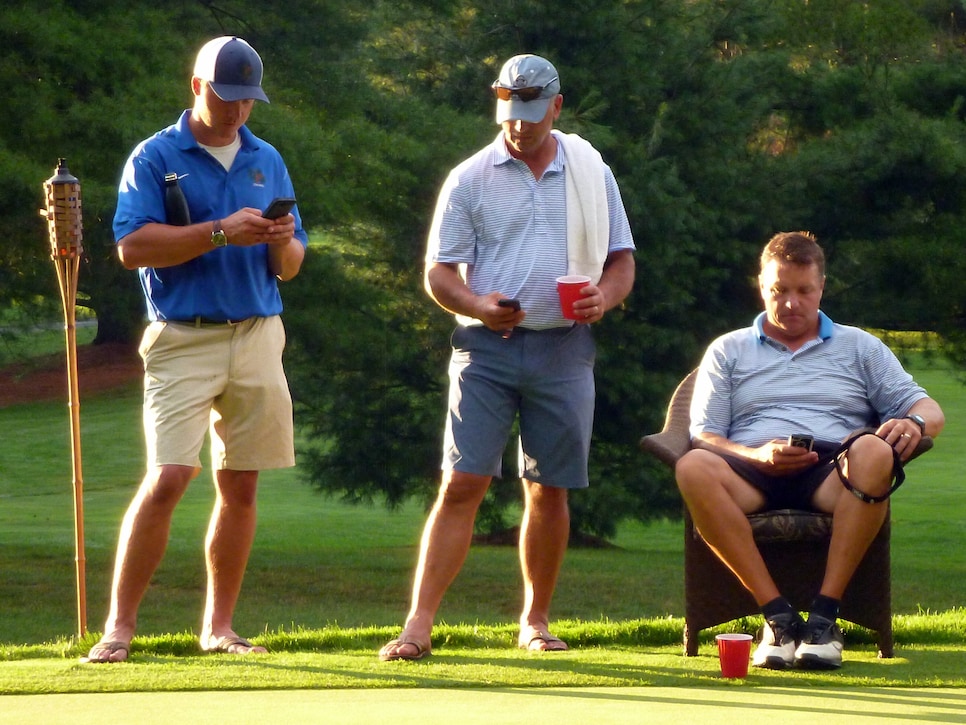 The format for the final was four holes of best-ball followed by four holes of aggregate. Mike G. and Matt, who are brothers, finished the final in a tie with Addison and Kevin, who are old high-school teammates. Mike and Matt won on the first hole of sudden death. Here are Mike and Matt: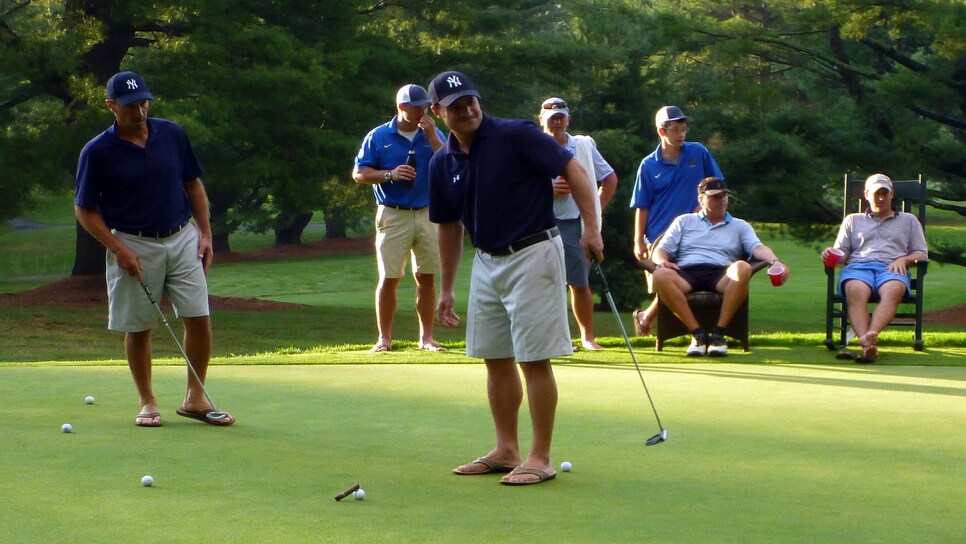 Night golf and poker followed, then a few hours of sleep, then -- boo hoo -- the final day of this year's men's member-guest.