The Loop
Minka Kelly, Michael Phelps, and Ryan Reynolds highlight World Celebrity Pro-Am
Actress Minka Kelly tees off on the final day of the World Celebrity Pro-Am. Photo: Ed Jones/Getty
HAIKOU, China -- The stars were out this past weekend for the 2012 World Celebrity Pro-Am at Mission Hills golf course in Haikou, China. Minka Kelly, Ryan Reynolds, Adrien Brody, Andy Garcia, and Michael Phelps -- who was back in the country where he won his record eight gold medals -- highlighted the bi-annual event that was won this year by Garcia and Matt Kuchar.
The Oscar-nominated star and Kuchar finished with a combined winning Stableford score of 92 over 36 holes to take top honors. Chinese pop star Sun Nan and Greek professional Liebelei Lawrence finished close runners up with a total of 91 points and celebrated Chinese movie director, He Ping and Rich Beem finished third with 89 points.
Also on hand was one of China's most prominent athletes -- Yao Ming -- whose foundation, along with UNICEF, were the beneficiaries of the charitable efforts of the World Celebrity Pro-Am. The tournament is set to return to Mission Hills in 2014.
Kuchar's second round 66 earned him a total of 84 points and subsequently wrapped up victory in the professional individual competition, while renowned Chinese actor, Wang Zhiwen, took home the celebrity individual shooting thirteen strokes under his handicap to amass an 85 point total.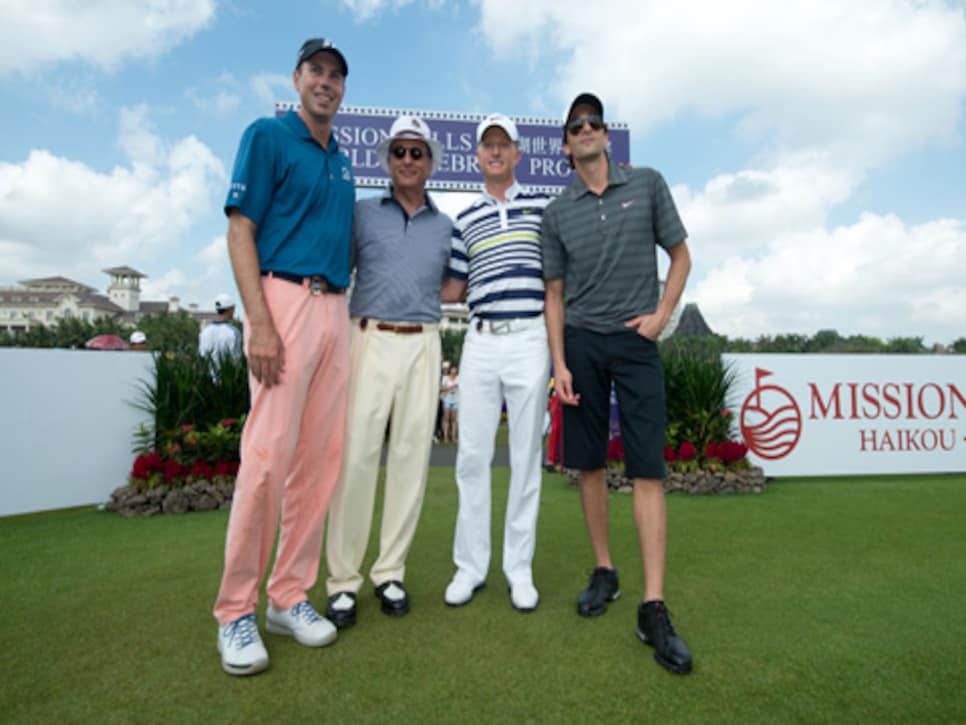 Matt Kuchar and Andy Garcia pose with English golfer Simon Dyson and Adrien Brody after winning the 2012 World Celebrity Pro-Am. Photo: Ed Jones/Getty