News
Woody Austin wins Dominion Energy Charity Classic, spoils Jay Haas' bid to become oldest senior winner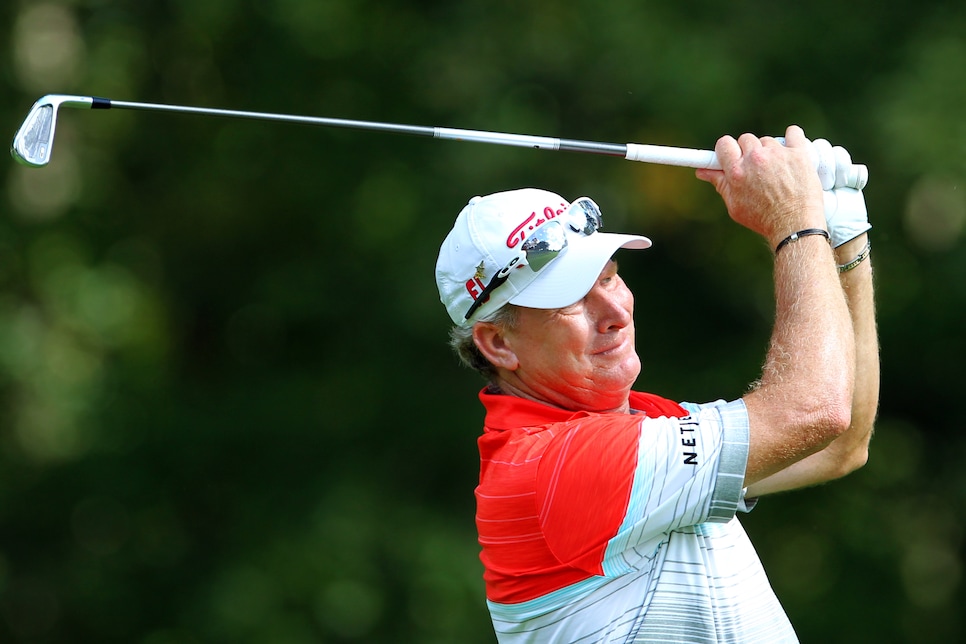 The most intriguing story unfolding in the final round of the Dominion Energy Charity Classic on Sunday went sideways on the back nine, allowing Woody Austin to step up and claim a victory in the opening tournament of the Charles Schwab Cup playoffs.
Jay Haas, at 64 bidding to become the oldest winner in the history of the PGA Tour Champions, was leading when he arrived at the par-3 14th hole at the Country Club of Virginia in Richmond.
When he completed the hole with a double bogey, in concert with an Austin birdie at 15, Haas trailed by one. Austin added a birdie at the par-5 18th hole to win by one over Bernhard Langer and two over a threesome that included Haas.
Austin, 54, closed with a three-under par 69 on a cool day to record his fourth senior victory, but first since 2016, while Haas, the 36-hole leader shot a two-over 72.
"This is one of the better courses we play," Austin said. "It's not a shootout putting contest. Bermuda rough is a great equalizer. It helps a person like me who needs the scores to be a little higher. I don't make enough putts to shoot those low scores."
But it was a five-footer for birdie he made at the par-5 18th that sealed it for Austin, whose chip shot banged off the pin to prevent it from being a considerably longer putt.
"I got a good break," he said. "I'm not afraid to admit when it happens. It was a tough chip shot, but I hit a pretty darn good chip shot. It just hit really hard, but it hit the flag and I made it."
The best break he received, however, was Haas making a mess of the 14th hole. He missed the green right, his ball finishing in a swale about 18 feet from the green and maybe 45 feet from the hole.
Choosing to use a putter into the grain, the ball hopped off the putter face and failed the make it to the putting surface. From there, Haas took three more putts, to surrender the lead and, ultimately, the tournament.
"Just made a mess of number 14," Haas said. "That hole in the past has given me a bigheadache. I made a two and a three on it the first couple days and today, that was just inexcusable. I felt like if I could get past that hole, I had three sand wedges basically and certainly a chance to get 11 or 12 under. I felt like that was the number. Just took the wind out of my sails a little bit there. "