The Loop
Woody Austin's penalty at the PGA recalls other 15th-club violations
Woody Austin was a bit unhappy about the bogey he made on the second hole during the second round of the PGA Championship. Standing on the third tee, however, he felt nothing but disbelief.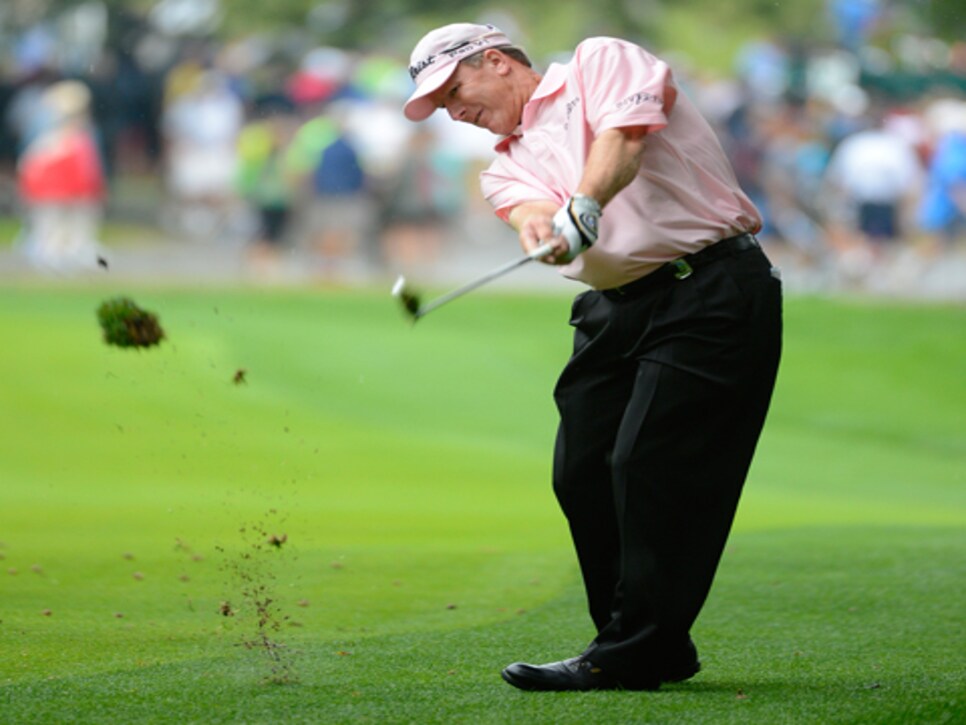 That's because Austin -- who was even par at the time and well within the cut line -- dug into his bag for his 3-iron on the par 3 and experienced one of the biggest nightmares a professional golfer can have: He had a 15th club in his bag.
The club was a 21-degree Adams DHy hybrid, one Austin said he had tried on the range before his round thinking he might use it in place of his 3-iron on the rain-soaked course. The penalty is the second-most severe in golf after disqualification -- two shots for each hole the club is in the bag with a maximum penalty of four shots, which is the punishment Austin received.
"I can't say I was angry, because it was more of a shock, so you're kind of pretty bummed," said Austin, who knew immediately he would be docked four shots. "I think after 20 years, you do one stupid thing of each, and that's the first time I've ever done something like that. Now all I've got to do is figure out how to get DQ'd."
Which might eventually happen because, well, things just seem to happen to Austin. He once broke a putter shaft over his head and also fell into a pond face first while trying a shot at the 2007 Presidents Cup in Montreal. But Friday at Oak Hill, Austin was nothing but class, blaming no one but himself.
Asked what his caddie, Dave Lawson, had to say about the situation, Austin said, "Not a whole lot, but it's not his fault. It's my fault as much as his fault. It's both our jobs. It's just one of those things. If it wasn't raining, we would have caught it. But you've got the rain cover over everything, and you're worrying about the towels and whatever, so you don't see it."
Austin isn't the first professional not to catch an extra club in the bag. In fact, it happened at another critical time earlier this year when European Tour player David Higgins found an extra fairway wood in his bag during a playoff to qualify for the British Open. Higgins had put the club back in his bag after the 36 holes of regulation, thinking he wouldn't be playing any more that day.
Jim Furyk, who finished second at Oak Hill, also had his run-in with the 14-club max at the 2009 Barclays when during the third round he reached for a 60-degree wedge on the second hole only to discover he had two of them -- the result of Furyk's longstanding habit of practicing with one wedge and keeping the other for competition to keep the grooves on his "gamer" fresh.
Furyk chose not to place the blame solely on veteran caddie Mike (Fluff) Cowan, saying that although it was an "embarrassing, bonehead thing to do," the responsibility to make sure there are no more than 14 clubs in the bag is the player's responsibility as much as the caddie's.
The same couldn't be said for Ian Woosnam, who had perhaps the most famous 15th-club incident in history during the final round of the 2001 British Open. Tied for the lead after 54 holes at Royal Lytham & St. Annes, Woosnam put his tee shot on the par-3 first hole to within inches, the birdie momentarily maintaining that tie, as Niclas Fasth had birdied earlier. On the next tee, however, his caddie, Miles Byrne, came bearing bad news.
"You're going to go ballistic," Byrne told Woosnam after discovering there were two drivers in the bag, resulting in 15 clubs and a two-shot penalty. Woosnam's reaction verified Byrne's prediction as he javelined the extra driver at a tree, saying, "You've got one job to do and that's to count the clubs."
Other notable examples of players caught over the club limit include Phil Mickelson in a college tournament when his teammate accidentally put a putter in his bag, and Johnny Miller, who once had his son's cut-down putter in the bag, resulting in a four-shot penalty.
The rule limiting the number of clubs to 14 was put in place in 1938 by the USGA (the R&A adopted it a year later) after numerous golfers employed the practice of using 20 or more clubs during tournament play. So what happens after a player discovers he has a 15th club in the bag? According to Rule 4-4c the player is required to declare one of them out of play (although he does not have to remove it from the bag) and not use that club for the rest of that round. In other words, a player cannot decide that it is worthwhile to accept a four-stroke penalty to play with more than 14 clubs.
As for Austin, he gave the club to his son, who carried it around the course the rest of the front nine. The recent winner of the Sanderson Farms Championship rebounded with birdies at the fifth and sixth holes, but he bogeyed the 18th to fall to four over par and miss the cut by one.
"You just keep on going," said Austin, who said he still wasn't over the incident after the round. "I could be even par and in the tournament, but instead I'm down the road. So I'm real disappointed."
And still in a bit of shock.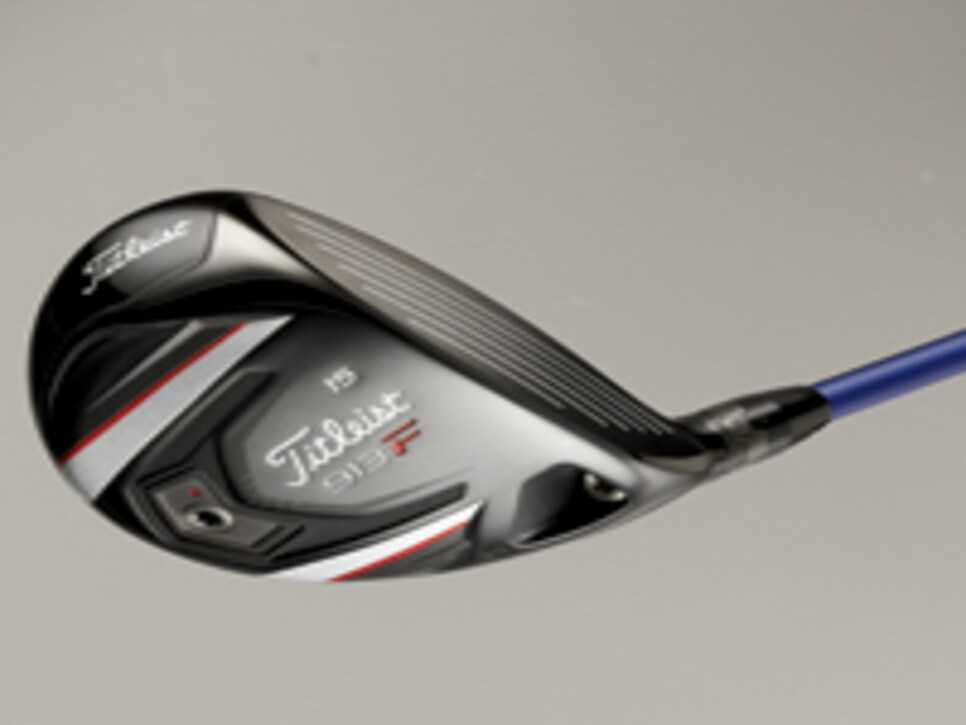 PRICE: $250 (Lofts: 13.5, 15, 17, 19, 21 degrees)
Jason Dufner used a 13.5-degree model of this club at Oak Hill. A rear weight and improved center of gravity location were designed to reduce spin.
Ranked 120th in strokes gained/putting coming into the PGA, runner-up Jim Furyk decided he needed a new look on the greens. Although Furyk kept the same Odyssey Versa #1 Wide putterhead, he used one with a single-bend shaft (instead of the double-bend shaft he had been using) that was a half-inch longer than his previous putter. The combination, Furyk said, fit his eye better: "I felt good with my putter all week." ... Robert Garrigus' instructor, Jim Ahern, gave Garrigus something useful other than swing tips at Oak Hill -- he gave him his putter, a Ping Scottsdale Y Worry mallet that is no longer in production. Garrigus, who used the putter in finishing T-25 at the PGA, won't be giving it back to Ahern. He had the club cut down to 33 inches before the start of play. ... Phil Mickelson's pair of rain gloves garnered a lot of attention on Friday. The gloves are produced by a company called Naigai and are a tour-only product not available at retail. If you're wondering, Lefty wears a size XL. ... In addition to Mickelson, two other players went without a driver at Oak Hill. Nicolas Colsaerts used the same club as Mickelson, a Callaway X Hot 3Deep 3-wood as his longest club in the bag, and Brett Rumford's Titleist 913Fd 3-wood (13.5 degrees) served as his driving club. ... Carl Pettersson was the first of the longtime anchored-putter users to convert to a conventional-length, non-anchored putter in competition. Pettersson, however, was back with the long putter at Oak Hill, using a Scotty Cameron by Titleist Futura X. The switch didn't help Pettersson, who missed the cut.