The Loop
Woody Austin incurs harsh penalty at PGA Championship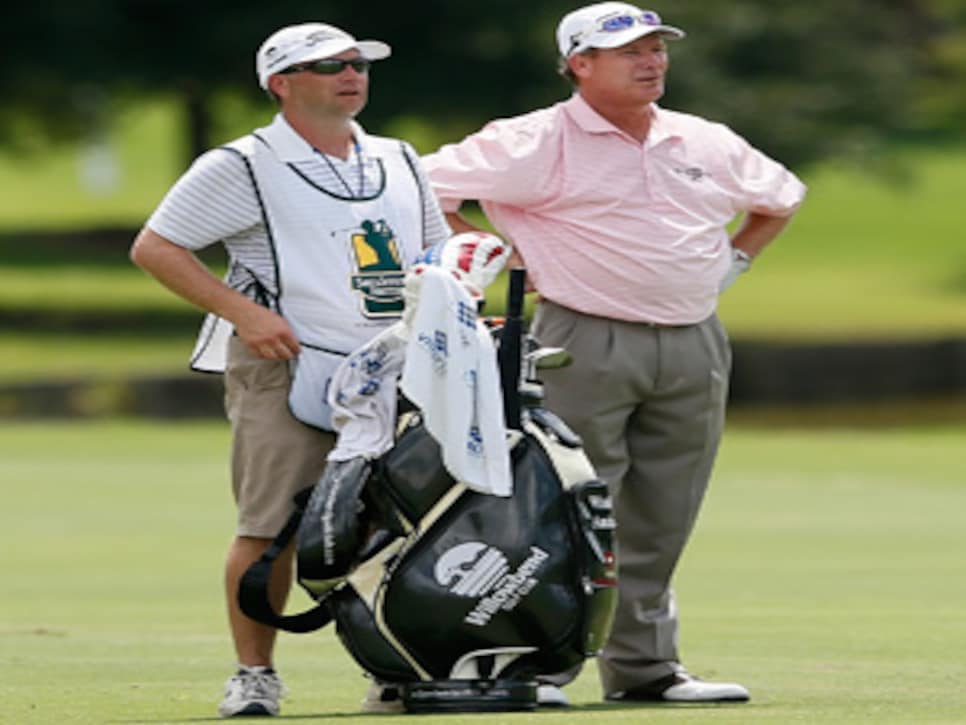 (NOTE: Updated after Austin signed for a 75, leaving him at four over).
ROCHESTER, N.Y. -- Woody Austin knew right away it was four shots. And at Oak Hill, where the 49-year-old veteran was struggling to keep up with longer, younger players, four shots was a lot to ask.
As if playing in persistent rain Friday morning at the PGA Championship wasn't miserable enough, Austin had to tack four extra shots on his scorecard when he realized he was carrying a 15th club in his bag.
Austin discovered the extra club, a 21-degree Adams driving iron, on the third hole Friday, at which point he immediately declared it out of play. But because he had already played two holes, he was assessed a two-stroke penalty for each of those holes under Rule 4-4 (turning a par and a bogey on 1 and 2 into a double bogey and a triple bogey).
"With the rain and everything, trying to worry about keep it all under control, we just didn't pay attention and take it out," Austin said.
Austin did collect himself enough to make consecutive birdies on holes 5 and 6, but playing in wet conditions, he finished with a 75 and is likely to miss the cut at four-over par.
The veteran, who had finished second to Tiger Woods at Southern Hills in 2007, had been struggling in recent years, not even making a cut on tour in 2013 until he won the opposite-field Sanderson Farms Championship in July. At Oak Hill, which was playing considerably longer because of the rain, Austin had been toying around with the driving iron on the range, but opted to stick with his normal 3-iron. The problem was he never removed the driving iron from his bag.
"I can't say I was angry. I was more in shock. Just disappointed that I was that stupid. After 20 years, I think you do one stupid thing of each and that's my first time ever doing something like that. Now I just have to figure out how to get DQed and I'll be all set."
The most notable breach of Rule 4-4 in recent years came in 2001 at Royal Lytham, when Ian Woosnam grabbed a share of the lead on Saturday by birdieing the first hole, only to have his caddie Miles Byrne discover on the next tee that Woosnam had an extra driver in the bag. The two-stroke penalty dropped Woosnam from the lead, and he ended up finishing four strokes behind winner David Duval.