The Loop
Woods, Williams get paired on Day 1
MELBOURNE, Australia -- Let's get ready to rumble. For the first time in Presidents Cup history, one of the groups in the team formats will have five competitors.
The competition kicks off with foursomes play on Thursday at Royal Melbourne (or should that be fivesomes play?) and in Game No. 6 Steve Stricker and Tiger Woods take on K.J. Choi, Adam Scott and Steve Williams.
If the International side wins that match, does Williams get a point?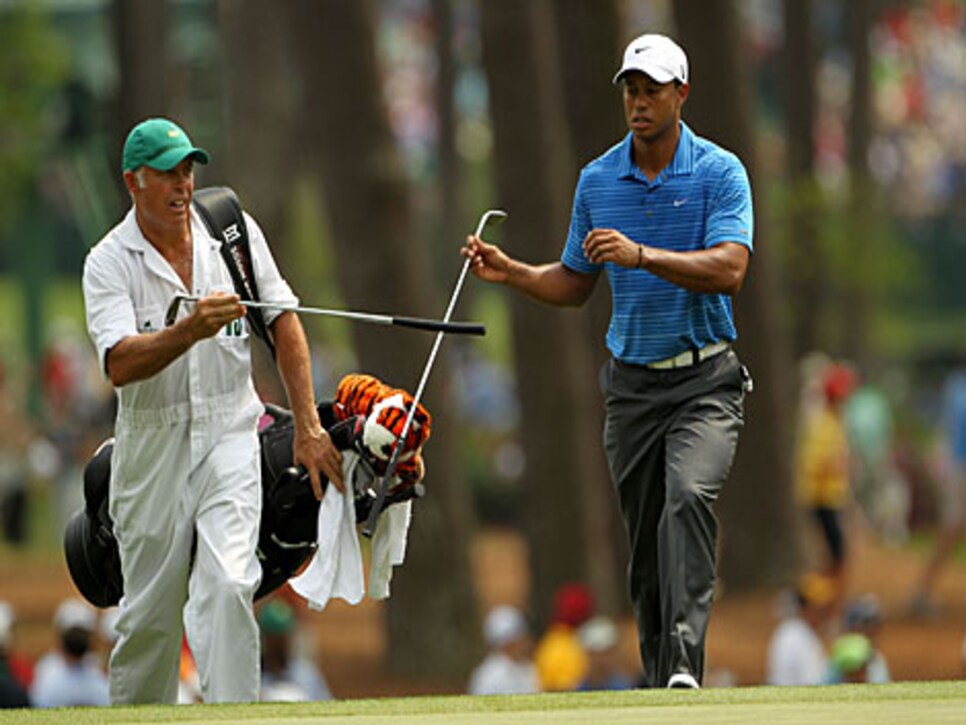 Photo by Jamie Squire/Getty Images
In a move that captains Fred Couples and Greg Norman tried to describe as both unintentional and inevitable, in the very first session they conspired to pair Woods with his fired and suddenly verbose caddie.
All Williams has done since that dismissal by Woods is go to work for Scott full-time, diss Woods after Adam won the Bridgestone in August and then hurl a racial slur in Tigers' direction at a party in Shanghai last week.
"I'm going to make a comment about the last pairing," Norman said. "I think it's great for the tournament, No. 1. It needed to be done." OK, so that seems to be saying this was a premeditated act to turn up the volume of the event.
"It played out the way it played out," Norman said in the very next sentence. "There wasn't any premeditation by it." Oops, my bad.
Now let me get this straight: It needed to be done but it wasn't done intentionally? Is Rosemary Woods taking this all down?
Fred Couples, who at times has the ability to make Norm Crosby sound like Bertrand Russell, actually came a lot closer to making sense than Norman, but still had one foot firmly in murky.
"Yes, I think Greg hit it right on the button," Couples said, failing to point out that Norman hit at least two buttons. "We did not plan anything. But I think it worked out awesome for everybody involved to have Adam and Tiger play."
So you got that: This is great for the event; the event needed this; this will make the world a safer place, reduce greenhouse gas emissions and slow the deterioration of the ozone layer -- but it was a total, unintentional accident. Makes sense to me.
In the other matches -- and are there really any other matches on Day 1? -- Bubba Watson and Webb Simpson are first out of the box against Ernie Els and Ryo Ishikawa. They are followed by Phil Mickelson and Jim Furyk against Retief Goosen and Robert Allenby.
The third game has Bill Haas and Nick Watney against Geoff Ogilvy and Charl Schwartzel. They are followed by Hunter Mahan and David Toms against K.T. Kim and Y.E Yang.
And then Dustin Johnson and Matt Kuchar have the unenviable position of playing Aaron Baddeley and Jason Day in the group in front of the Stricker-Woods-Choi-Scott-Williams pentagon. Think they might hear some clatter behind them?
But really, where do you think the galleries will be tomorrow? And really, do you think any shot in Game No. 6 will be missed by TV? Let's just say what it is: Everyone wanted Woods and Scott and Williams in the same group. We got it, and that's a great thing. But let's not try to pretend it's an accident.
"I think at the end of the day, the guys in that last group will be the consummate professionals and go out and play the game of golf representing their International Team and the U.S. Team the way they should do," Norman said.
And that's the one thing he could say with a straight face. Golly, this is going to be fun to watch. Even though it was just the luck of the draw.
Follow on Twitter: [@ronsirak
](http://twitter.com/johnhuggan)