The Loop
Woods wading back into regular routine
AUGUSTA, GA. - If improvement is a series of incremental advances piled one upon the other then Tiger Woods could be building toward something special this week at the Masters. On Monday, Tiger's drive off No. 1 knocked some squirrels out of the trees left of the fairway. Tuesday morning, he smoked one up the left side of the fairway, flying it at least 50 yards past Mark O'Meara. Now, even given the fact O'Meara -- Tiger's longtime buddy -- is older than some of the pine trees at Augusta National, that's a pretty impressive drive.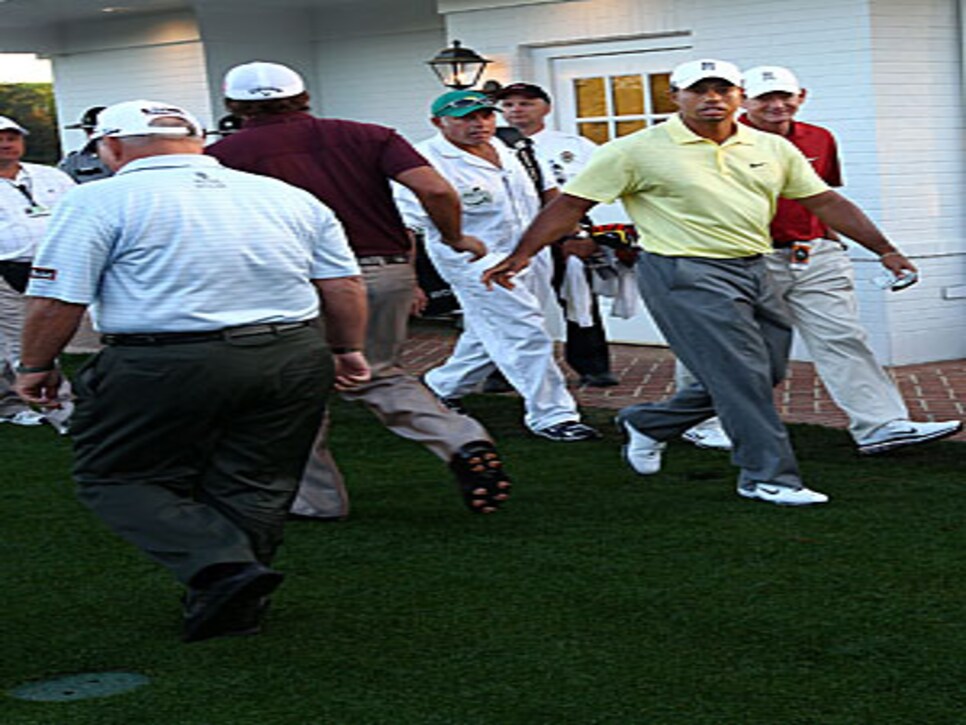 Dressed in a yellow shirt, gray sacks and white shoes, Woods appeared more relaxed a day after he was questioned by the media for nearly 35 minutes for the first time since his life got wrapped around a tree near his Windermere, Fla. home on Nov. 27.  Perhaps he was encouraged by the reception he received Monday, which was not effusive but certainly cordial. One fan took it up a notch on Tuesday, bellowing (are you allowed to bellow at Augusta National?) "All right buddy, OK champ," after Woods ripped his drive shortly after 8 a.m. on an almost illegally beautiful morning.
Woods seems to be moving easily among his peers as he returns to competition for the first time in five months. On the practice green before his Tuesday practice round, Woods chatted casually with Mike Weir and hit few putts with the Canadian's flat stick. It seem as if that first-day-of-school nervousness was gone. Tiger seemed to be back as if he were never gone.
Interestingly enough, Jim Mackay, the caddie known as Bones who lugs luggage for Phil Mickelson, was on the first tee and shared a laugh with Woods before Eldrick the Great and Mark the Lesser drove. Lefty, meanwhile, stayed back. He remained on the practice green with former Woods employee Butch Harmon, Swing Coach the Magnificent, until the tee box was clear of the two past Masters champions.
Now, wouldn't it be a hell of a story if those two guys couldn't avoid each other on Sunday. Wouldn't it be a hell of a story if Woods and Mickelson were in the final group at the Masters? Wouldn't it be a hell of a story if, in this of all years, we finally got the great Tiger-Lefty shootout in a major we have craved for so long? Wouldn't it be something if that was what we are building toward?