The Loop
Woods upbeat about his golf game and brand
Tiger Woods' successful swing through Australia provided evidence that the 14-time major champion is getting closer to finding the form that once dominated golf. In recent weeks, he's also showed he's regaining his stature off the course as well.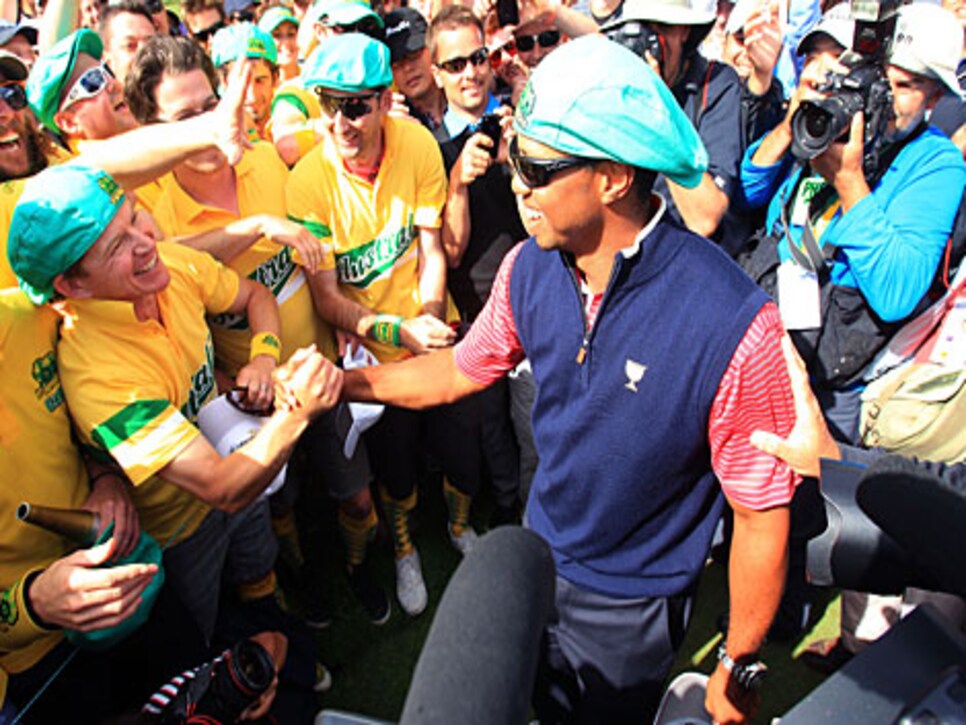 Photo by Scott Halleran/Getty Images
"Well, golf wise it's gotten better. I went through a period there where i was struggling for a little bit. I was hurt. Wasn't able to practice. Was finally able to turn it around here with Sean. Things are now starting to progress. I played well in Australia. Really looking forward to my tournament next week out there in L.A.," Woods said. "Businesswise, everything's been good. So excited to be part of Fuse and what they can do for me as an athlete."
Earlier this month, Woods announced that he signed an endorsement deal with Fuse Science, a Florida-based company specializing in delivering vitamins and minerals to the body. This came on the heels of signing a deal with Rolex, his first major endorsement deal since being dropped by Gatorade, Accenture and Tag Heuer among others in the wake of his sex scandal. Woods will have the Fuse logo on his golf bag when he hosts the Chevron World Challenge starting Dec. 1.
Perhaps the most interesting part of the interview, which can be seen in its entirety on "CNBC SportsBiz: Game On" Friday at 8 p.m. on Versus, was when Rovell asked Woods about pressure, specifically if he's felt any from sponsors like Nike who have stuck by him.
"No. It's always internal. Always internal," Woods replied. He went on to say, "That's not why I play. I play for myself and I play just for the gratification of going out there and winning. It's just so much fun to be in the hunt. And to see what I've got."
While details of his latest deal aren't known, Woods acknowledged that it is a partnership and that he holds equity in the company, not unlike the deals Vitamin Water had with several celebrities, including rapper 50 Cent and baseball star David Wright, during its infancy. When that company was bought by Coca-Cola in 2007 for more than $4 billion, it was reported that 50 Cent made more than $400 million from his 10-percent stake.
Woods remains the richest athlete in the world, but his grip on the top spot isn't what it used to be after losing approximately $48 million per year in lost endorsements, as of last year -- a number that has likely grown in 2011. While these new deals will help him regain some of that money, getting back to winning golf tournaments should do even more.
Follow on Twitter: [@AlexMyers3
](http://twitter.com/AlexMyers3)