The Loop
Woods shows signs of improvement, at least until he has to putt
SAN MARTIN, Calif. -- Tiger Woods couldn't putt any worse than he did Thursday. At least that's what the struggling great said after a 27-putt effort on CordeValle's rain-drenched greens. And that was the good news from his 73 at the rainy Frys.com Open.
After one-too-many rounds of late where the 14-time major winner has looked lost in all facets of his game, the ball-striking was noticeably crisper, the wedge shots around greens improved and the overall energy more positive. Most of the post-round questions revolved around a putting round that Tiger described as one of his worst ever.
*[Related: An up close look at Tiger's putter
](http://www.golfwrx.com/forums/topic/521829-tigers-putter-close-up-pics/)*
"I got nothing out of the round on the greens," Woods said after his two-over-par round left him T-86th. "And whatever momentum I could have gotten by hitting good shots, you know, I just missed putts."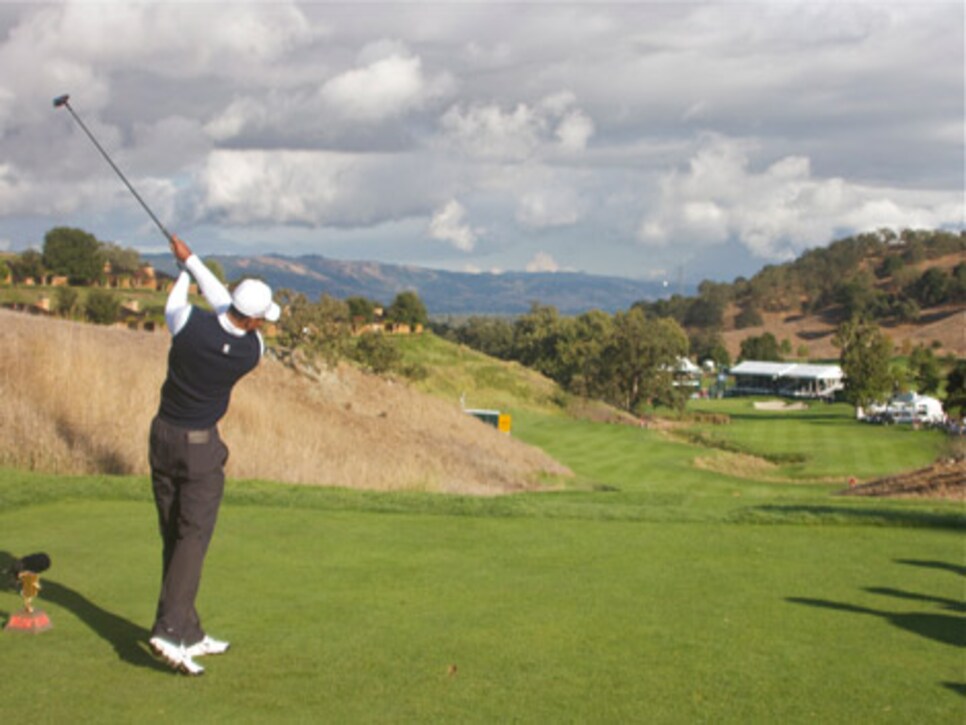 *From tee to green, Woods had reason to be encouraged.
Don't be lulled into thinking the nine-green-in-regulation round meant shaky ball striking. He certainly hit a few bad shots  -- namely at the fourth and twelfth holes -- but nothing off the planet, with both stinkers coming during freakish-for-October-downpours.
While the double bogey at the par-5 12th appeared to be the round's low point, a missed birdie putt on the 11th hurt more. Playing 211 yards downhill, Woods flighted his tee shot under the wind beautifully, but barely caught part of the cup with his six-foot putt. After walking dejectedly to the 12th tee, Woods hit a low pull into the left rough, then dunked his next shot into a cross-hazard where a marshal never saw the ball.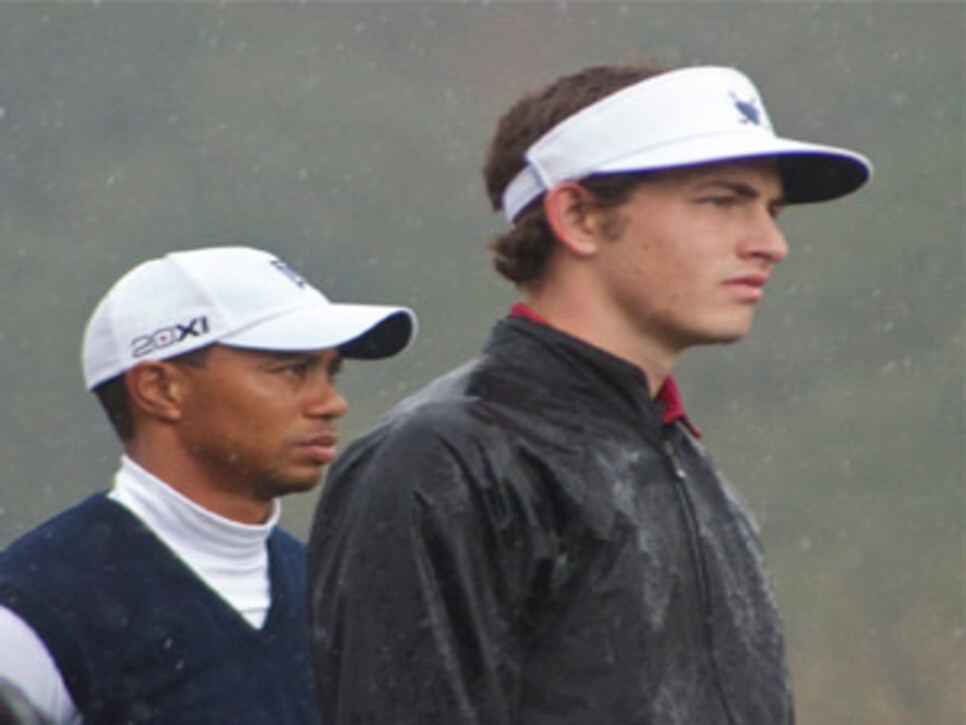 After assistance from Golf Channel, Woods dropped from the hazard and as the heavens unloaded on a gallery of 2,000 or so hearty souls, Woods carded seven.
*(Left: The amateur Cantlay upstaged Woods on Thursday, beating him by four shots)
*The round steadied from there, with a bit of the old Tiger magic coming at the uphill par-5 15th. He struck two solid shots to the front fringe and instead of putting the ball or using an 8-iron run-up shot, Woods lofted a wedge over a steep tier in the Robert Trent Jones, Jr.-designed green to within four feet. His second birdie came before a boisterous gallery enjoying the event from the CordeValle winery above. As he walked off the green, Woods acknowledged several fans, including a woman who thanked him "for coming" to the Frys.com Open.
Though his round had steadied, the authentic lesson in consistency came from 19-year-old UCLA sophomore Patrick Cantlay. Playing on a sponsor's exemption, the U.S. Amateur runner-up fired 69 and showed no sign of nerves other than a hiccup on the 13th green where he missed a two-foot putt ("It came off funny off the putter blade").
While Cantlay found eight fairways to Tiger's seven, he hit 14 greens to Tiger's nine and averaged six yards longer off the tee (277.5 to Tiger's 271.5).
Sporting a retro visor with the dignified Virginia Country Club logo and the UCLA insignia on the side, Cantlay sounded succinct and humble after the round when asked how it felt to beat Tiger by four shots. "It's the first round of a tournament, so it doesn't mean anything," he said while also sporting multiple Walker Cup-logoed items. Representatives from at least three different agencies were in the gallery watching Cantlay, as was UCLA Coach Derek Freeman and legendary former UCLA coach Eddie Merrins. Tiger's assessment of Cantlay was positive without getting too effusive:
"He hits the ball reasonably long, very steady, and as we've seen this entire summer, the kid can putt."
As for Cantlay's assessment of Tiger's round, the young lad borrowed from the great one's lexicon of infamous sayings. With a twist.
For Tiger, the putting was what it was in round one. But it didn't look as bad as he said it was.*
*(Photos by Geoff Shackelford)