The Loop
Woods salvages opening round to finish under par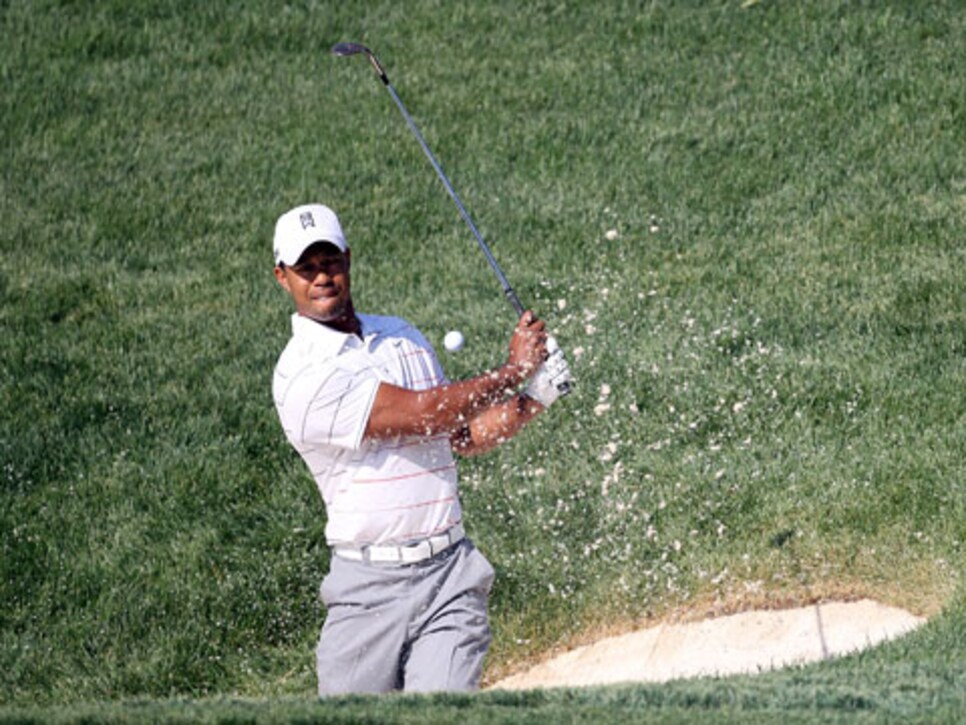 (Photo by Andy Lyons/Getty Images)
DUBLIN, Ohio -- The last time Muirfield Village GC played as firm and fast as it did Thursday in the opening round of the Memorial Tournament, Jim Furyk remembers playing exceptionally but finishing second.
That was in 2009. The winner was Tiger Woods.
"It was scary fast that year," Furyk said. "These aren't quite there, but they're quick. A good score is out there, but you have to play some good golf to get it."
Woods did just that. The only four-time winner of the Memorial bounced back from a sloppy double-bogey to post a 2-under-par 70 on a sunny and cool morning in central Ohio. It was his lowest opening round of the year since he shot 69 in the Arnold Palmer Invitational in March, which he won.
"It certainly could have been a lot lower, but I'm pleased with the way I hit the golf ball today," said Woods, 36, who is making his first start since a T-40 at the Players completed his worst three-week stretch as a pro. "I didn't do anything great and I didn't do anything poorly today. It was just a solid round today."
Woods hit nine fairways, 12 greens in regulation and took 28 putts, all acceptable statistical ratings, especially given the fast conditions caused by the little amount of precipitation throughout May. The former No. 1 player in the world might not be showing the kind of high-level golf of the past, but he proved he can still manage his game on a fast track.
"The golf course was playing quick today. The fairways were starting to chase a little bit," Woods said. "The greens are somewhat receptive, but the thing is they're running out a little bit. It's a hell of a test out there, really."
"He hit the ball awfully well, and even though he didn't make a lot of putts, he made some of them," said U.S. Presidents Cup captain Fred Couples, who joined Woods and Bill Haas. Couples won here in 1998. "I think he had a real chance where he could have shot six under or so. He left a few out there, but I thought he played pretty well."
The only blemish on the card came at the par-4 18th, where Woods flared a 5-wood into the right waste bunker, chunked out the second to the left fairway and then dumped his third in the left greenside bunker. He splashed out and two-putted for a 6. He regained the strokes with birdies at the two front-nine par-5 holes, Nos. 5 and 7.
He birdied three of the four par-5s while missing a 12-foot birdie putt on the other one, the 11th.
"I haven't played the par-5s particularly well the last few tournaments, and today was a good example. I played them great," Woods said. "The one on 11 should have been a birdie, as well. I hit two really nice shots in there. I feel very pleased with the way I hit the golf ball all day, and it was nice to actually play the parâ¿¿5s under par for a change.
"I think I was able to make some nice changes over the break here and work on some of the things that I think I needed to work on, and I'm very pleased with that," he added. "As I said at the Players, I did it in streaks. I was hitting the ball and hitting it well in streaks and just need to get a little more consistency out of it. Today was certainly one of those days where I was very consistent."