The Loop
Woods puts Players struggles behind him, opens with 67
__](http://www.golfdigest.com/golf/ron-sirak)
PONTE VEDRA BEACH, Fla. -- Talk about 24 hours of surprises. Not only does Vijay Singh sue the PGA Tour on the eve of its flagship tournament, but a day later both Rory McIlroy and Tiger Woods prove they can actually play the Stadium Course at TPC Sawgrass.
McIlroy, out in the morning wave Thursday at the Players, broke par for the first time in seven career rounds here, posting a six-under 66 that left him three strokes behind first-round leader Roberto Castro.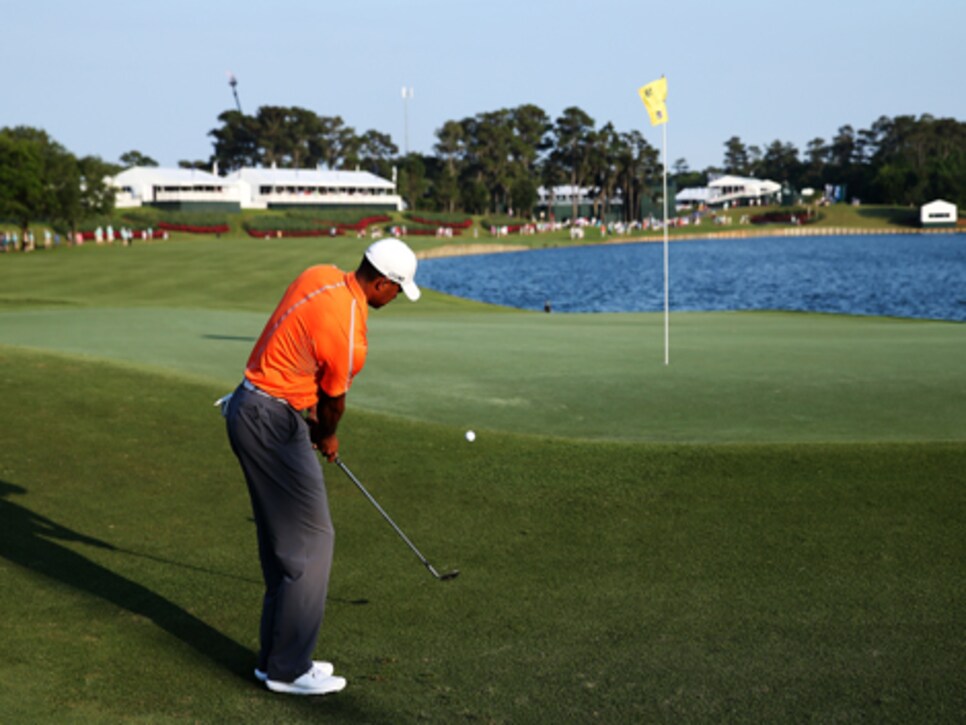 *Tiger Woods' only misstep on Thursday at the Players was a bogey on the 18th hole. Photo by Getty Images
Then Woods played one of the best rounds of the afternoon wave, shooting a 67 that fell one hole short of his first bogey-free round at Sawgrass in his 56th crack at the course as he gave back a stroke on No. 18.
Woods, who has not really been in contention at the Players since winning here in 2001, now has a chance to go into the weekend with something to play for. McIlroy, meanwhile, has a chance to go into the weekend -- period. He had missed the cut in his three previous tries.
"I felt like I had to go out and shoot something in the 60s, the guys were going low," Woods, who was nine behind Castro before he even teed off, said after posting his best score here since the final round in 2007. "I made some good saves. I need to strike the ball a little better tomorrow. I missed in the right places today."
Only twice before has Woods had a lower score on the Stadium Course, shooting 66 in the third round in both 2000, when he finished second to Hal Sutton, and in 2001, when he was victorious.
There was a lot of the Old Tiger in this round. He made birdies on all four of the par-5s and made a couple of testy par-saving putts, the kind that keep the momentum of a round alive.
The positive trends that have led to three victories so far this year were in evidence again in the first round.
His misses off the tee are much better than they have been in years. The controlled "stinger" drive with a fairway wood or a long iron is as beautifully-reliable as it once was. His distance control with his irons -- especially from inside 150 yards -- is much better than it has been during the three-year process of learning the Sean Foley swing. And, oh yeah, he is No. 1 in strokes gained/putting again. The putter has always been the great eraser for Tiger's mistakes and when he has the confidence that he can make up-and-downs to save par, he can really attack pins.
The only real item of concern was his very un-Tiger-like closing bogey.  That perpetuates the uneasy feeling down deep that this version of Tiger, while still clearly the best player in the world, is missing something the Old Tiger had.
After driving to the fairway with a 5-wood, he missed the green long from 192 yards with an 8-iron, tried to finesse a delicate chip up the slope and left it short, then chipped again to tap-in distance for a bogey.
"It's a little bit of grainy down there," said Woods, who hates making bogeys ever, but was especially annoyed at this one, as evidenced by the detail of his answer to what happened on that chip at No. 18.
"It was too grainy to putt, because it gets up on top and switches grains," he said. "It goes back down grain. Sometimes I've used a 4â¿¿iron in there, but I thought that might chatter too much.  I thought if my 60 has got too much bounce, so I went with a 56 to try to shallow it out at the bottom and it didn't work out. The grain snagged it and I hit it short."
Woods began the day in rather lackluster fashion, playing the first eight holes one-under par. Then he erupted in a burst reminiscent of the old days, making four birdies in a row beginning on No. 9.
And while the "miracle" up-and-downs of the old days may not be there are reliably often as they once were, they still lurk and he can still hit shots that take your breath away.
This is his best opening-round score in the 15 times he has played the Players -- by three strokes. That falls into the category of auspicious beginnings. Now let's see what comes next. A win here would be his biggest, by far, in a comeback that began last year at Bay Hill.
And, coming on a course where he has had such little success, it could give him the momentum -- and confidence, he needs to end his 0-for-five-year winless streak in the majors in the U.S. Open at Merion next month.