The Loop
Tiger Woods withdraws with back spasms, Horschel says
LA JOLLA, Calif. — Tiger Woods' comeback took a turn for the worse Thursday, a turn for the parking lot. Woods withdrew from the Farmers Insurance Open 11 holes into his round as a result of lower back pain.
Woods in a brief impromptu news conference in the players' parking lot at Torrey Pines said that it began with his "glutes shutting off. Then they don't activate, and, hence, it goes into my lower back. I tried to activate my glutes as best I could in between, but they never stayed activated."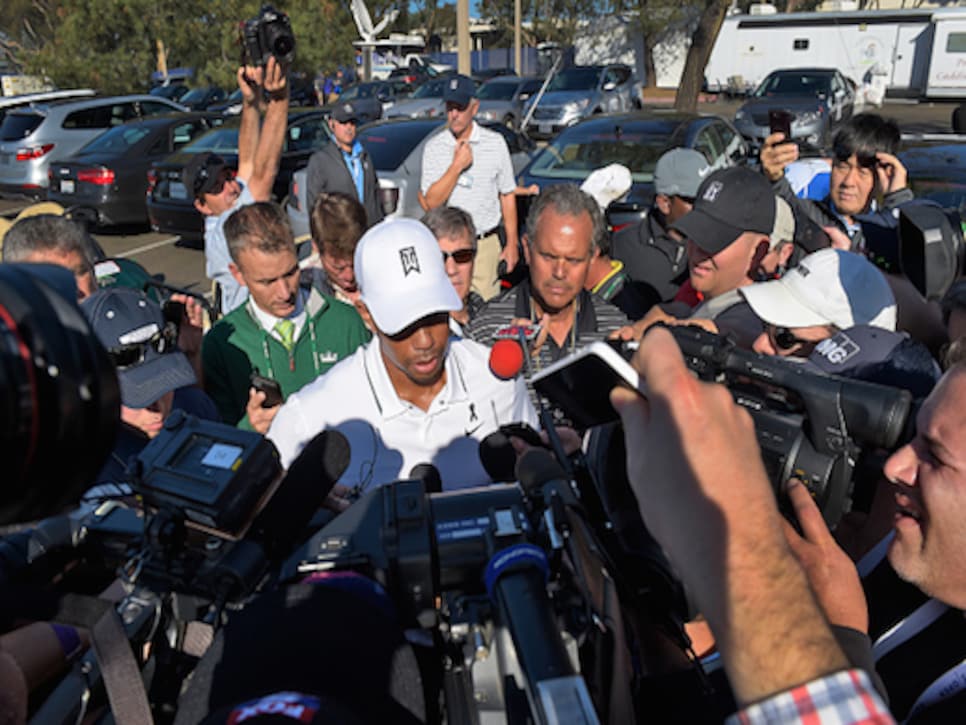 After hitting his tee shot at his 12th hole, the third on the North Course, Woods shook hands with his Billy Horschel and Rickie Fowler, the other players in the threesome he was playing in, got in a golf cart and went straight to the parking lot. He had just double bogeyed his 11th hole and was two over par for the round.
Almost from the outset of his round, his back appeared to be bothering him, to the point that Horschel picked up his tee for him a few times.
"It's tough to see a guy I look up to, a guy I consider a friend, to go through being in pain out there," Horschel said after completing his round. "I asked him when we walked off the 12th tee, back hurting you again?' He said spasms.' It's unfortunate."
Woods said he detected issues between two fog delays Thursday morning. "It just never loosened back up again," he said. "And when we went back out, it just got progressively worse."
The start of play was delayed an hour by fog in the morning. When play did begin, the fog quickly returned and play was suspended at 10:11 a.m., with Woods on the putting green in preparation for his round.
He stood there talking to a variety of people, including his former instructor Sean Foley, Horschel and Woody Austin, waiting for play to resume. The delay lasted until 11:40 a.m., or an hour, 29 minutes.
Horschel said that Woods has shown signs of progress with his swing, notwithstanding his scoring and a host of loose shots.
"I have a golfer's eye. I've seen what his swing has become. I think it's a lot better. But he couldn't swing the way he wanted to. I saw at his event [the Hero World Challenge in December] on Saturday and he was deadly sick and he played really well, so I knew he wasn't that far off. I still think he's not that far off. He just needs more reps."
Woods underwent a microdiscectomy on his lumbar March 31, 2014, but returned to play in July before shutting his 2014 season down after experiencing back pain in the PGA Championship in August.