The Loop
Woods playing like he has something to prove
The best thing for the PGA Tour Playoffs is that Tiger Woods didn't win a major this year. It was Tim Finchem's greatest blessing in a frightening year for the tour economically. Tiger stepped up and more than just committing to play all four playoff events, he has played the first three like his reputation depended on it.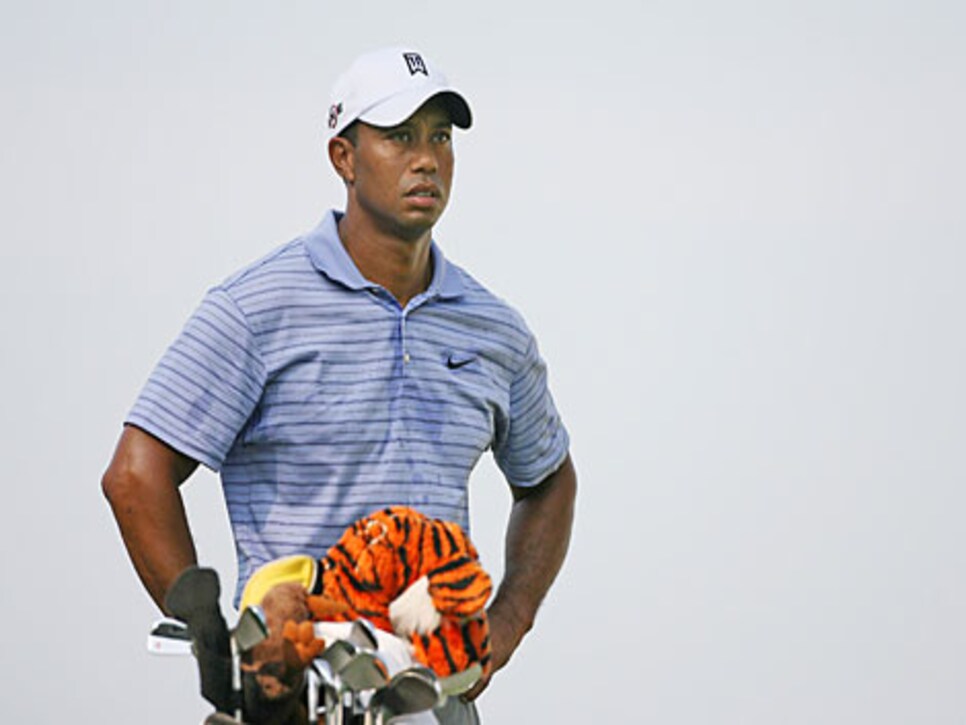 It won't take the sting off those four final holes he played in four over at Bethpage, or the way he putted at Augusta and Hazeltine, or the missed cut at Turnberry, but taking home the FedEx Cup would certainly reverse the spin on his 2009 season.
The big man is more than just engaged. He has taken the Fed Ex Cup on his back and delivered the type of intensity that has legitimized the authenticity of golf having a post-season.
Woods dominated the Cup in 2007 but wouldn't kiss it. It wasn't a validation as much as it was a cursory glance at a way to package and sell a new TV contract.
But this week -- this month -- he's playing like he's trying to make a statement. The more he plays the better he gets, the better he gets the more he starts acting like his alter-ego, Michael Jordan.
Dan Hicks of NBC sent a text Michael's way on Saturday asking if there was any message he had for Tiger. Michael texted back, "Kill or be killed." Tiger is at his best when he's fed up. Not throw the club or F-bomb fed up. Fed up with people picking at him, paying him backhanded compliments, going micro, and has used the fuel to burn the type of competitive fire that he's famous for.
Whether it was the baby or the rust of knee surgery, Woods has been more fixated by mud balls, wind gusts and weird breaks in the green than he has doing what he does best -- and that is play with focus and fury.
So on the day after Jordan was inducted into the Basketball Hall of Fame, five days after FedEx Cup points leader Steve Striker said, "It's Tiger's World. We're just occupying space in it," Woods went off. He shot 62 --four strokes better than the low score of the week -- and took command not only of the BMW Championship, but the FedEx Cup and his 10th Player of the Year title as well.
The criticisms are what they are. Woods has hardly been as consistent as he claims, one week struggling with the driver, one week with the putter, yet considering where he was a year ago, coming off ACL surgery, he is also a candidate for Comeback Player of the Year. Selective memory makes Woods forget his words after the opening round of the Deutsche Bank Championship. "I didn't really do much of anything positively today," he said. "I didn't feel good over any shot today and didn't drive it very good, hit my irons worse and didn't make any putts. Other than that, it was a good day."
The sarcasm can be dripping, as long as it comes from Tiger's mouth. Woods has admitted he'd putted like a dog at times and his short game -- at least statistically -- is average compared to Stricker's.
But here's a stat I bet you didn't know: Woods is eighth in total driving this year. That's pretty good for a guy winning the Buick Open from the wrong fairways.
Here's another: Sunday will be Woods' sixth victory of the year. That's twice more than anybody else on tour. If that sounds like another Tiger Woods year -- even through he spotted everybody two months -- then it is.
(Photo: Hunter Martin/Getty Images)