The Loop
Woods picks the right time to find his game
AUGUSTA, Ga. -- There really is something about Augusta National GC that brings out the best in Tiger Woods, no matter the state of his game.
There were distinctive roars echoing through the chambers of this stately golf shrine Friday as Woods burst up the leader board and into the fray in the 75th Masters. With his ninth birdie of the day on the home hole, Woods capped a 6-under-par 66 and climbed within three shots of leader Rory McIlroy.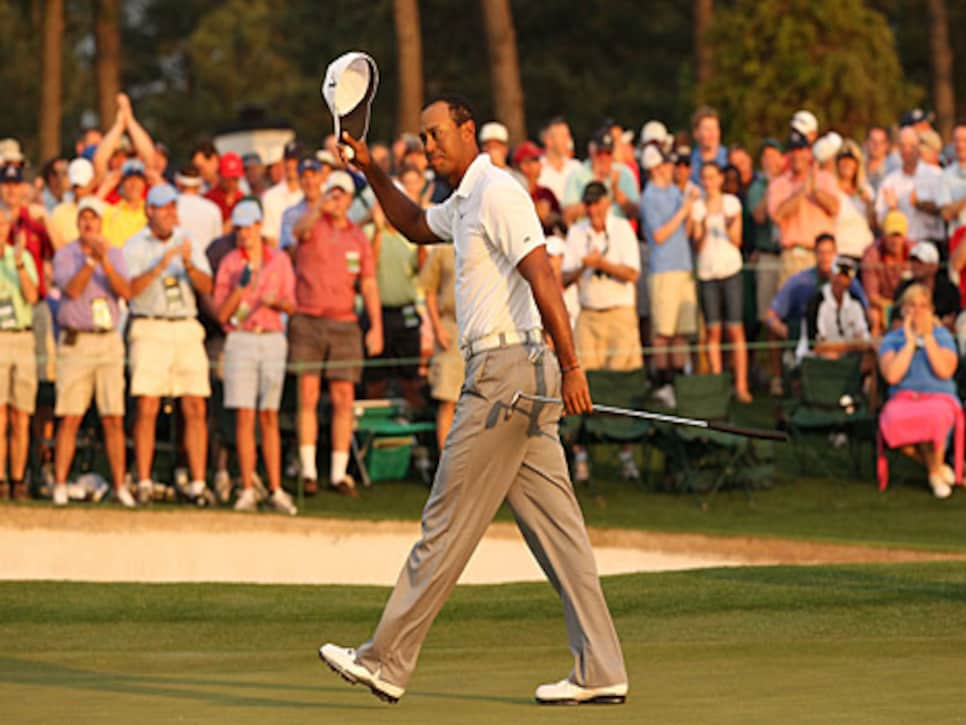 Woods hasn't been this close to the lead on the weekend since last year's Masters. Photo by Getty Images
The four-time Masters champion will begin the third round Saturday T-3 with K.J. Choi at seven-under 137 with just youngsters McIlroy and Jason Day ahead of him. He has not been this close to a lead in an official PGA Tour event since the second round last year, when he also was third and went on to finish T-4. He has not carded a round this low in a major since a 66 in the third round of last year's U.S. Open at Pebble Beach, where he posted his last top-5 finish on tour.
"The whole idea was to peak for this, this event," said Woods, 35, who is undergoing the third swing change of his pro career, this time with the [help of Orlando teacher Sean Foley](http://www.golfdigest.com/golf-tours-news/2010-08/golf-diaz-tiger-foley-0823). "We try to peak four times a year, and it was nice to go through the learning curve and some of the changes that Sean and I had to make in the game. It was good and positive, and here we are."
Foley said Woods has been swinging well on the range for two months. "But you can't teach confidence," he said. "Tiger has to own what he's doing. Just because he's won this many majors or this many tournaments, he has to play the shots and feel the shots. The sequence of the swing is there, and he just has to go and trust it. I think you saw how much he believes in what he's doing."
If the score, propelled by two stretches of three straight birdies, was important, the position that it put him in was of equal relevance. In his four victories at Augusta, the last in 2005, Woods has never stood worse than fourth after 36 holes. In six of his 14 major titles he trailed after Round Two.
"I'm just trying to put myself in the mix come Sunday," said Woods, who now has shot par or better at Augusta in 16 straight rounds, the best stretch of his career. "It's irrelevant who is there (in the lead). My whole job is to get myself there with a chance with nine holes to go. That's what we have always done. I've been successful at it in the past by doing it that way."
Maybe so, but Woods has not known success since late 2009, the last time he won a tournament on any tour. He has rarely been part of the conversation as he has adjusted to another golf swing. It didn't hurt that he needed just 26 putts, another part of his game showing signs of life.
Talk of completing his comeback is premature, however, and he knows it.
"I'm three back. So I played myself back in the championship," Woods said. "We have still got 36 more holes. We have a long way to go."
Added Foley: "You're going to start seeing him playing shots that he hasn't hit in a long time. He's already put the pieces together. Now he's going to go play golf, and it will be fun to watch what happens from here."