The Loop
Woods keeps going in second round
AUGUSTA, Ga. -- Tiger Woods' resounding return to golf is not likely to be a one-day phenomenon. That much was made apparent through just a couple of holes at Augusta National on Friday.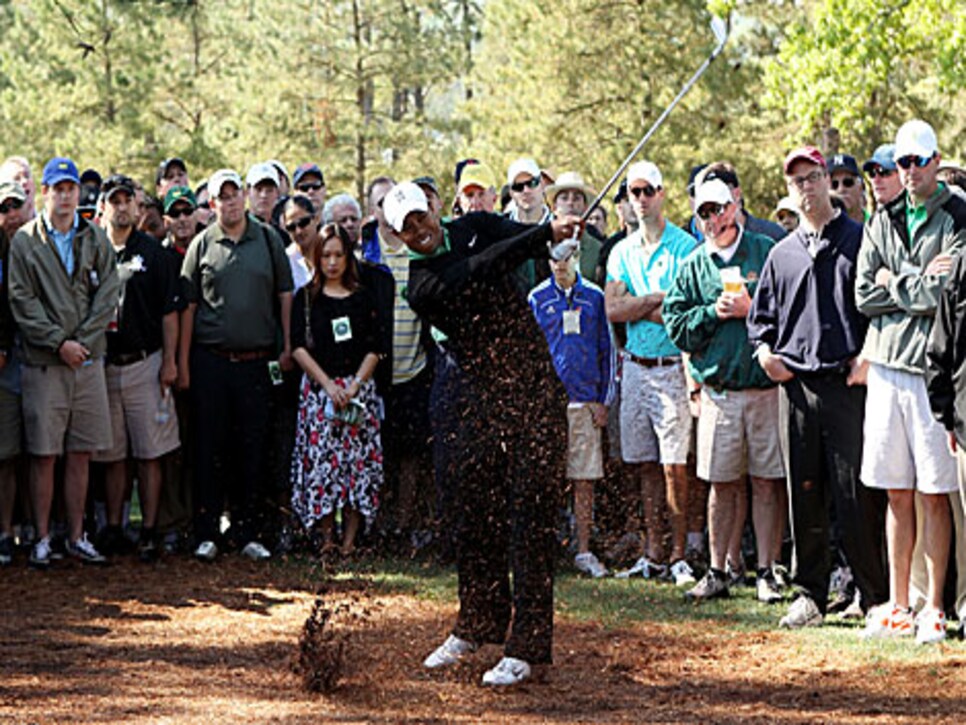 After missing the first fairway left, Woods, wearing a black sweater, punched out and managed to get up-and-down for par, then birdied the second when he missed the green long with his second shot, and deftly chipped to within inches.
__At five-under par, he is two shots behind Fred Couples, who birdied the second hole as well and is playing the par-4 seventh.
Update, 11:36 a.m. After a par at the third, Woods pulled his approach left on the long, par-3 fourth, and chipped to 12 feet. Woods missed the putt high to fall back to four-under.
Update, 12:10 p.m. Woods has made consecutive pars to remain four-under through six holes.
Update, 12:35 p.m.  Pace of play is a bit slow. Woods stays at four-under after a par at No. 7.
__Update, 1:08 p.m.:Squandered opportunity for Woods. A day after making the first of his two eagles at No. 8, a back tee prevents Woods from going for the green in two, and he has to  settle for par to remain at four under.
Update, 2:17 p.m.: __Woods now has made eight-straight pars, but begins a stretch of two par-5s in three holes on No. 13.
__Update, 2:30 p.m.:__Sure enough, Woods takes advantage of the par-5 13th, rolling in a 15-footer for birdie to move to within three shots of new leader Ian Poulter.
Update, 3:15 p.m.: After a par on 14, Woods sends his second shot over the green on the par-5 15th. His eagle chip gets caught up in the fringe, leaving him another 15-footer for birdie. But Woods sinks this one as well, keeping him within three shots off the lead.
__Update, 3:22 p.m.:__Woods summarily steps to the 16th tee and drops his tee shot to eight feet. But he misses the putt and settles for par.
U__pdate, 3:45 p.m.:__ Woods misses fairway at No. 17, but scrambles and makes par. He remains at six-under heading to the 18th.
__Update, 4:03 p.m.:__After perfect placement into the fairway off the tee, Woods' approach comes up well short. He lags his birdie putt to inches and walks away with par, a second-round 70, and yet another chance on the weekend to win a green jacket.
Somewhere, the folks at CBS are doing a jig....