The Loop
Woods makes cut, but misses chance to go low
PALM BEACH GARDENS, Fla. -- Any reasonable assessment of the two-under-par 68 Tiger Woods submitted Friday at PGA National cannot be encapsulated in the birdie-birdie flourish that rescued an otherwise pedestrian round.
Thursday's opening-round 71 was enticingly tidier tee to green, but his putting performance resembled that of golfer whose innate talents are still hibernating. Reaching 15 greens in regulation usually produces a score several fathoms lower, but the zigging and sagging on the Champion Course putting surfaces resulted in 34 whacks. That won't do.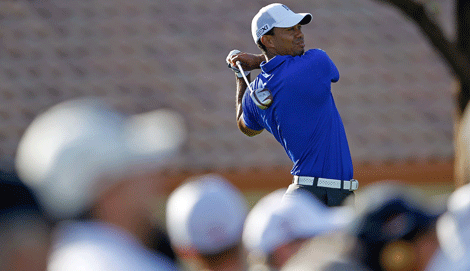 Photo by Mike Ehrmann/Getty Images
On Friday morning Woods was a different player, which had its tradeoffs. He hit five fewer greens, but he needed five fewer putts. He birdied three of his last five holes with a double-bogey sandwiched in between. He scowled walking off 18 yesterday. When he left the ninth green Friday -- his last of the day -- he slapped hands with caddie Joe LaCava wearing a smile.
"Well, I got it going, lost it, got it going, lost it and then got it going," Woods said, summarizing his day, not his last 19 months recalibrating his golf swing with instructor Sean Foley. "It was a little bit of a fight today, probably the worst I've hit the ball in months."
Ah, but there was satisfaction derived from the round. Yeoman's work rewarded with glimmers of hope.
"It was a grind. I didn't really have it today. But I scored. That's something I can take out of the round," Woods said after securing a third-round tee time that was in some doubt after he pumped his tee shot on the par-3 fifth hole into the water. "I know I putted a lot better today. Finally got putts to the hole, and that was kind of the goal today was not to leave one putt short, and wasn't quite successful at it, but that was certainly what I was trying to do."
And now for the bad news, otherwise known as context.
There is no telling how many shots will separate Woods from the leader when Saturday dawns, but he'll be at least seven back of fellow Jupiter, Fla., resident Tom Gillis, who has never before led. Gillis went out in the morning wave, same as El Tigre, and shot a 64, tying the course record for a couple hours.
Mornings like these are when course records are shot. The greens are soft, they are not marred by foot traffic and the Florida winds have not yet awakened.
"It was as easy as I've ever seen it today," said Gillis, who has played Gateway Tour events on what is usually a torture chamber of Jack Nicklaus' vintage. "Fifteen [a par-3 that begins the three-hole stretch known as the 'Bear Trap'] was straight downwind; it was an 8â¿¿iron, and I've never seen it like that. So it was kind of nice."
It was so nice that later in the wave, a 5-foot-7 Georgian playing his 20th round of golf on the PGA Tour came in with a 61, obliterating the record Gillis tied and which Davis Love III equaled on Thursday. Yeah, Brian Harman is one of "those" guys, and here you can insert your own description.
A left-hander, Harman, 25, is one of those young guys who wields a belly putter though he has no belly. The rookie made the switch at Pebble Beach. He is also one of those guys who just reached the PGA Tour via Q-School, assuming this week's John Huh role of proving to commissioner Tim Finchem that eliminating the availability of tour cards from the National Qualifying Tournament might not be the wisest decision. Huh defeated veteran Robert Allenby in an eight-hole playoff to win last week's Mayakoba Golf Classic.
Also Friday morning, Vaughn Taylor shot a 66. (By the way, he just regained his card from Q-School.) Ted Potter Jr. shot a bogey-free 64, which was in that course record-tying vein until Harman went hunting for 59, as did 2010 U.S. Open champion Graeme McDowell. Former Ryder Cup player Jeff Overton carded 65. Masters champion Charl Schwartzel, warming up for Augusta National GC, had a 66.
One good round and Woods is back in this tournament with a chance to win his first official title since the 2009 BMW Championship. And you know that a man with 14 major titles among 71 tour wins is capable of anything.
Still, there is a nagging sense that the former No. 1 player in the world, currently ranked 21st, remains significantly shy of exhibiting his best golf, even when conditions promote low scoring. And the sense was he knew it, smiles aside.
"I think somebody can shoot 65 or 64 today," he assessed before Harman's left-handed backhand of the Bear's track. "It was calm in the morning. ...The greens were running absolutely perfect, and you can play the first nine holes [in] relatively benign conditions and get it going. I think some of the guys did today. Unfortunately, I wasn't one of those guys."
No, instead he still looks like just one of the guys. Which is a far cry from when he was the man.