The Loop
Woods is looking up at Rose for now, but maybe not for long
ORLANDO, Fla. -- Make no mistake about it, I am firmly in the camp of those who feel we will never see Vintage 2000 Tiger Woods again. And when the over/under on the number of his major championships is set at 19, I have the under.
But also make no mistake about this: We are starting to see a consistent level of play from Woods that hints strongly that, even at age 37 and with a surgically-repaired body and emotionally-repaired psyche, he could once again dominate the PGA Tour.
What is going on is sort of like when Bob Dylan came out with the classic album "Blood on the Tracks" in 1975, a decade after his greatest work. It was a reminder that the artist still had more masterpieces up his sleeve, albeit not with the same regularity.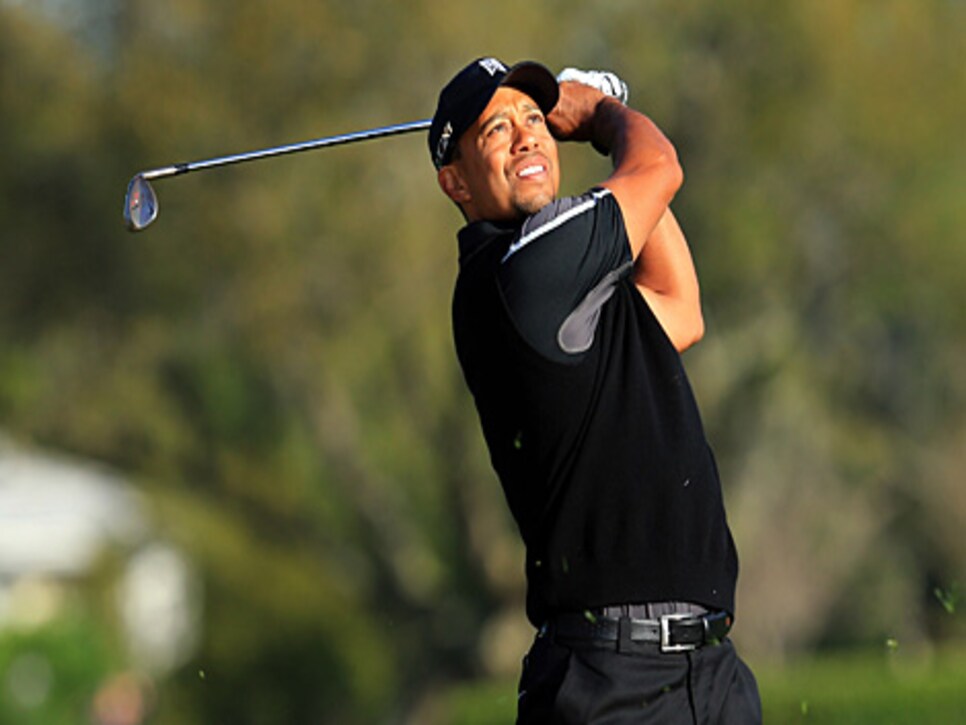 So might Tiger. Perhaps this won't be 2000, when he won nine times including three major championships. But Woods has already won twice this year, and his opening 69 at the Bay Hill Resort & Lodge, where he has won the Arnold Palmer Invitational seven times, puts him in a position to add to that total in his last tune-up before the Masters.
If there is an obstacle to Woods tying the record eight wins Sam Snead had in the Greater Greensboro Open -- the most by a player in a single event -- it could be something beyond his control. Justin Rose suddenly can putt, and that led to a seven-under-par 65 in Thursday's opening round.
Rose, like Woods a student of Sean Foley, is quite simply one of the best ball-strikers on tour. Last year he led the PGA Tour in greens hit in regulation but was a dismal No. 129 in the crucial strokes/gained putting stat.
That led him to David Orr, who has taken on the task of straightening out his putting, and it led to extra sessions with his sports psychologist Gio Valiente. And those efforts seem to be paying off for a 32-year-old in his prime who just might have what it takes to pick up his first major championship this year.
I'm thinking Rose's game fits very well with Merion, where the U.S. Open will be played in June. Merion is a second-shot golf course and that is Rose's strength. And now the putter is coming around.
"It's hard work," Rose said when asked what he does with Orr. "I've put in a lot of hard work with David Orr -- lots of drills, working on putts from 10 feet and in and it is starting to pay off."
Woods is another guy whose putter is also starting to round into shape. Most importantly, he used the flat stick to bail himself out when his swing -- which he now seems completely at ease with -- let him down.
"I made nice saves on one and two and that was the key because I had just given away a couple of strokes [with bogeys on Nos. 17 and 18]," Woods said. "I played all right. I didn't hit it my best today, but I made a couple of putts."
Woods appears to be swinging with complete confidence, which is not to say he didn't have his misses. And when he did miss it was wide right. He leaked it into the bunker on the par-3 17th and made bogey and then had to lay up on No. 18 after driving into the right rough and made another bogey.
In addition to striking the ball extremely well and putting solidly, Woods seems to have found something else that had been noticeably absent in his game: passion. When he made an eagle on his seventh hole, he raised the putter in the air and gave it a Tiger-of-old fist pump.
Maybe the addition of romance in his life, which he confirmed earlier this week when he posted photos of himself and skier Lindsey Vonn on Facebook, has added the missing piece to his puzzle.
Athletes are complicated creatures and as coaches Pia Nilsson and Lynn Marriott teach, golf has physical, technical, mental, emotional and social components to it. Piece by piece, Woods is reassembling those pieces. Bay Hill is certainly a comfort zone where Woods can bring all of those elements together.
"I don't know," Woods said when asked whey he was won seven times at Bay Hill. "It's just one of those courses. I have a few of them and fortunately this is one of them."
That speaks well for this week, but the test that matters comes in the major championships and it has been nearly five years since he has won one of those.
We will get the best evaluation of where Woods stands in terms of his game in three weeks at Augusta National GC in the Masters. And it just may be that one of those challenging him will be Rose, the likeable young man who missed 21 consecutive cuts to begin his pro career at age 18 and right now seems to be ready to stake a claim as one of the best in the game.
The way Rose strikes the ball, if he is just a decent putter he can win majors and become No. 1 in the world. It just may be that come Augusta, Sean Foley will have some easy walking, following both Woods and Rose in the same group, hopefully late on a Sunday afternoon. But first they have some work to do at Bay Hill.