The Loop
Woods' first round back takes 74 strokes, but at least he ends it in one piece
BETHESDA, Md. -- Give him this much, in his first competitive round since back surgery on March 31, Tiger Woods could at least bend over and tie his shoes on the first tee. Going out in four-over-par 39 on Congressional C.C.'s back nine, his front, it looked for a while like it would take a belt sander to knock all the rust off Woods' game. On the front, however, he birdied three of his final six holes to finish with a respectable three-over 74. In Woodsian jargon, for what it was, it was what it is.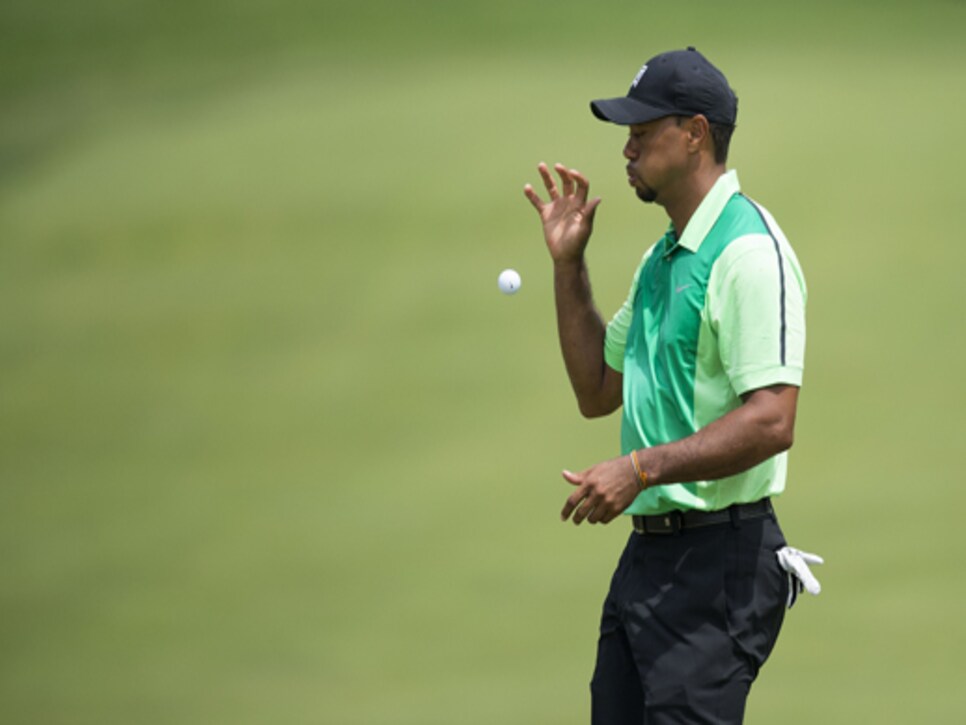 "I made so many little mistakes," Woods says. "So, I played a lot better than the score indicated, which is good." Woods had chances to get up and down on 15 through 18 but his short game, in theory the thing he's been able to practice all along, was unable to bail him out. "That's all I've been doing is chipping and putting. I hit some bad shots. Those are the ones I should get up and down every time."
The good news is that he was pain free, though he also took pains to point out he wasn't headed for the practice range, he was headed for a cold soak and treatment. "The back's great. I had no issues at all. No twinges. No nothing. It felt fantastic. That's one of the reasons why I let go on those tee shots. I hit it pretty hard out there," he said. "I think tonight I'll just take it easy."
There was a decent crowd to greet Woods, Jordan Spieth and Jason Day on their opening hole, the 10th, but when all four players turned in four over par, the gallery thinned as if it had wandered off looking for someone who could break par. The yells of, Welcome Back Tiger,' were about 4 down with three to play to, No Photos…No Videos,' before staging a rally at the end.
While Woods' overall strength seemed good, on those few occasions when he drove it in Congressional's thick rough, it was clear the circa 2000 shot ripping the ball out of Pebble Beach's U.S. Open rough was not yet on offer. All in all, though, it was a satisfactory start. "It's nice to get back out here playing again," said Woods. "I, unfortunately, have been in my career on the sidelines enough, so it's always fun to come back out here and play against these guys, the best players in the world, and to get out here an see what I can do."
And how fast he'll be able to do it.