The Loop
Woods bests McIlroy by a stroke at Bethpage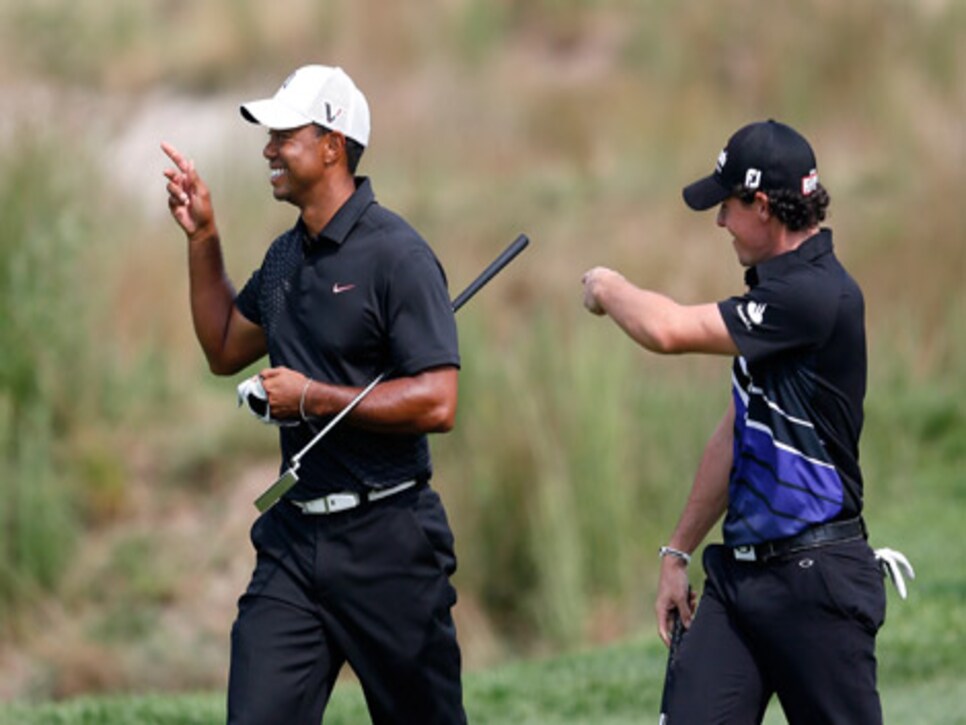 FARMINGDALE, N.Y. -- It was a day of good but not spectacular golf for Tiger Woods and Rory McIlroy, who were in the glamour grouping for the first round of the Barclays at Bethpage State Park's Black Course as the FedEx Cup playoffs got underway.
While Padraig Harrington set the pace with a seven-under 64 Thursday morning, Woods was four strokes behind with a 68. McIlroy cooled down after a hot start to shoot 69. Zach Johnson, the third member of their pairing, equalled Woods and bettered McIlroy despite giving up a lot of distance to each.
As evidenced by Harrington's score and a bevy of good rounds just behind him -- Woods and Johnson were outside the top 10 when they finished -- the Black Course was as vulnerable as it ever is thanks to a lack of wind, reasonably soft greens and, according to Woods, fairly generous hole locations.
"They're probably a step and a half easier today than they normally are for an Open," Woods said of the pins at Bethpage, site of the U.S. Open in 2002 and 2009. "Today they're a little bit easier and we had a little bit more room and could take more chances. Even if you short-sided yourself, you could leave yourself uphill putts. Looking at the pin sheet before we played, I was surprised at how easy some of them were. We're used to seeing them tucked three or four [yards] from the side or up against the back, or just over ridges. There was plenty of room."
McIlroy made the set-up look easy early, playing his first six holes in three under before stalling. "It got a little quieter in the middle of the round," said McIlroy, a 23-year-old grouped with two 36-year-olds. "My short game let me down a couple of times. Feel like the way I played, it could hae been a few shots better."
McIlroy's effortless power was on full display Thursday as he averaged 301.6 yards off tee, hitting 11 drives 300 yards or longer. Woods, hitting the driver a bit less than McIlroy, averaged 291.1 yards with nine tees shot at or beyond 300 yards.
Known for a pinpoint short game, Johnson averaged 275.2 yards but hit his approach shots an average of 29 feet, 8 inches from the flagstick, considerably inside Woods (35 feet) and just outside McIlroy (26 feet, 10 inches.)
Both of his longer-hitting fellow competitors paid tribute to Johnson's grit.
](http://www.golfdigest.com/golf-tours-news/pga-championship/2012-08/photos-pga-shots)
[Related: Zach Johnson's workout tips
](http://www.golfdigest.com/golf-instruction/blogs/theinstructionblog/2011/11/fitness-friday-4.html)
"He's one of the best putters out here and usually drives it on a string," Woods said. "Him and [Steve Stricker], probably one of the best wedge players out here. Obviously you don't win a Masters by never going for a par 5 in two without a wedge game. That's the hallmark of his game. He did it today."
"Zach's game is good," said McIlroy. "Sometimes you think this course might be a little long for Zach, but he manages his game so well. He's a true pro and has been out here a long time. He showed how to get it done today."