The Loop
Woods arrives at Augusta with many questions
Tiger Woods has played in 16 Masters, but this year's trip to Augusta National Golf Club is his most important since that stunning 12-stroke victory in 1997 when he was just 21 years old. Not since Woods played in his first Masters as a professional, after twice participating as an amateur, have so many questions traveled to Georgia with him. He does not need to leave town April 10 with a fifth green jacket to quiet the doubters, but if he does not have a competitive performance, such as a top-10 finish, the questions will become even more plentiful and certainly more pointed.
Never before has Woods approached the first major of the year - or any tournament for that matter - on a winless streak this long, stretching back to Nov. 17, 2009 when he won the JB Were Masters in Australia. Tiger has played five events so far this year and all have been tournaments that have been very friendly to him in the past, producing a combined 21 victories. Yet his best finish in 2011 is a backdoor T-10 at Doral in the WGC Cadillac Championship when he closed with a 66 on a Sunday in which he had no chance to win.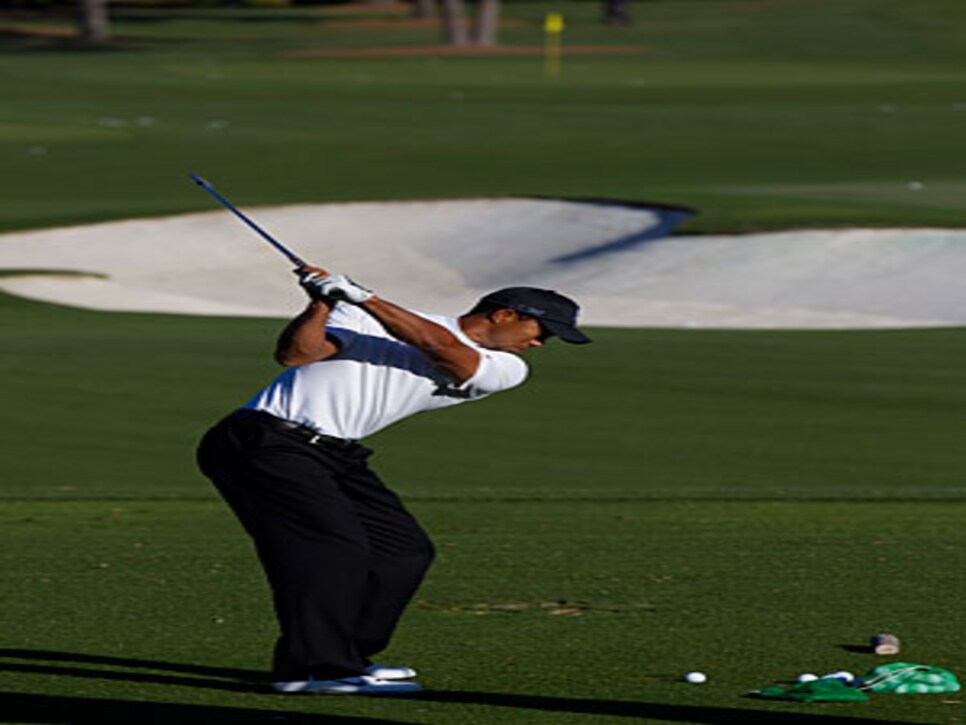 Augusta National has also been a Tiger-friendly course. While the last of his four Masters titles came in 2005, he has nevertheless finished third, second, second, sixth and fourth since then. This is a course where his length is an advantage -- as is his ability to hit the ball a mile high -- and his wildness off the tee is not severely penalized. In the past, his short-game wizardry has served him well on and around the steeply contoured, incredibly quick Augusta National greens.
But while Woods has always ridden the power of positive expectation into the Masters -- he has been the favorite for 15 years now -- this year he goes in needing to prove something. If Woods were to finish outside of the top 10 this year, questions will start to be asked about whether he is tinkering too much with his swing; whether his four-time surgically repaired left knee is eroding after decades of supporting an extremely violent swing; whether his confidence, especially with chipping and putting, is not what it once was, and whether he can still break Jack Nicklaus' record of 18 professional major championship victories.
This much is clear: Since returning to competition after a five-month, self-imposed absence at last year's Masters with a fourth-place finish that had many thinking he would place the problems of his personal life quickly behind him, Woods has been unable to put together four consecutive solid rounds of golf. In each of the 16 events he's played since the 2010 Masters, Woods has had at least one round of 72 or higher and in 11 of those events he's had at least one round of 74 or higher.
When Woods went into the 2008 Masters with 13 major championships already to his credit, it seemed to be a foregone conclusion that he would shatter Jack's record. The 2010 season, in which the majors were to be played at Augusta National, Pebble Beach and St. Andrews -- where he had won a combined seven majors -- was still ahead. But now that is two knee surgeries and one scandal ago. The only major title Woods has added since going into that '08 Masters with lofty expectations was the U.S. Open later that year, just days before his fourth knee operation.
No part of Woods' game is consistently solid right now. He is wild off the tee, imprecise with his iron play, less than his miraculous self around the greens and far from his inevitable self on the greens. He has had trouble closing out tournaments -- 75 in the final round at Torrey Pines and in Dubai, a 72 at Bay Hill with a bogey-double bogey finish -- and has posted his lowest scores when they matter least. Are these results the product of undergoing swing changes, or are they because of something else?
Perhaps Augusta National will provide some answers. The venerable old course is a place at which Tiger is comfortable, going back to that 1997 tournament when he overwhelmed the field, even after playing the opening nine holes in 40 strokes. Woods was so dominate at the Masters -- 11 top 10s in 14 starts as a pro and never worse than T-22 -- they lengthened the golf course by about 500 yards, essentially adding a 19th hole, because of him.
Now, Tiger needs something good to happen at a place that has been oh so good to him. A green jacket would be nice, but just being in the hunt on Sunday afternoon is almost essential. Otherwise, Woods will leave Augusta with his winless streak one tournament longer, with his opportunities to gain on Nicklaus one tournament reduced, and with the questions about his future becoming one difficult query to answer.