The Loop
Woods and McIlroy enjoy another day going toe-to-toe
CARMEL, Ind. -- Tiger Woods stepped up on the interview podium behind the 18th green at Crooked Stick GC Friday afternoon, noticed the microphone was a bit too low, and raised it toward his chin. It did not hide his mischievous smile as he said wryly, "Has Rory been here?"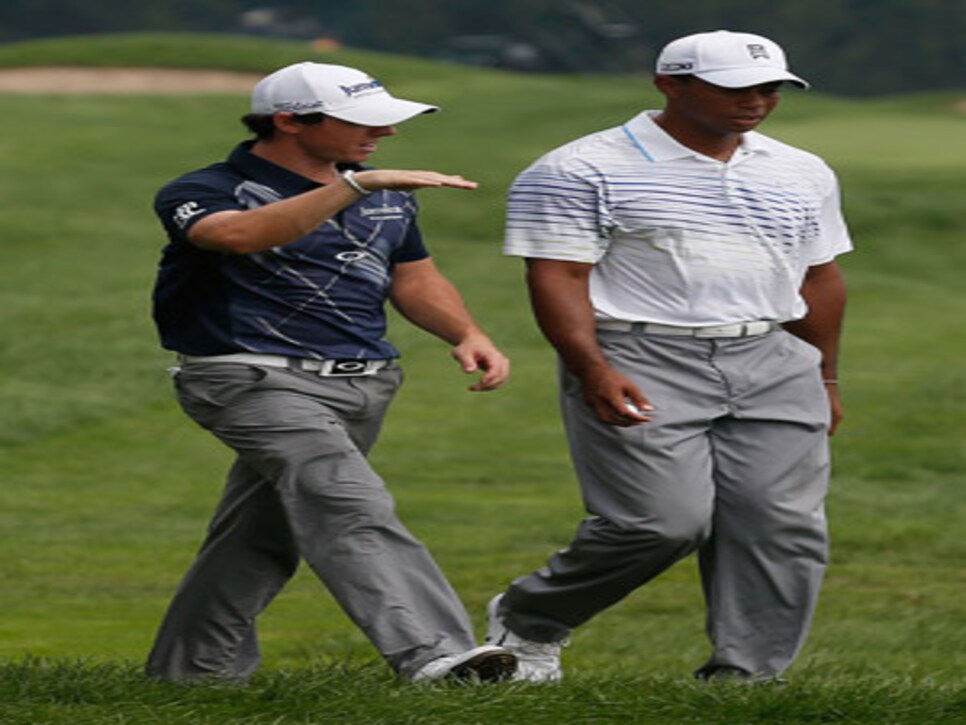 That left Woods one up for the day against the man who has become his top rival in golf.
Woods and Rory McIlroy, who indeed had just completed his post-round interview, are in a virtual dead heat for PGA Tour Player of the Year honors, and only Woods's biting witseparated them after two rounds of the BMW Championship, the third leg of the four-tournament Playoffs for the FedExCup.
Each is at 12-under-par 132 through 36 holes at Crooked Stick, trailing the game's Energizer Bunny, the irrepressible Vijay Singh, by one stroke. That they're tied figures to be about right given their growing rivalry.
Woods might have a height advantage over McIlroy, but the youngster from Northern Ireland is longer off the tee, and he is ranked No. 1 in the world while Tiger is No. 3. And while each man owns three victories in 2012, McIlroy has the PGA Championship and last week's Deutsche Bank Championship on his resume.
They are 1-2, respectively, in the FedExCup standings, too.
The third member of the group, Nick Watney, was well back at five-under 139 after a 69. "Those guys gobbled up all the birdies," Watney lamented.
About the only mishit Friday was the decision to group the players in threesomes for Saturday's third round due to a threat of inclement weather that could soften Crooked Stick even more, if that's possible. That decision robbed the tournament of a McIlroy-Woods pairing in the penultimate group. Instead, McIlroy tees off at 1:01 p.m. EDT with Singh and Ryan Moore. Woods is with Lee Westwood and Bo Van Pelt at 12:50 p.m.
Not that either man cares.
During a joint interview after Thursday's round, they were in mutual admiration society mode. On Friday, they had found their cocoons.
"I'm concentrating on my own game," McIlroy, 23, said. "Of course I'm watching him hit his shots, as well.  But I mean, for the most part I'm just trying to shoot the best score possible out there that I can, and that's all I'm really trying to do."
Woods, 35, was locked on numbers, not any nemesis.
"I didn't have much today. Swing wasn't quite there, and I was just grinding along here and just trying to get to double digits under par," Woods said. "That was the goal, the way I was hitting it. I was just slapping it everywhere, and somehow just grind away and find a way to shoot something where I was in double digits by the end of the day, and I just happened to get a couple more."
Woods hastened to the practice range after the round, and he hit balls for close to 30 minutes, predominantly working on his driver. McIlroy, who like Woods finished with a birdie, didn't linger at Crooked Stick.
A little separation was probably not a bad thing, especially when so little separates the two rivals as the long season begins its turn towards the finish line. Oh, but Rory is one down on barbs.