KPMG WOMEN'S PGA
Women's PGA: Lee-Anne Pace sets pace, landlord and tenant contend, a rookie uses her 11th caddie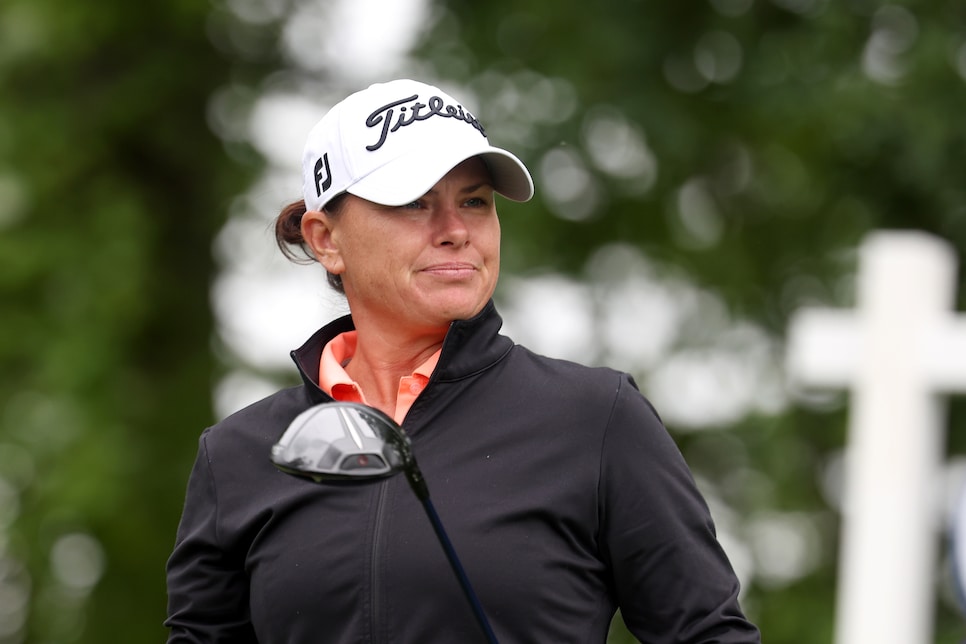 Leader Lee-Anne Pace watches her tee shot on the third hole during the first round of the KPMG Women's PGA Championship at Baltusrol Golf Club.
Scott Taetsch/PGA of America
The LPGA's return to Baltusrol for the first time since 1961 was rainy, cold and wet. With the course playing 6,500 yards, scores reflected the challenging conditions. Leader Lee-Ann Pace's five-under-par 66 was one of only 16 players posting a red number.
Impressively, it's Pace's first start at the KPMG Women's PGA Championship since 2019, where the now 42-year-old missed the cut. She walked off the course at 8 p.m. and was asked if she believed a 66 was out there.
"No," Pace answered. "Did you?"
With tough conditions forecast for the rest of the week in Springfield, N.J., it feels like the winning score will be closer to 2022 winner In Gee Chun's five under par then 2021 champion Nelly Korda's 19 under.
Leaderboard: Lee-Anne Pace (-5), Ruoning Yin (-4), Xiyu Lin (-4), Brooke Henderson (-4), Wichanee Meechai (-3)
Have to use a caddie? Hire local
Celine Borge hits her tee shot on the 18th hole during the first round of the KPMG Women's PGA Championship at Baltusrol Golf Club.
Darren Carroll/PGA of America
Asking LPGA rookies about the most challenging part of playing on tour usually points to travel, lack of practice, or limited playing opportunities in non-full-field events. But for Celine Borge, three off the lead following an opening two-under 69, her answer stands out.
"I'm not used to having a caddie," Borges said. "I just try to do what I've always been doing, just play my own game and just someone to carry the bag."
When Borges, 24, was on the Epson Tour, the Norwegian carried her own bag. The developmental circuit didn't require caddies. The LPGA, however, requires players to use them.
Borge's solution? Using a local caddie in each of her LPGA starts, resulting in her using a different looper every week on tour. It's proven effective, as she has three top-20 finishes, highlighted by a T-14 at the LPGA Drive On Championship in March.
"I tried to stay focused on every shot and hit fairways and greens and just to do my best," Borge said.
Landlord and tenant tied for second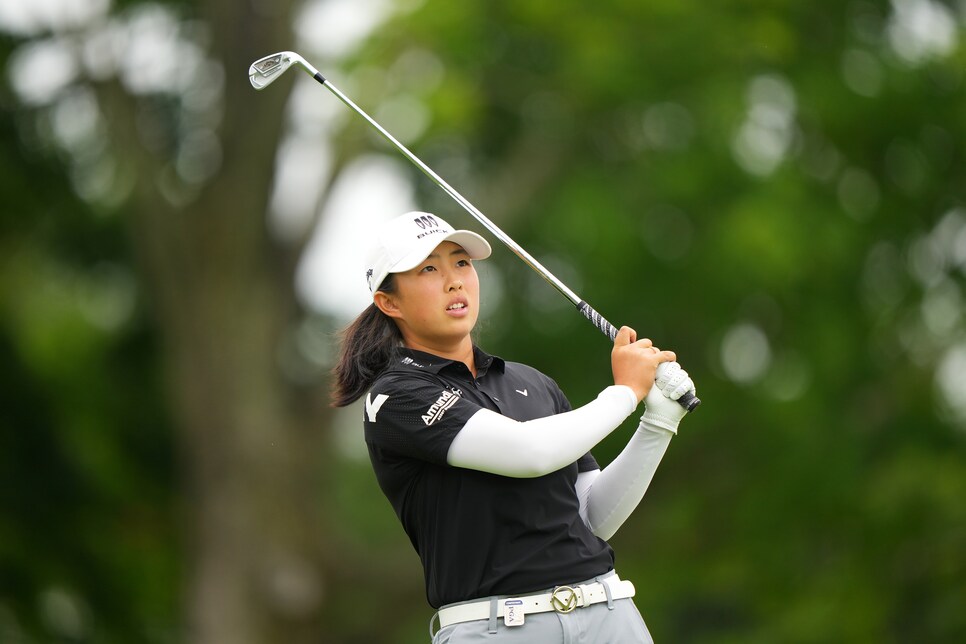 Ruoning Yin hits her tee shot on the fourth hole during the first round of the KPMG Women's PGA Championship at Baltusrol Golf Club.
Darren Carroll/PGA of America
Xiyu Lin, 27, and Ruoning Yin, 20 are good friends. Yin called Lin like a big sister and was happy to their names tied for second after shooting bogey-free 68s. But the two from China are not only close friends—Yin rents Lin's old house in Orlando.
"After she win [the DIO LA Implant Open in April], I'm like, 'I need to raise the rent," Lin joked. "It was way too low for you now.'"
Lin felt bad that, with playing on tour, she couldn't keep up with maintenance issues at the house, such as a drainage problem with a clogged toilet that was finally fixed three weeks ago. They met when Yin was 16 and asked Lin the best way to make it to the LPGA.
"The more I talked to her, the more I feel like she's definitely way more mature than her age, and she has very clear goals, and she's very aggressive," Lin said. "She's not scared of anything."
Lin lost to Hannah Green in a playoff at the JM Eagle LA Championship at the start of May. After recovering from a back injury and COVID-19, Lin finished T-3 at the Meijer LPGA Classic last week. Lin maintained perspective for her and Yin saying they'll chat about anything other than golf while spending time together Thursday evening.
"We set a good start," Lin said, "but there's still plenty of hard work to do, so we're just going to get some rest and come out bright and early tomorrow."
Zhang continues success in pro major debut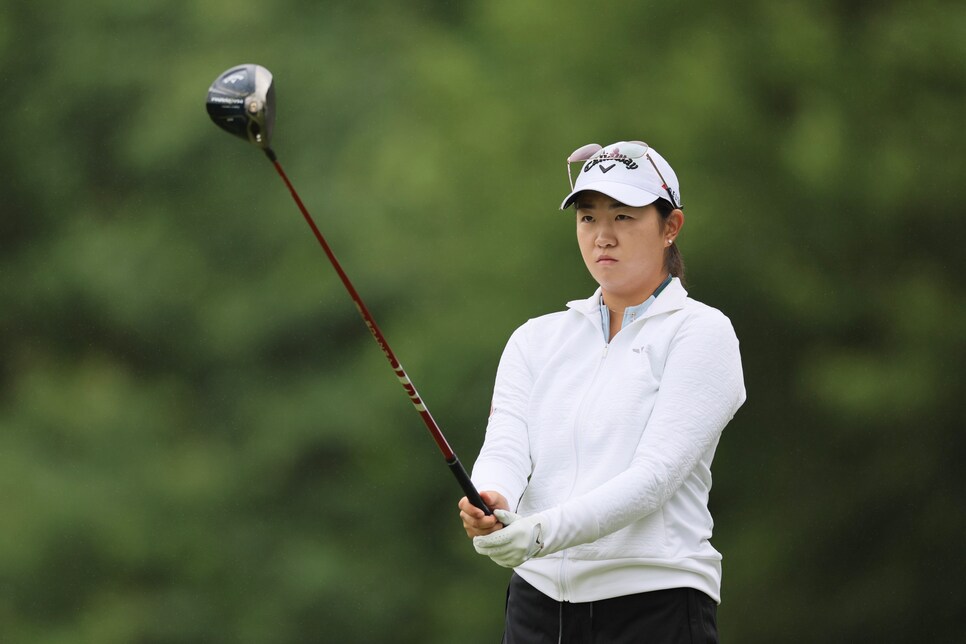 Rose Zhang continued her steady play Thursday during the first round at Baltusrol.
Andy Lyons
Following her historic win at the Mizuho Americas Open at Liberty National three weeks ago, Rose Zhang, 20, returned to Stanford to take her finals. Zhang's exams haven't slowed down her golf game, as she started her first appearance at the KPMG Women's PGA Championship and first major as a professional with a one-under-par 70.
"I don't think any round at a major championship is casual," Zhang said. "I definitely had to grind out there. I will say it was pretty much like a roller coaster."
The Baltusrol test challenged Zhang quickly. She went two over par through her first four holes. Zhang responded with clutch answers, burying lengthy par saves on the fifth and sixth holes to stay at two over and play bogey-free the rest of the round. Zhang's first of three birdies on Thursday came on the seventh.
Zhang had a chance to end the day with fireworks on the 498-yard, par-5 18th hole. Zhang's self-described easy 3-wood from 219 yards out settled eight feet from the cup. Instead of punctuating the round with an eagle, she left her putt short, settling for a one-under opening act to sit tied for 12th place.
Her comfort level on the course matches her comfort with the onslaught of media attention.
"I'm not sick of you guys, if you guys aren't sick of me at that point," Zhang joked.
There's always time to make new friends
The par-5 17th hole went disastrously for Minjee Lee. She had to take an unplayable penalty from the greenside bunker, settling for a double bogey that put the two-time major champion back to one over. However, that didn't stop the Australian from a heartwarming chat with one of the youngest fans at Baltusrol, soothing former LPGA player and current Golf Channel commentator Amanda Blumenhurst's crying baby after Bulumenhurt handed her to Lee on the 18th hole.
The bow-tied baby intently watched as Lee, 27, talked. It's a moment the young fan won't likely remember but will always have on tape to look back on. Lee ended up with a par on the last hole for a round of 72.
Thompson finishes up-and-down day outside cut line
Lexi Thompson started Thursday with three straight bogeys. It felt like the 2022 KPMG Women's PGA Championship runner-up turned the day around by fighting back to even par through seven but the rollercoaster round went south quickly, starting with a double bogey on the 10th and finishing the side with a five-over-par 41 to card a 76 and sit T-106.
In 2023, she has made one cut in four starts, with her best result being a T-31 at the Cognizant Founder's Cup. The 11-time winner has one round in the 60s this year, a 69 to begin the Meijer LPGA Classic last week. Highlighting the drastic change in her season, over Thompson's 12-year career, she's finished in the top-25 63 percent of the time.
Should Thompson, 28, miss the cut this week, she'll have missed as many weekends this year as she did in 2021 and 2022 combined. She did shoot 74 to begin the KPMG Women's PGA Championship last year at Congressional but she was T-50 after that round.
Thompson isn't the only notable player to post a 76 Thursday, with fellow top 10 players in the world Nelly Korda and Hyo Joo Kim also shooting five-over.