Women's PGA: Henderson ties lead, Ko 1 back
SAMMAMISH, Wash. – Two streaks are alive; the other one not so much. Ariya Jutanugarn battled cool, breezy conditions bordering on cold and blustery early Friday to shoot a 75 and complete 36 holes of the KPGM Women's PGA Championship at three over par on a Sahallee CC track that brought it's A game.   With pretty much everyone in full reverse on a day when pars were prized and birdies hard to find, that was good enough to keep the 20-year-old from Thailand in contention to win her fourth consecutive LPGA start.   Only five players are under par going to the weekend, led by 18-year-old Brooke Henderson and Mirim Lee at two under par.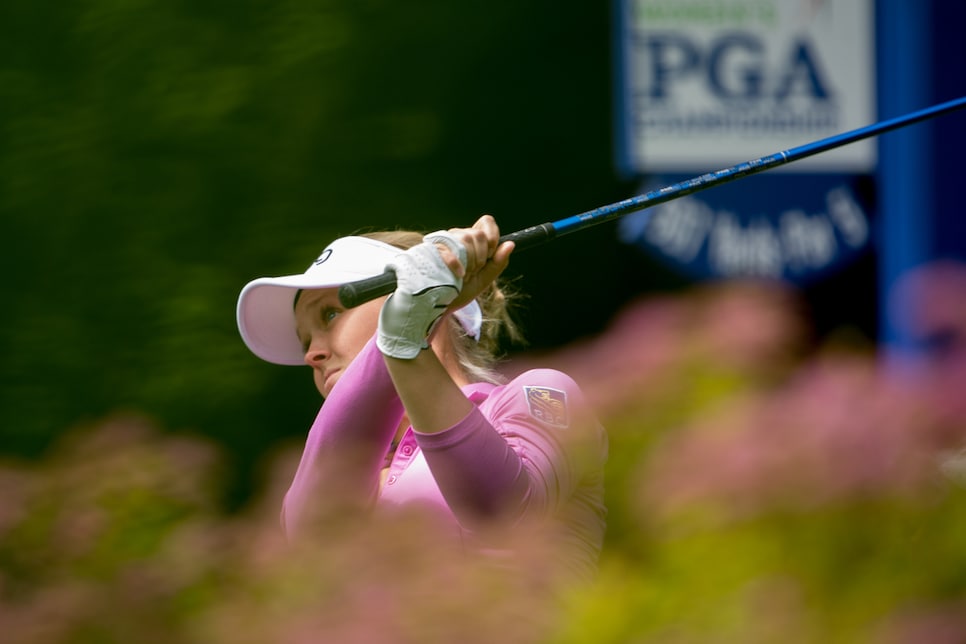 Playing in the afternoon wave, Lydia Ko, the No. 1 player in the Rolex Rankings at the age of 19, played in a cold rain for part of the back nine and finished with a solid 70 that put her at one under going to the weekend as she tries for a third consecutive major championship.   "As we made the turn, it got much cooler and the rain came," said Ko, whose putter kept her in the contest. "It was really tough out there. I feel like I'm in a really good position."   Also at one under are Gerina Piller, after a 69, and Brittany Lincicome. The round of the day was 67 by 46-year-old Catriona Matthew that got her to one over par as she jumped from T-83 to T-11.   Inbee Park was not so lucky in her quest to win this tournament for a record fourth consecutive time. Fresh off the emotion of qualifying for the LPGA Hall of Fame on Thursday and fighting an injured left thumb, she followed her 72 with a 79 and will get some much-needed healing time by missing the cut.   Jutanugarn, who elicited oohs and ahs from the large galleries by driving with a 2-iron she hits with such force the crack of the ball echoed like a gunshot through the towering pines, smiled but was clearly in no mood to talk after she lipped out a putt on her last hole to make bogey.   "I must have lipped out five times," she said after sending a text on a smart phone engulfed by a giant ice cream cone case.   The brevity of her answers and the way she folded her arms across her chest told a story she wasn't putting into words after what was clearly a frustrating round.   "I tried so hard to stay positive today," she said. "It was really tough conditions and it is a major."   And that was that. She was off.   Park said her poor performance had nothing to do with the excitement of getting into the HOF, which she shared with family and close friends Thursday evening.   "I started refreshed," she said. "It just didn't happen to be my day. It was tough out there."   Then she hinted at the real reason for her high score.    "I think I will have to really re-think [her schedule]," Park said when asked when she will play again. "I might need some time to really get better."   That's what folks in her camp have been saying privately for a few weeks. The question is whether she can be healthy enough to play in the Olympics when the final field is announced July 11.   While Jutanugarn and Ko are still in the hunt for a bit of history, Park will be watching from her couch – and that's probably exactly where she should be.
You are using an unsupported version of Internet Explorer. Please upgrade to Internet Explorer 11 or use a different web browser.