News
Women golfers invade Pinehurst Resort
If ever I needed evidence that women's golf is alive and thriving, my visit this week to the Executive Women's Golf Association's annual conference at Pinehurst Resort in North Carolina did the trick. Over 400 members from 125 EWGA chapters in the U.S. and Canada gathered at the famed resort for five days of golf tournaments, clinics and speaking engagements by a cast of characters ranging from renowned body-language expert Jan Hargrave to LPGA Hall-of-Famer Annika Sorenstam. I was there to answer questions about women's equipment and on-course gender dilemmas, but I walked away feeling like the ladies in attendance had given me more answers than I gave them.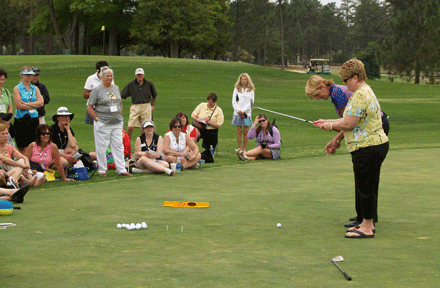 *The EWGA provides its 20,000 businesswomen members with a community that encourages and enhances their knowledge and enjoyment of golf. It's part networking organization, part change-making force. As was plain to see at the annual meeting (or "Golfapalooza," as it's officially named), the enthusiasm and passion these women have for the game -- and for their organization -- is nothing short of astounding. In a clinic held by LPGA star Suzann Pettersen (fresh off her second-place finish in the Kraft Nabisco Championship last week) on Thursday, there were many more questions about swing techniques and course management than autograph and photo-op requests. After Hargrave did an hour on portraying positive body language to clients and how to spot a liar just from how they touch their nose, the line of women wanting to buy her books stretched out the door. And the insatiable quest for golf-related answers I was met by in my sessions left me exhausted, but very clear on one thing: While the past two years' economic recession has taken a big toll on the game, it's only made women golfers bolder, stronger and more unified.
Gone are the days when women were content to be told what to buy, when to play and how to behave on the golf course. They know this industry needs them, and they're ready to be a force.