News
Women dominate inaugural PowerPlay Golf
It sounded like a silly concept, to pit 12 international golf stars of different ages, genders and nationalities against each other in a made-for-TV nine-hole tournament that featured a jacked-up Stableford format involving two cups per hole. And some of the players (ahem, Graeme McDowell and John Daly) certainly acted like they had debated staying in bed this morning before getting up and collecting their undoubtedly hefty appearance-fee checks. But in the end, Golf Channel's inaugural PowerPlay Golf event at Celtic Manor in Wales provided plenty of entertainment and some great golf. Especially from the three female pros invited -- Swedes Caroline Hedwall and Helen Alfredsson, and American Paula Creamer -- who ultimately finished first, second and tied for third, beating luminaries such as Ian Poulter, Paul Casey, Gary Player, Ian Woosnam and McDowell.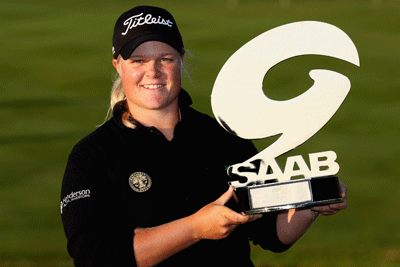 Sure, if you're the nitpicking traditionalist type, you probably didn't like the fact that the players could use laser range finders and played from different tees depending on gender and age. And yes, it seems strange that someone like Alfredsson, who started out by earning a modest nine points in five holes, could rack up 20 points in the last four and come close to winning simply by choosing her "PowerPlay holes" (the three holes among the first eight at which each player had to go for the more difficult pin) wisely. But no matter who you are, you'd have to admit that the strategy and gambling elements added a fresh dimension to the competition. The last three holes were nail-biters.
As a viewer, a few questions came to mind during the telecast:
Below are the final PowerPlay Golf results, with each player's scores. As in any Stableford competition, they earned two points for par, one for bogey, three for birdie and four for eagle. But on the PowerPlay holes (which each player had to call on the tee), the points were doubled. On the 9th hole, if a PowerPlay was called, a bogey resulted in three minus points.