The Loop
With Steinberg gone from IMG, what's next for Woods?
IRVINE, Texas, -- Mark Steinberg is out as managing director of golf for North America at International Management Group, sources familiar with the situation tell GolfDigest.com, and that raises this compelling question: Will Tiger Woods go with him? Steinberg, who took over the golf operation at IMG after financier Ted Forstmann purchased the company in 2003, has represented Woods since 1999 and has remained close to Woods during the recent scandal involving Tiger's personal life. It is difficult to imagine the two of them going in different directions.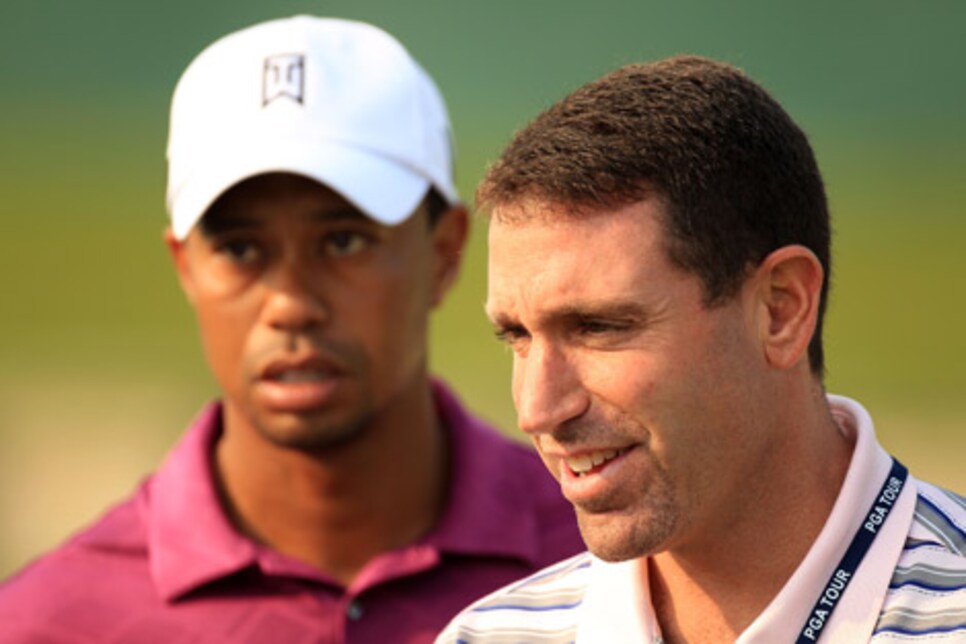 *Mark Steinberg has been Woods' agent since 1999. Photo by Getty Images
The sources say Steinberg entered contract talks with IMG on Tuesday fully expecting to negotiate a new deal for his pact that expires in June. However, those talks quickly reached an impasse and Steinberg left, perhaps after being offered a contract the company knew he would turn down, sources say. In addition to Woods, Steinberg is the agent for Annika Sorenstam and Steve Stricker. Sorenstam, reached by text message, said she first learned of the situation only hours earlier and said she had yet to decide what she will do in terms of management.
Woods has been an IMG client since 1996, when he turned pro after winning his third consecutive U.S. Amateur title. His original agent at IMG was Hughes Norton, who negotiated a rookie deal for Woods that was several times higher than most other agents believed was possible. "Do you know why we got as much for Tiger as we did?" then head of IMG Golf Alastair Johnston said to Golf World some years back. "Because we knew we could."
Norton negotiated deals for Woods right out of the box with Nike and Titleist that were worth more than $67 million. Several years later, however, Woods and Norton split over a dispute involving the percentage of Woods' income being taken by IMG. Under a deal signed off on by Tiger's father, Earl Woods, IMG's take reached more than 20 percent as the value of Woods contracts escalated. The new arrangement, managed by Steinberg, reduced the percentage taken by IMG to below 10 percent.
[Ljava.lang.String;@46f9c9c7
](http://www.golfdigest.com/magazine/2011-02/photos-the-golf-digest-50#slide=1)
If Woods does leave IMG -- and sources say contract language allows him to do so -- it will not be the first time a major player has left the company, and not the first time a player has left and taken an IMG employee with him. Greg Norman did it, as did Nick Faldo. Jack Nicklaus also left IMG, but later returned.  The most loyal of IMG's clients has been Arnold Palmer, who formed the company in a handshake with Mark McCormack 50 years ago.
Two recent developments make the departure of Steinberg less surprising than it would have been even two years ago. The first is the scandal involving Woods' personal life. While Woods has said no one in his inner circle knew about his infidelities, that was hard to believe for several reasons, one being the decision by Woods to pose for a cover shoot for Men's Fitness magazine, a publication owned by the parent company of the National Enquirer, which broke the story of Woods' affairs. That photo shoot was not likely done by Woods without the knowledge of his agent.
More recently, Forstmann was diagnosed with a brain tumor. When Fortsmann Little Inc., purchased IMG for $750 million after the death of McCormack in 2003, it was assumed they there doing so in order to turn the company over at a profit. Fortsmann streamlined the company, laying off people and jettisoning unprofitable divisions, but had yet to sell it before his illness forced him to step aside as head of IMG. Sources also say that Fortsmann and Woods were not close.
The departure of Steinberg -- and the assumed departure of Woods -- clears up that matter from hanging over any impending sale. If Fostmann Little wants to sell IMG, it now can do so with the knowledge that Woods will not be part of the deal.  All in all, it is only the latest twist in an unusual ride that began Nov. 27, 2009, when the car containing Tiger Woods hit a tree and a fire hydrant outside his home in Windermere, Fla.
Since that accident, not only has scandal after shocking scandal been revealed about Woods, but his game has gone into steep decline. For more than a year and a half now, he has not won a golf tournament. And now he is sidelined with an injury to his left Achilles and his left knee, which has already been operated on four times.
What happens next, both in a business sense and for Woods competitively on the golf course, is very much up in the air. That's about the only thing we know for sure right now after the latest development in one of the most bizarre stories in the history of sports, all beginning that Thanksgiving night in Florida.