The Loop
With some old short-game magic, Woods moves up the leader board
KIAWAH ISLAND, S.C. -- Tiger Woods' once-vaunted short game made a long-awaited (by Woods and his fans) reappearance in the opening round of the 94th PGA Championship Thursday at the Ocean Course. Woods saved shots five times after missing eight greens en route to a 69 that left him three shots off the lead of Carl Pettersson.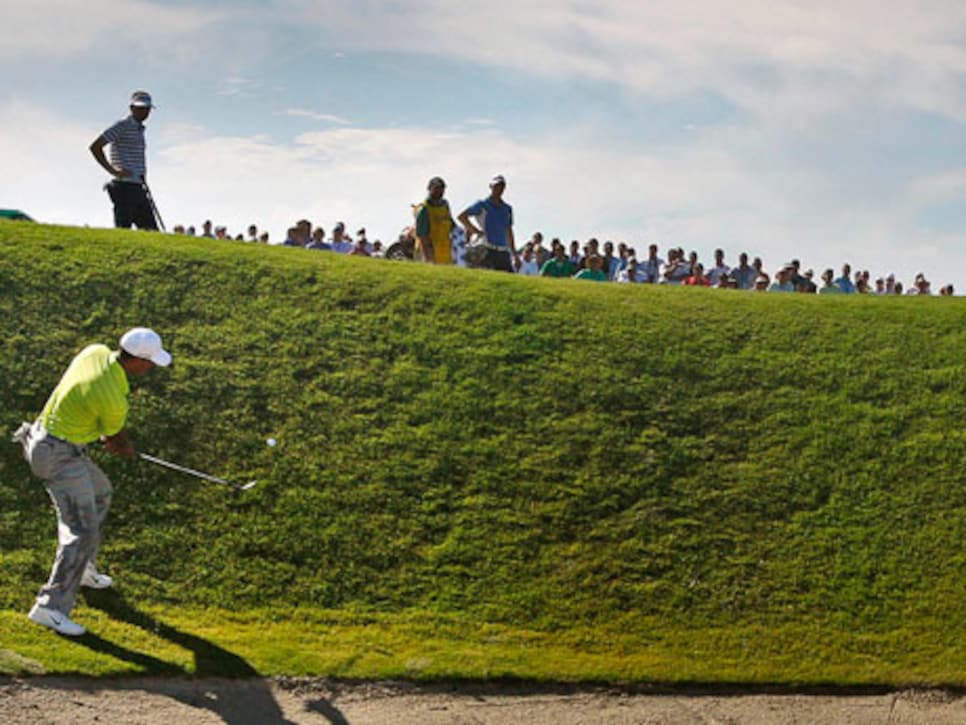 Tiger escapes a greenside bunker on the 14th hole. (Photo by Getty Images)
"I played well today, and anything in the 60s is going to be a good start in a major championship, and I'm right there,'' he said.
Two areas in particular -- putting (22 total) and bunker play (three sand saves)--seemed to be finally on the mend, perhaps a carryover from last week's final round at the Bridgestone Invitational when he shot 66 to gain a top-10 finish after struggling on the greens most of the week. Perhaps it's even a harbinger of things to come.
"I putted well on the weekend, made a few adjustments Friday night last week, and felt like I hit a lot of good putts,'' Woods said. "I started the ball on my start lines again and I think I made six putts over 20 feet out there or something like that on the weekend, which is good. I came here with the same thoughts, same feels, and I made a few today.''
Woods had a little less luck hitting his start lines off the tee, finding just 9 of 14 fairways. Several times his ball wound up in one of the gazillion waste bunkers and once, on the tricky par-4 fourth hole, in a hazard. The latter was the result of an errant fairway wood that seemed to ride a right-to-left breeze off the ocean.
Expectations were that Woods would be in a much more aggressive mode than last month at Royal Lytham, where he eschewed the driver for long irons and fairway woods from the tee. It appeared he hit driver most of the time on the long holes on a course softened by heavy rains earlier in the week and last night. Those out early were on full attack, including Woods' playing partner and defending champion Keegan Bradley, who opened birdie-eagle and finished with a 68. It definitely caught Woods' attention.
"Well, I mean, geez, I'm playing with Keegan and he's three-under through two,'' Woods said. "And you look up on the board, some guys are four under through six; a bunch of guys are three under through five and a couple of them were three under through three. So, it's one of those days where everyone's going to shoot six-, seven- or eight-under par, but the wind kicked up a little bit and it changed things quite a bit.''
It did indeed. It forced Woods into his bag of greenside tricks again at the par-4 ninth (his final hole of the day) after his approach shot came up short of the green, leaving him an awkward pitch over the corner of a deep bunker. Laying the blade of his 60-degree wedge wide open, Woods nipped the ball perfectly and sent it flying toward the flagstick where it took one bounce and checked two feet from the cup.
"The lie was down grain ever so slightly on the down slope,'' he said of the shot. "And because it was down grain and it was soft, I could play the shot. If it had been into the grain, I would have pitched it to the right 15 feet and tried to make the putt.''
Last week Woods spent most of his post-round practice sessions trying to discipline a putter with behavior problems. When he finished his brief interview Thursday, he said he was going to put in "a little work on the range, clean up a few things.''
The short game didn't need to be one of them.