The Loop
With return to Shinnecock, USGA turns page on 2004 mess
BETHESDA, Md. -- The ties between the USGA and Shinnecock Hills GC--the historic Long Island club is one of the five founding members of the governing body -- run too deep to let the frustration of the final round of the 2004 U.S. Open prevent a return of the national championship to the Southampton, N.Y. course. It's why officials from both groups expressed their excitement Wednesday that the USGA's signature event will go back to Shinnecock Hills in 2018.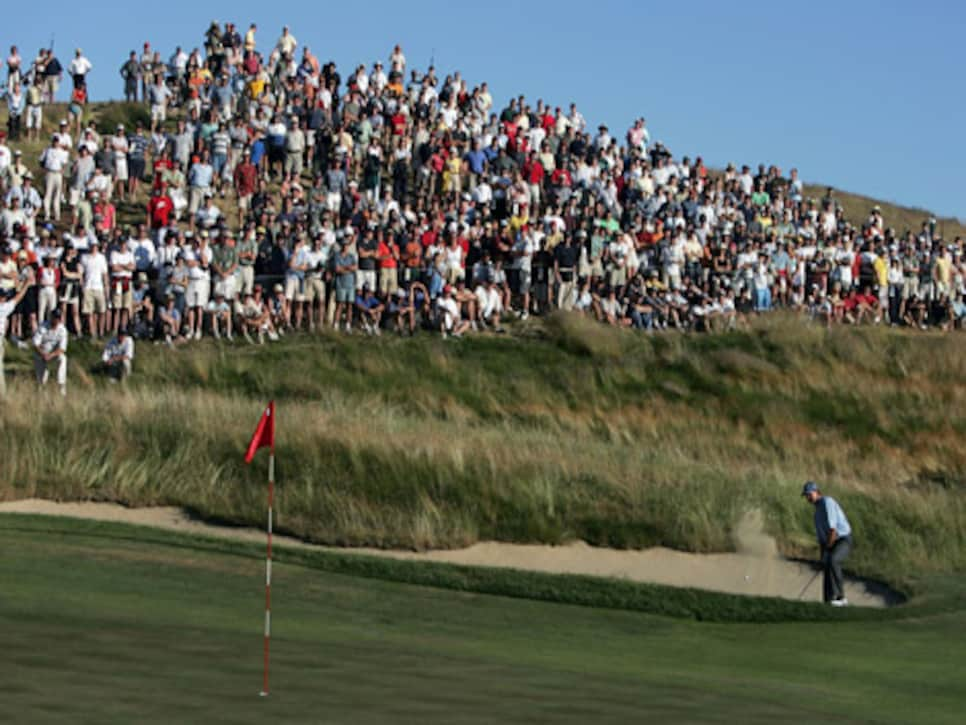 *Retief Goosen survived a brutal final day in 2004. Photo by Getty Images
In announcing the selection, which means every U.S. Open from now to 2019 has a home, USGA executive director Mike Davis acknowledged the trying conditions that everyone faced seven years ago, when sun and wind dried out several of Shinnecock's greens on Sunday and threatened to compromise the championship. Most notable was the par-3 seventh hole, where players struggled to keep the ball on the putting surface not just from the tee but while merely chipping from around the green, causing officials to have to water the hole periodically between playing groups.
"It was a great learning experience," Davis said. "When it comes to a U.S. Open, you've got the world's best players, and you're trying to set it up as the hardest event of the year. It's easy to go from that point to having a setup where well-executed shots are penalized. And that's exactly what was happening on some of the holes."
Davis says that in the years since, the USGA has erred on the side of caution in its set-ups to make sure a repeat of the incident didn't occur and that no course gets away from them like Shinnecock did in the future.
Given not only the events of 2004 but the USGA's penchant for tinkering with courses in the run-up to them hosting an Open, you'd figure that there might be some adjustments made to Shinnecock Hills before 2018. Davis, however, said that aside from some possible new teeing grounds to help bring some of architect William Flynn's bunkering back in to play on certain holes (i.e. the par-5 16th), there won't be many alterations.
"Regarding the seventh green, any of the greens, we're not modifying anything to do with that," Davis said.
"We believe that our course offers a unique venue for championship golf that stands the test of any era," noted club president Robert A. Murphy Jr.
When the championship comes to Shinnecock Hills in 2018, it will be the fifth time the Open has been played there (1896, 1986, 1995 and 2004). The club is already the only venue to have held the championship in three different centuries.