The Loop
With return to Crooked Stick, remembering the guy who changed it all
OK, time for a quick game of golf word association.
For instance, I say "Merion," you say, "Hogan." I say "Oakmont," you probably say "Miller." And if I say "Crooked Stick" you almost certainly will say, "Daly."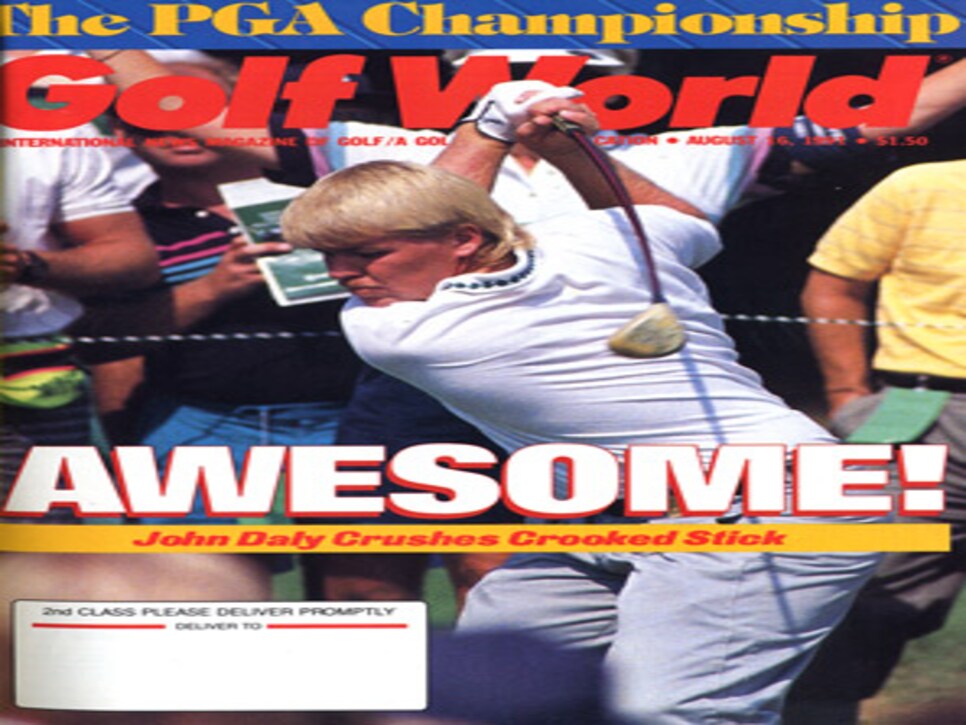 Few venues in golf are so quick to conjure up the name of one player. That is in part because prior to this week's BMW Championship, the Pete Dye-design in Carmel, Indiana course hadn't hosted a PGA Tour event since 1991. But it's mostly because 21 years ago in that PGA Championship, John Daly overpowered Crooked Stick in a way golf had never seen.
"How long is he?" Golf World's Gary Van Sickle wrote in his PGA Championship report that week. "Long enough to be ridiculous."
"He's going to be able to overpower 15 courses on tour," runner-up Bruce Lietzke said of Daly, who was an unknown PGA Tour rookie at the time. "He could be that guy winning seven or eight tournaments a year. We haven't had that guy since Johnny Miller."
"That guy," as it turns out, was still five years away, and it wasn't John Daly, but Tiger Woods. The projections of Daly winning multiple times a year were far off. Owing to an assortment of factors, he has won only five times total (though two were majors) and has never made a Ryder Cup team. Still, it's fair to say that Daly's three-shot win at Crooked Stick helped usher in the era of power golf being played today.
While most players that week were hitting 3-irons into the challenging 445-yard 18th hole, Daly was hitting 8-irons. At the 438-yard eighth hole on Saturday, he hit sand wedge from 130 yards. . . and it was too long, resulting in a double bogey.
"Ladies and gentlemen," Van Sickle wrote. "Meet the Second Coming."
At the end of the 1991 season, Daly's tour-best driving average of 288.9 yards was a full six yards longer than the next guy (Greg Norman) -- and nearly 30 yards longer than the tour average. That sort of distance hardly impresses today -- Rod Pampling is 103rd on tour with the same number, while a 46-year-old Daly, who is in the middle of a modest career resurgence, is averaging 304.4 yards. But remember, Daly was doing it all with a thermoplastic-headed driver and a Maxfli balata ball.
"He was, without doubt, the original bomb-and-gouger, banging it out as far as he could and wherever he found it, he hit it from," Golf World's Equipment Editor E. Michael Johnson said. "That's standard-issue for some players today, but back then it wasn't a strategy many employed."
It was a philosophy, however, many players soon learned to embrace, particularly given the remarkable advancements in equipment that were to follow. In 1997, when most players had switched to metal-headed drivers, Daly became the first player to finish the season averaging more than 300 yards off the tee. Six years later, there were nine players to do so.
When the BMW tees off on Thursday, Crooked Stick is again supposed to favor the super-long hitter. These days that could mean any number of different players, from McIlroy, to Woods, to Johnson. The difference two decades ago is it really meant only one.