The Loop
With Open win, Mickelson cements legacy as one of the all-time greats
GULLANE, Scotland -- For several years, it seemed as if time and life had worn down Phil Mickelson's enthusiasm for tournament golf. Even he admitted occasionally struggling with maintaining concentration over 72 holes. In those moments of indifference, it seemed as if the only two things that motivated Mickelson were winning major championships and beating Tiger Woods. He got to do both on Sunday at Muirfield in the 142nd British Open and now, as they say here, he's the champion golfer of the year.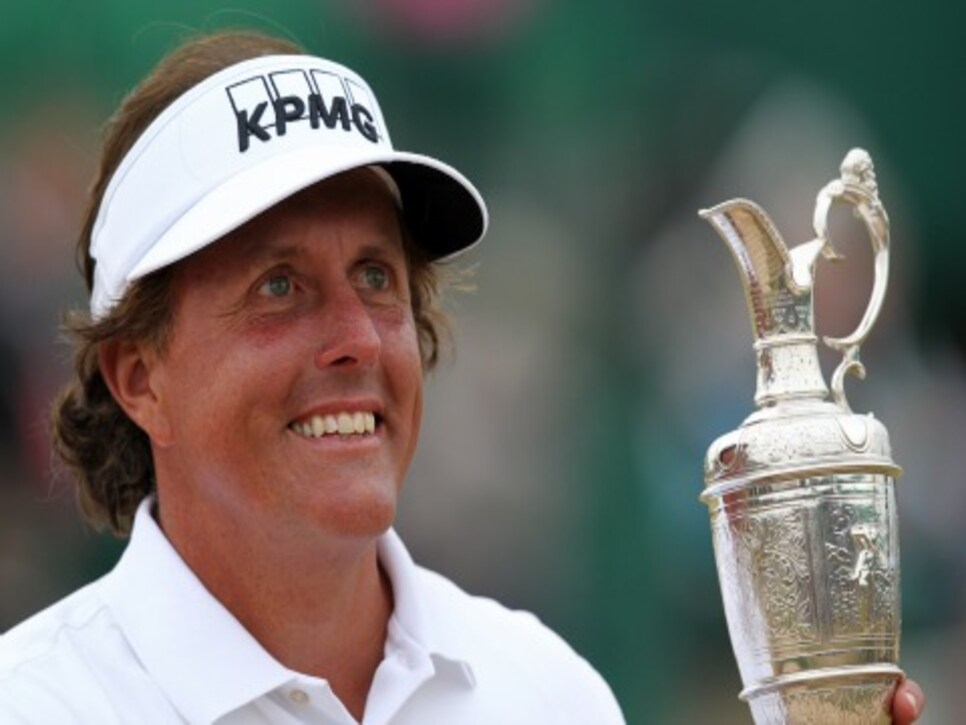 And just like that, a legacy that at one time seemed as if it would be lost in the enormous shadow cast by Woods now looms so much larger across the history of golf. With a flurry of golf as brilliant as any seen in the closing stretches of a major championship, Mickelson finished with an unfathomable 66 at Muirfield to end 72 holes at three-under-par 281, three strokes better than Henrik Stenson. Woods, meanwhile, started the day three strokes ahead of Mickelson and only two behind 54-hole leader Lee Westwood, but sputtered again on the weekend in a major, closing 72-74 to finish five strokes behind his left-handed rival. "This was probably the best round of my life," Mickelson said as he sat in the interview room, his hand never leaving the claret jug. "I hit some of the best shots I have ever hit, I putted better than I have ever putted. I told myself I needed my A-game today, and I did."
Related: Swing Sequence: Phil Mickelson What this means for Mickelson is several more pages in the record books. He joins Arnold Palmer, Tom Watson, Sam Snead Byron Nelson, Lee Trevino and Ray Floyd -- an impressive group -- as guys who have won three different majors. And he is now only the U.S. Open -- where he has finished second a record six times -- short of writing his name next to Gene Sarazen, Ben Hogan, Gary Player, Jack Nicklaus and Tiger Woods as having completed the career Grand Slam. Winged Foot regrets anyone? Merion memories? Pinehurst pain perhaps? "If I am able to win the U.S. Open and complete the career Grand Slam, that's the sign of a complete player," Mickelson said. "I'm one leg away, but that's been a tough leg for me," he said to laughter, including his own. And with five major championships, Mickelson is tied with Nelson, Seve Ballesteros, James Braid, J.H. Taylor and Peter Thomson on the all-time list. One more and he moves onto the line with Trevino and Nick Faldo. Two more and Lefty makes that elite list of all-timers with seven that includes Palmer, Snead, Sarazen, Harry Vardon and Bobby Jones. What Mickelson did Sunday was nothing short of remarkable. He started the day at two-over par, five strokes behind Westwood. After 12 holes, he was still only one over and a couple strokes off the pace. Then Phil threw The Thrill Machine into overdrive. Birdie. Birdie. Par. Par. Birdie. Birdie. "I was still only one over when I got to 13 and I hit it in there," Mickelson said. "It was a putt that was going to mean the championship one way or the other. It was a critical put." And he made it to trigger his closing run. Stepping to the 17th tee knowing if he finished 4-4 he'd likely be taking home the claret jug, Phil did one better, burning the fairway with both drives, something he has not always done under pressure.
Related: Sunday's Birdies and Bogeys The two-putt birdie on the par-5 17th hole meant he was mostly likely the winner with a par on the last. But this is Phil we are talking about. He attacked the pin, got a huge break when fate guided his ball around a bunker, then applied the exclamation point to the best round of the week by making the birdie putt. The roar of the crowd both after he holed out and later during the trophy ceremony demonstrated that Lefty was an extremely popular champion in a tournament that has not been kind to him. "To birdie four of the last six is awesome," Mickelson said. The consensus was that his game did not transfer well to links golf, they all said -- including me. He hits it too high off the tee and relies too much on the flop shot around the green, they all said -- including me. Those shots don't work well in the wind and off the tight lies of links courses, they all said -- including me. Phil doesn't have the patience to play the kind of conservative golf needed to win the British Open, they all said -- including me. But Lefty solved part of that patience problem by leaving the driver in the boot of his car this week. He also thought his ball around the golf course in much the same way he did when he won his first Masters in 2004. He hung close and then closed with a vengeance. Four times, Mickelson has missed the cut in the British Open, including last year at Lytham. Eleven other times he had finished outside the top 20. And only a T-2 at Royal St. Georges in 2011 and a third-place finish at Troon in 2004 were there real opportunities to win. But coming into Muirfield off a victory last week in the Scottish Open at Castle Stuart a few hours north of here, he made the mental adjustment for what was needed to win on a links course. "The penalty for missing shots on a links course is much more severe," Mickelson said. "I guess it just took me a while to figure it out."
Related: Phil's no-driver strategy pays off Now, at the age of 43, it will be interesting to see how much fuel this victory deposits into Mickelson's emotional gas tank. With so much more history so close, will this kick-start a late-career major surge? Let's put it this way: Phil Mickelson won this tournament every way possible: Patiently, boldly and, at times luckily. All are needed to capture majors. Quite likely, they will now all say Mickelson has more majors in him -- including me. And, oh, how about this: His first chance to complete the career Grand Slam? Next June. Pinehurst No. 2 -- the scene of the first of his six second-place finishes in the U.S. Open. Why do I get the feeling Phil is toying with us now? Why do I feel he has a lot more great golf left in him? Because he's Phil, that's why.