The Loop
With one hand on the Wanamaker Trophy, Dufner lets it go
JOHNS CREEK, Ga. -- From far behind him, where the winner stood, the sound of celebration followed the loser, and Jason Dufner walked on, his left arm around a beautiful woman, neither speaking until he said, "Amanda, yeah, meet me back there, right by the locker room." If his heart were broken by the day's events, no one would know it. Maybe even he wouldn't know, he said. Give him time, and if he never came this close again, well, maybe, yes, this one would hurt.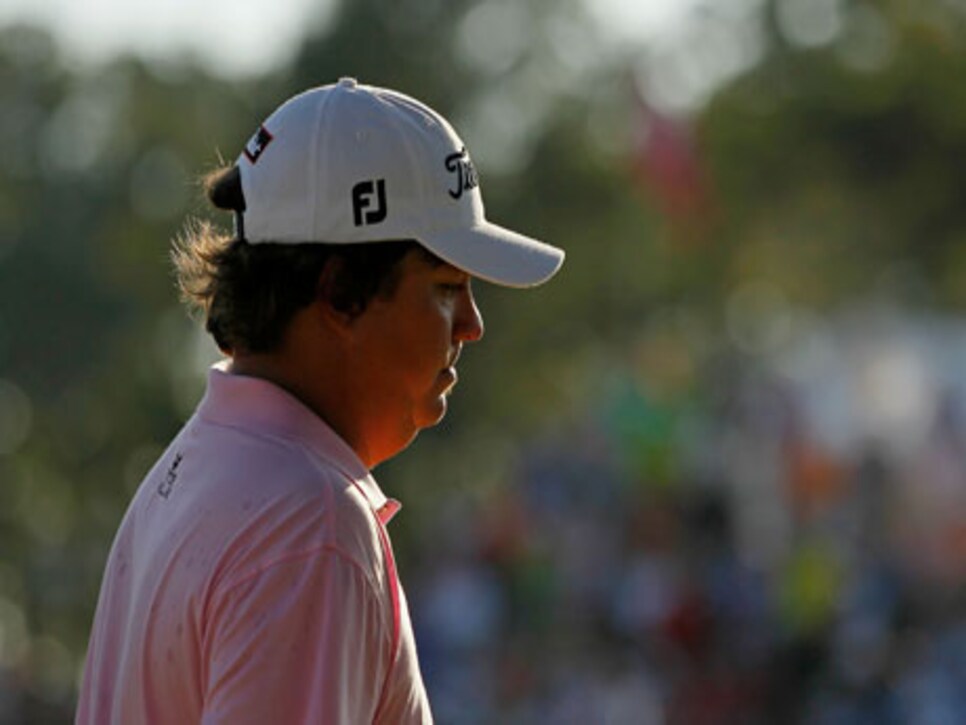 *Jason Dufner walks up the 18th fairway of regulation play. *(Photo by Kevin C. Cox/Getty Images)
For most of three and a half hours in the Sunday heat of this PGA Championship, Dufner was somebody. That's a new thing for him. He's 34 years old and has never won on tour. When his name came to the top of the leader board here, there was serious furrowing of brows among people who'd never heard of Jason Dufner. But for three days he went 70, 65, 68 on a course that embarrassed Tiger Woods, sent Rory McIlroy to the hospital, and had Phil Mickelson muttering about course design, as if we cared.
On the fourth day, for those three and a half hours, Jason Dufner was as efficient a golfing machine as the game allows. As he stood on the 15th tee, he had missed only two greens all day. He'd made four birdies, no bogeys. He was 11-under par for the season's last major. There were four holes to play. For a moment, as play happened around him, Jason Dufner led the world by five shots.
He hadn't grown up wanting this. He didn't have Jack Nicklaus' record taped to his bedroom wall. He didn't play until he was too old to be a prodigy. But once he started, at age 15, he caught on quickly. At 18, he walked on the golf team at Auburn University. By then he'd heard of Ben Hogan. He decided Hogan was the model. In 2004 he earned his Tour card, only to lose it a couple times before finding a way to play in 2008. Since then, he has earned over $4 million out there.
"I didn't even know I was up by five," he said. He had seen Keegan Bradley butcher the 15th right ahead of him. A triple-bogey. Bradley was out of it, apparently. "I don't feel like I was nervous. I knew what was at stake."  At 259 yards to a green bordered by water, Dufner said he was between clubs, a 3-iron or a 5-wood.  He hit the 3-iron "like I wanted to," he said, but he started it on a line at the water's edge and the ball fell right as well. With a good up-and-down from the drop circle, Dufner saved a bogey. Still, four shots ahead of the world.
All week he had played well on the AAC's fierce final four holes. Three under par on them. But now he followed the bogey at the 15th with a mis-hit 4-iron that cost him a second bogey. Meanwhile, the once-dead Keegan Bradley had birdied the 16th. Dufner's lead was now two shots. And when Bradley ran in a long birdie putt at the par-3 17th ...
Dufner had five shots in hand on the 15th tee. On the 17th tee, he had one.
Implacable all day -- the Hogan in him -- Dufner showed no emotion on that tee. He did his usual unusual waggle, waving the clubhead over the ball five times, six times, seven, before suddenly striking the shot. The ball, caught in a stiffening breeze, ballooned enough to cause the implacable man to release a long breath of relief when it came to earth. Dufner even mimed its flight for his caddie, a light moment in circumstances that have caused many a man to forget how to breathe. But then, putting through shadows that hid a killing slope, he ran his first 10 feet past and missed the comeback.
Now, Bradley had caught Dufner.
Now, Bradley, in the twosome ahead, was all but skipping down the 18th fairway.
Now, Dufner trudged from the 17th green toward the 18th tee. He touched hands with small boys reaching out to him. He looked at none of them, just held a hand out at his knee and let them touch him.
Now, the world had come down on him.
He made a good par at the 18th to force the playoff that now seemed anti-climactic. Events already had decided the winner. When he missed a five-footer on the first playoff hole, the 16th, then repeated his three-putt mistake at the 17th, Bradley took a two-shot lead to the 18th. Dufner's birdie there -- and how he could have used that 45 minutes earlier -- served only to reduce the winner's margin.
At a press conference later, Dufner was asked the obligatory set of how bad-does-this-hurt questions, the first framed around the history of players who've lost when they seemed to have victory in hand.  Will this loss be how we remember Jason Dufner?
"I'm not a history buff as far as golf goes," he said. "I know the media tries to define careers on certain players, you did this, you didn't do this. I'm not into that. I just play golf. I love playing golf. I love the competition. And I want to be as good as I can be. If that's 20th in the world with no majors, or first in the world with 10 majors, or never to win a Tour event, I'll be fine with it.
"You know, coming from where I came from, to be in this position, it's a dream come true. I could never have imagined playing in major championships, playing with Phil Mickelson and Tiger Woods. That's a milestone to me itself. I'm not going to let this define my career."
And someone asked, "I know you don't show much emotion out on the course -- is this killing you inside that this one got away from you today?"
"Maybe a little bit," he said. "Maybe looking back 10, 15 years from now, I'll feel disappointment that I let this one get away if I never get another chance. But I've got a feeling that I'm going to have some chances to win some majors ..."
The runner-up finish gets him into all the majors next season. It paid him $865,000. All good.  And when he left the press building, a man in a golf cart drove Dufner back to the player's locker room. There, waiting, Amanda.