The Loop
With McIlroy, Woods relegated to co-starring role
ABU DHABI, United Arab Emirates -- One of the most frustrating features of what will surely become known as golf's "Tiger Era," has been the lack of pubic candor emanating from the 14-time major champion. For reasons that have never been entirely clear -- mostly because he had never deigned to tell anyone -- Woods has played what cricketers call a"straight bat" to almost every question. In other words, his answers have invariably and typically been both predictable and pedestrian.
Still, time moves on and so has golf. No longer No. 1, either on the ranking list or the Nike client roster, Tiger's snarl has been reduced in volume and significance. At least that was how it looked when the world's best two players took to the stage prior to this week's HSBC Abu Dhabi Championship.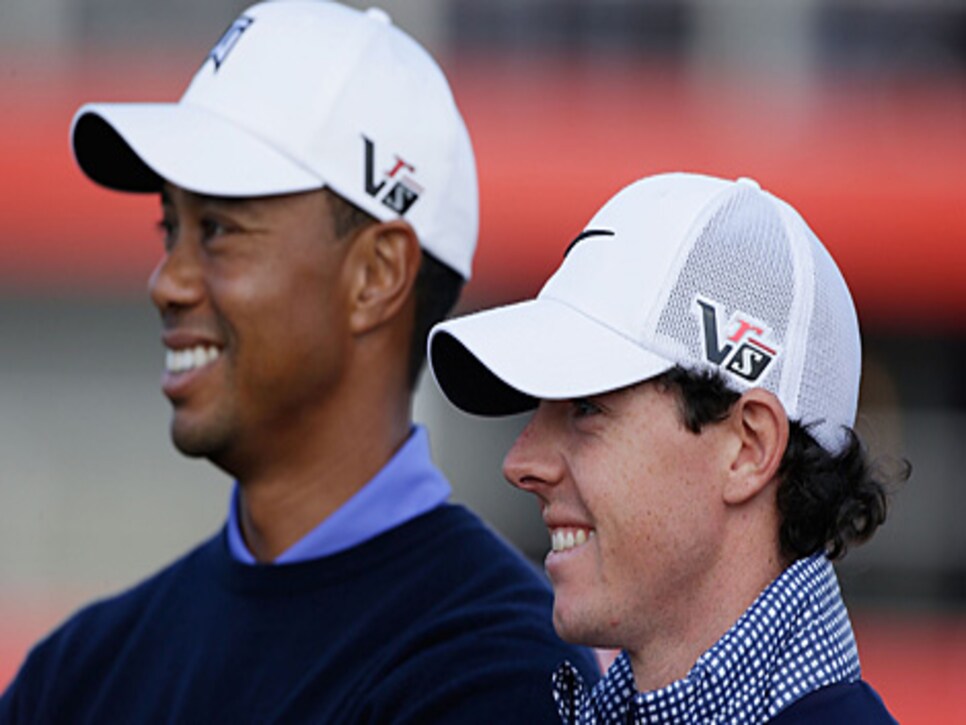 During his press conference the new No. 1 was asked seven questions about the now world No. 2. In stark contrast, the now No. 2 had earlier fended off as many as 15 queries related to the one man ranked above him. Suddenly, Rory is the man making the news; Tiger is the afterthought.
Which is no surprise in this particular week, of course. Wearing his new Swoosh-festooned togs, McIlroy commented on a range of subjects, each time living up to his long-ago promise to make every effort to give thoughtful and relatively engaging responses to questions. In that respect at least, the PGA champion hasn't changed at all in the more than five years he has so far spent in the professional ranks.
"I wouldn't have thought that I would be sitting here as a two-time major champion, No. 1 in the world and doing everything that I've done in the game already," he acknowledged. "It's all been happening a lot faster that I thought it was going to happen."
The one area where the game's best player became less than forthcoming was when the subject at hand veered into the extent and/or value of his new clothing and equipment contract.
"I'm just concentrating on the golf," he said with a smile. "All the financial stuff will take care of itself. I'm here to try and win trophies. They are worth more than any contract."
The details of that contract, incidentally,seem to have been thrashed out by someone other than McIlroy himself. Asked whether he is "allowed" to wear a red shirt on the final day of an event where Tiger is playing, he was clearly discombobulated.
"I really couldn't tell you," he said. "I'm not sure. I've won in red before, but I'd rather just wear something that goes with green."
That lightness of touch was, as usual, missing from Woods' 25-minute sparring session with his close personal friends in the media, although it must be acknowledged that every Rory question was answered without a hint of irritation.
"I like Rory as a person," he said in response to question number 13. "He's a really nice kid. I think all of you guys are aware of that."
Perhaps the most interesting and revealing anecdote, however, came when Tiger was asked about Rory's near absence from the Ryder Cup singles at Medinah.
"I missed a tee time in a junior event," he said. "I called in for my tee time and said 'Woods' when they asked for my name. Unfortunately, there was a guy called Steve Woods in the field and they gave me his time. It was a pretty empty feeling to show up and know that I had cost myself the chance to win the tournament."
Second prize on the interesting gauge came when Woods was quizzed on what influence he had had in Rory's switch to Nike. And what, if anything, has he (Tiger) changed in his bag recently.
"None," was the unsurprising answer to part one. But part two elicited the following response:
"I have put in a fresh batch of irons. The grooves were getting a little worn. So I wanted to make sure I started off the year with fresh irons. I usually switch them up every six, seven months."
Still, in the first Nike-to-Nike clash of 2013, McIlroy emerged as the winner. Call it 4&3, with Woods scrambling to stay even that close.