The Loop
With long overdue move, Augusta National no longer an exception to rules
The world did not stop turning. As far as we know, hell did not freeze over. When the announcement came -- a press release from Augusta National Golf Club informing the world that the infamously male-only club had finally added two women members -- it did not seem so much like a bombshell, but rather as something inevitable, and perhaps long overdue.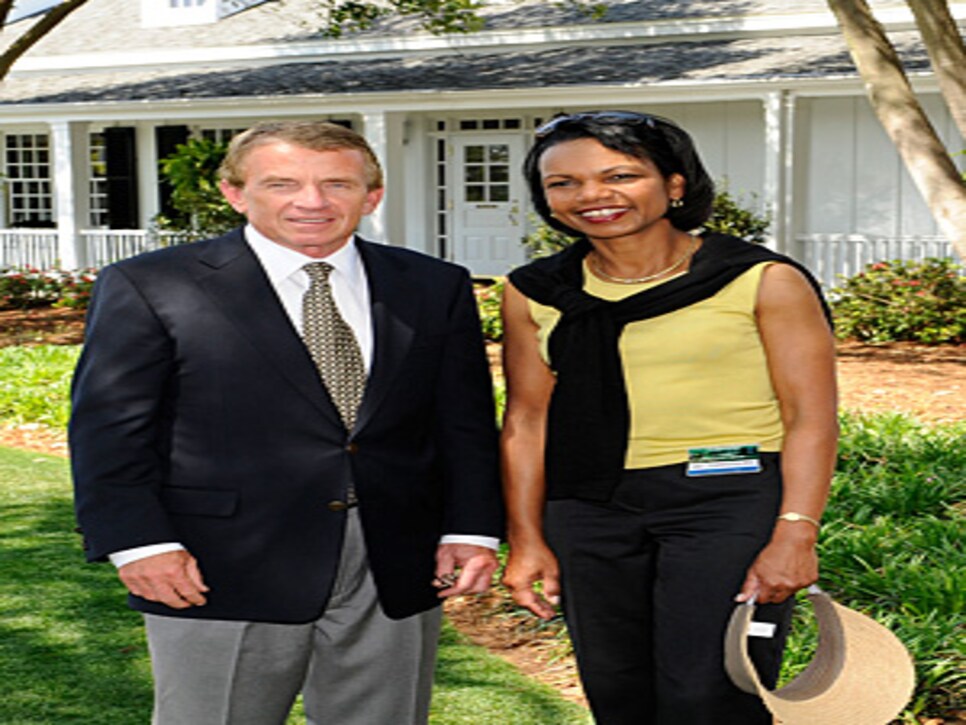 "This is a joyous occasion," said chairman of Augusta National Billy Payne of the two new recruits, Dr. Condoleezza Rice, 57, and Darla Moore, 58. "These accomplished women share our passion for the game of golf and both are well known and respected by our membership. It will be a proud moment when we present Condoleezza and Darla their Green Jackets when the Club opens this fall.
"This is a significant and positive time in our Club's history and, on behalf of our membership, I wanted to take this opportunity to welcome them and all of our new members into the Augusta National family."
Rice was National Security Advisor for the first term of George W. Bush's presidency and Secretary of State for the second. She is currently a professor of political science at Stanford University, where she was provost before her excursion into Washington politics. She took up golf at the age of 50, in 2005 -- a few months into her job as Secretary of State. Moore is a partner in the private investment firm Rainwater Inc., founded by her husband Richard Rainwater. Don't expect a sudden rush of more women members now that the redoubt has been breached, but there might be a slow trickle. Often mentioned is Virginia Rometty, who was appointed chief executive of IBM and, unlike her four male predecessors, has not been offered membership.
The absence of women members has long been a thorn in the side of the club. Whenever the inevitable question was posed at the annual chairman's press conference on the eve of the Masters, Payne -- and before him his predecessor Hootie Johnson -- would cough, mutter that membership was a private matter for the club, and offer no further comment.
In the nine months preceding the 2003 Masters, Martha Burk, a latter day suffragette and the then-chair of the National Council of Women's Organizations, spearheaded a vigorous campaign against Augusta National for not having any women members, successfully targeting some of the tournament's sponsors. The culmination of the campaign took place during the tournament itself, out of sight in a park a about a mile from the club, a rather pitiful protest with a small cast of unlikely characters including an inflatable pig and an Elvis impersonator. Johnson had said he wasn't about to admit female members "at the point of a bayonet" and ironically Burk's protest might have even delayed the inevitable. Nobody, least of all Augusta National, likes to be told what to do, and the club, which may well have already been considering female members, was never going to concede any kind of victory to Burk.
The club has always been governed with a delicate blend of adhering to tradition and moving swiftly with the times, but Payne is thought of more as a reformer, a global thinker, than Johnson, though according to Associated Press reports, Payne and Johnson agreed together on the timing of the club's gender integration.
Payne has offered support to The First Tee and the push to get golf in the Olympics (it was he who brought the 1996 Games to Atlanta), and in 2009 he announced, along with the Royal & Ancient Golf Club of St. Andrews, the formation of the Asian Amateur Championship, whose winner would get to play in the Masters (and a final qualifying event for the British Open). At the time, Payne spoke of wanting to inspire the next generation of youngsters around the world to fulfill their dreams, but the sincerity was handicapped by the fact that these were two powerful male-only bodies joining forces to create a male-only event, as if little girls' dreams didn't matter.
The issue was never whether or not private clubs have the right to be single gender -- they clearly do (there remain a couple of dozen private men's golf clubs in the United States). The issue was whether such an influential, high-profile club that hosts one of the world's premier sporting events ought not to set a better example.
As Rice and Moore get fit for a ladies Green Jacket, that is no longer an issue for Augusta National. The club is no more an odd exception to tour regulations -- formed after the Shoal Creek debacle in 1990 -- that host clubs cannot discriminate on the basis of race or gender.
For the R&A, however, the world governing body of golf outside of North America, the male-only membership issue is now even more glaringly acute. After a suitable grace period, expect the Scottish club, founded in 1754, to follow Augusta's belated lead, perhaps without any fuss or fanfare.
Golf is a tradition-bound pursuit with a long, ungracious history of discrimination. At a time when clubs are struggling for members and once-alive fairways are being paved over by developers, today's announcement is a small but welcome step in a good direction.