The Loop
With his WD at the Canadian Open, Hunter Mahan joins our list of odd withdrawals
__Hunter Mahan, 2013 Canadian Open --__Mahan was leading through 36 holes after rounds of 67-64 and was the odds-on-favorite to capture his first win of the year -- until word came through that his wife had gone into labor. He immediately withdrew and flew home to Dallas, where he attended the birth of his first child, Zoe. "It was the best decision I ever made," said the eventual winner Brandt Snedeker, referring to a tournament he skipped to attend the birth of his first child. "I'm sure Hunter would say the same thing."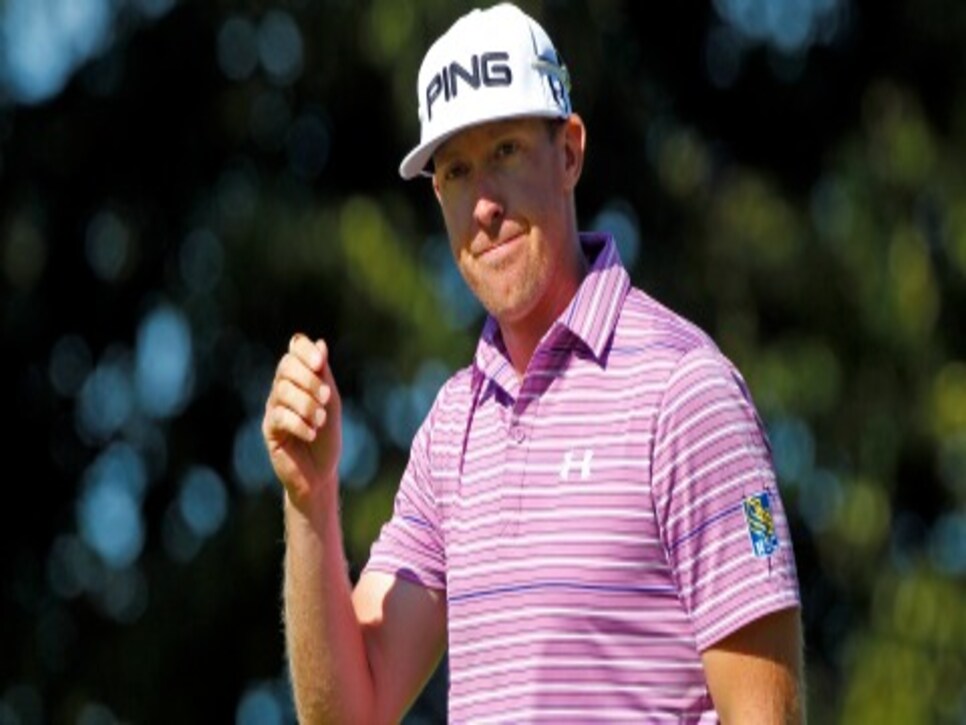 __Rory McIlroy, 2013 Honda Classic --__Defending champion Rory McIlroy withdrew from the Honda Classic after citing "severe wisdom tooth pain." The then-world No. 1was seven-over-par for the tournament and hit a ball into the water on the 18th hole on Friday, his ninth of the day, before walking off the course. A number of high-profile figures criticized his decision, Jack Nicklaus among them.
Sergio Garcia, 1999 St. Jude Classic -- Before "El Nino's" famous closed-eyes shot from behind a tree at the PGA Championship later that year, the 19-year-old needed surgery to remove an abscess above his left eye. Unfortunately, that happened the Thursday of the annual tournament in Memphis, forcing Garcia to withdraw before hitting a shot. The reason for the abscess? An outbreak of acne, according to his manager. So basically, Sergio was just a typical teen with pimple problems.
Jim Furyk, 2006 Barclays -- Furyk withdrew before the start of the tournament with a bad shoulder. The catch? He injured it while brushing his teeth. Yeah. . . we're pretty sure he took a good ribbing from his fellow tour pros when he returned after that. Oddly enough, Furyk had a freak disqualification from this same event -- when it was part of the PGA Tour's playoffs -- four years later when he overslept for the Wednesday pro-am. Incredibly, he bounced back to win the Tour Championshp and claim the FedEx Cup.
Tiger Woods, 2010 Players Championship -- In his third start since returning from his scandal at the end of 2009, Woods played decently at TPC Sawgrass until abruptly pulling out on the seventh hole of the final round. In recent years, Woods' WDs have become more common -- he withdrew at the 2011 Players also -- but for his various leg injuries. In this case, Woods cited neck pain. The 14-time major champion returned a month later for the Memorial, and hasn't seemed to have a problem with his neck since. Of course, nothing seemed to go right for Tiger that year. He had just two top 10s, didn't qualify for the Tour Championship for the first time, and couldn't even win his annual hit-and-giggle event at Sherwood when Graeme McDowell stunned him in a playoff.
Phil Mickelson, 2012 Memorial -- Lefty withdrew following a first-round 79 due to "mental fatigue." However, it later came out that he was protesting the PGA Tour's new policy of allowing fans to bring cell phones on the course. Specifically, Mickelson wasn't pleased about fans using their phones to take pictures while he played. Either tournament marshals have gotten better at controlling fans with phones or Phil has become less camera shy because he hasn't had a major issue with the policy since.
John Daly, pick a tournament -- The master of the WD, Daly has made a bad habit of taking a sponsor's exemption -- and sometimes an appearance fee -- and then walking off the course before the weekend. His best reason had to be when he withdrew from the 2012 Singapore Open due to fatigue. But his best flameout exit occurred at the 2011 Australian Open. After making a triple bogey to fall to seven-over par in the first round, he hit seven shots into a pond on the 11th hole before shaking hands with playing partners Hunter Mahan and Craig Parry and walking off. What got him to finally stop? As he later said on Twitter, "when u run out of balls, u run out of balls."