The Loop
With final-round run, Mickelson bucks a trend
SANDWICH, England - For a couple of hours on a breezy Sunday at Royal St. George's, Phil Mickelson finally seemed to have the wind at his back at a British Open.
While Mickelson had come tantalizingly close to winning the U.S. Open, the British has been the major championship that most perplexed him. Only once had Mickelson finished in the top 10, a third-place at Royal Troon in 2004. Most years he was an inconsequential non-factor in the middle of the pack who was intent on fighting the wind instead of working with it, frustration and finishes such at T-40, T-79 and T-30 his payoff.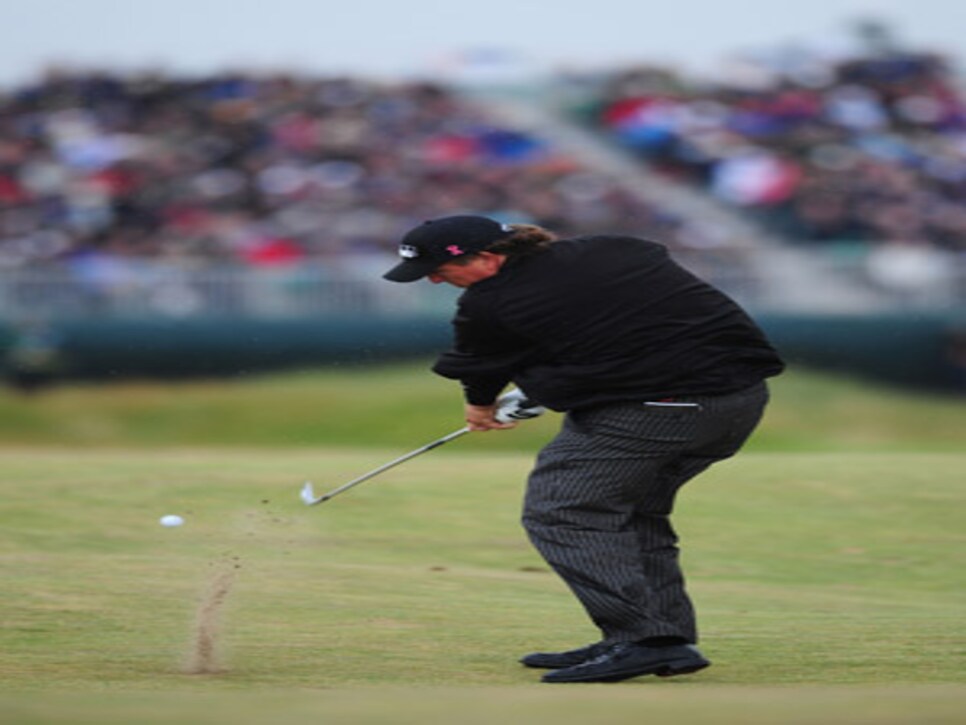 He vowed that he was approaching the 140th British Open, his 18th appearance, as his very first. What seemed like it might have been cheap self-talk worked for the four-time major winner. Three solid rounds positioned Mickelson at even-par 210 through 54 holes, putting him in shape to make a run at the claret jug.
Mickelson roared out to a hot start in the final round. He birdied No. 2 from five feet and added birdies at the fourth and sixth holes. At the par-5 seventh he rolled in a long eagle putt to go five under for the day and tie briefly for the lead. After turning in 30, Mickelson sank another birdie, from 15 feet, at the 10th hole. Even though the 54-hole leader, Darren Clarke, was two under himself for the day at that point, Mickelson's birdie at 10 pulled him within one of Clarke.
Then came the par-3 11th. Mickelson's tee shot was solid enough, about 30 feet below the cup. His birdie putt was adequate, settling 2 1/2 feet short. Mickelson figured it was a formality, and asked fellow competitor Anthony Kim if he could go ahead and finish. Mickelson hit the putt firmly, lipping out on the left edge. His momentum was gone, a casualty of carelessness.
"Brain freeze," Mickelson said later. "I didn't mark it. I just went up and hit it. I didn't look at it. I was thinking about the next hole as I was hitting it. Just stupid."
It was a mental error that tainted all the good stuff Mickelson had done up to that point. The skies opened up a few minutes later, with one of the strong squalls that materialized several times Sunday afternoon, but it already had rained on Mickelson's parade.
"I just lost focus there," said the 41-year-old, who has won three Masters and one PGA Championship. "And it hurts to throw away shots like that when I'm behind."
He fell further behind when he bogeyed No. 13 when his 9-iron approach rode the wind and finished over the green and he failed to get up-and-down. He drove into a bunker at the 15th hole and made another bogey en route to a back-nine 38. "When I saw Darren wasn't going to make a mistake -- and he played some great golf -- I had to start trying to make birdies, and that's when I ended up making a couple of bogeys," Mickelson said.
Mickelson's closing 68 matched Sergio Garcia for the day's best score in the troublesome wind, but it left him T-2 with Dustin Johnson at two-under 278, three strokes behind Clarke, who at 42 earned his first major-championship victory. Lefty waited greenside at the 18th hole to congratulate Clarke, one of golf's good guys and whose wife, Heather, died from breast cancer, the same disease that Phil's wife, Amy, is being treated for.
Clarke talked with the Mickelsons after Amy's diagnosis, offering whatever support and knowledge that he could. "Just what to expect and what they went through, what worked and what didn't and some of the mistakes they made and the fears they had," Mickelson said. "He's been through it all, and so I was very appreciative of the time we spent," Mickelson said of Clarke. "He couldn't be a nicer guy. There are a lot of players who are extremely happy for him."
As for Mickelson, his tendency is to see the bright spots. He did so again on the cloudy, cool early evening, proud that he finally felt comfortable in the Open and having gotten into serious contention deep in the final round of the major that has always been a huge question mark for him.
"Oh man, that was some of the most fun I've had competitively," Mickelson said. "It was a really fun start, and it was exciting. I'm not planning on making a 50-footer for eagle [on No. 7], but it just happened. I hit some of the best shots I've hit in the wind, not just today but really all week. I made some great putts today. And then later on when I ended up missing them, I still hit great putts that caught the lip or looked like they were going to go in. It was a fun day."
Notwithstanding the rookie mistake on No. 11, approaching the week as if he were a British Open rookie hadn't been such a bad idea.