News
With another top-10 finish, Joaquin Niemann earns special temporary membership on the PGA Tour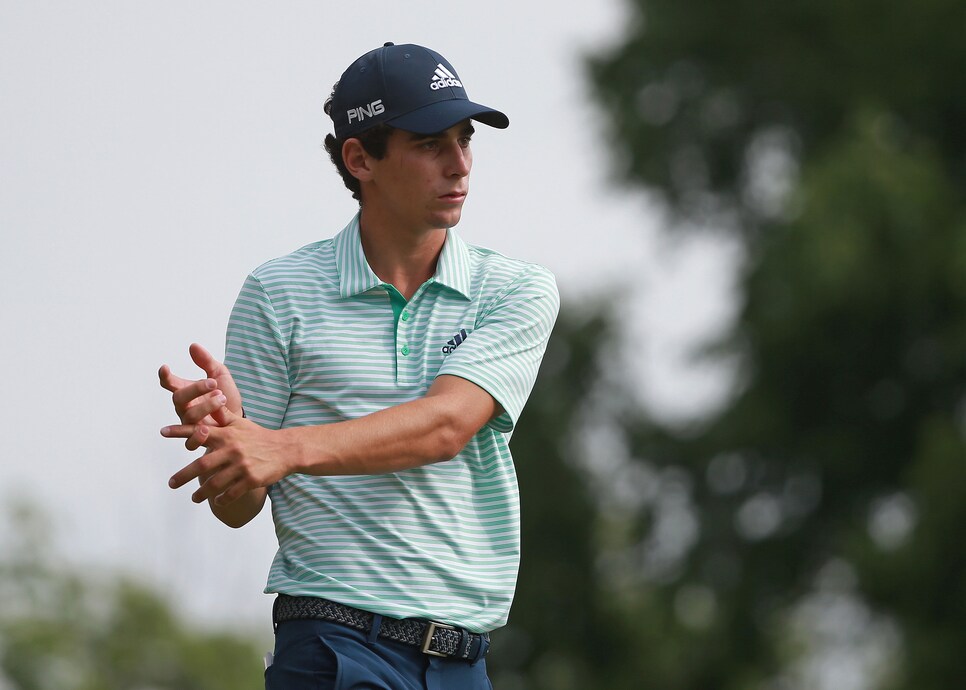 Matt Sullivan/Getty Images
Most people who saw Joaquin Niemann compete as an amateur knew they were watching a genuine talent. But at just 19, and having played in only three PGA Tour events as an amateur, they also figured the native of Chile would be a work in progress upon turning professional in April after competing (and missing the cut) in the Masters.
Suffice it to say, progress has come quickly for the 2018 Latin America Amateur champion. After starting the final round of the Memorial Tournament tied for second, Niemann closed with a one-over 73 at Muirfield Village. It was his worst score of the week, but a birdie on the last hole helped him finish tied for sixth, his third top-10 performance in five starts since turning pro.
More important than the $309,275 he cashed on Sunday were the 95 non-member FedEx Cup points earned. That gave him a total of 275, which exceeds the 269 points Rick Lamb earned as No. 150 on last year's FedEx Cup points list. So Niemann now has qualified for special temporary membership on the PGA Tour through the end of the 2017-'18 season.
The distinction is a big one. Niemann will be allowed an unlimited number of sponsor's exemptions in order to win enough FedEx Cup points to earn a PGA Tour card for next season. He needs to earn 365 (the number of points No. 125 J.J. Henry had last season) in order to be able to skip playing on the Web.com Tour in 2019, a path to the PGA Tour followed most recently by Jordan Spieth (2013) and Jon Rahm (2016).
"I just wanted to finish a little better in the last round," said Niemann, who had built up his confidence after coming in sixth at the Valero Texas Open and T-8 at the Fort Worth Invitational. "But it's still a very nice, another top-10 for my career, so it feels really nice and I also hope to be back."
Niemann knew he needed at least a solo seventh at Memorial to earn the special temporary membership, but he struggled on Sunday. He made a pair of double bogeys during the round, and bogeyed the 15th and 17th holes, turning the final-hole birdie from 17 feet into a must-make situation.
"Before [the round], I was thinking about winning after how I played the first few days, but, yeah, nothing on the last day," Niemann said. "Still pretty good, just keep working and try to be in the same position that I was on Sunday and see if I can make it all the way."
Niemann is entered in the field at this week's FedEx St. Jude Classic. With no constraints on exemptions, it's hard not to think Niemann will earn the remaining 90 FedEx Cup points needed to be a full tour member between now and the end of the summer.