The Loop
With a third-round 66, Juli Inkster is playing more than a cameo in her final Women's Open
PINEHURST, N.C. -- If this was a rock concert, it would have been a long standing-O, flick your lighter, play-it-loud-again-please kind of thing.
Given that it was golf, it was just a beautiful thing on a hot, steamy day in the third round of the U.S. Women's Open at Pinehurst No. 2.
A great golfer showing that greatness one more time.
Only in golf among mainstream sports, could it even happen.
Juli Inkster is 10 years older than the combined ages of the two women who teed off in the final grouping of the Open on Saturday. When Inkster turns 54 next Tuesday, she will be 11 years their elder.
But while Michelle Wie, 24, and Lexi Thompson, 19, were in the early stages of their third round, Inkster was walking off the 18th green with a four-under 66, the week's best score, to thrust herself into the unlikely position of challenging for her third U.S. Women's Open title.
Talk about unexpected. Inkster, the 1999 and 2002 Open winner in an illustrious LPGA career in which she has won 31 tournaments including seven majors, had missed the cut in six of her last seven U.S. Opens. This, her record 35th, is going to be her last.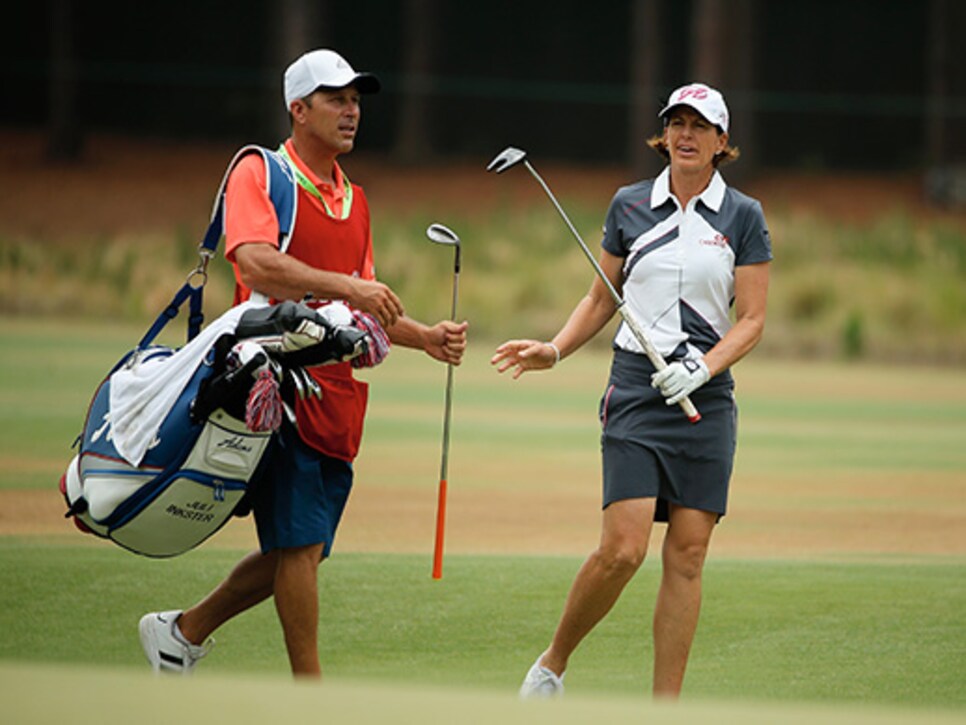 Inkster's play, in sharp contrast to a second-round 75, was much better than OK Saturday as she hit 13 of 14 fairways and 17 of 18 greens. Her putting, which has kept her from scoring better in her late-40s and early-50s, was solid. She three-putted the eighth but holed a clutch 10-footer for par on the difficult 16th hole.
"This game is so weird," Inkster said. "You never know. The first day I played great [71]. Yesterday I played horrible. Today I played great. So hopefully I'm going to break the pattern and have a good one tomorrow."
Win or lose Sunday -- or finish in the top 10, which would earn an exemption for 2015 -- Inkster says she won't play in another U.S. Open. "Is one more going to make a difference, one way or the other?" she said. "I don't think so. It's a grind. It's a lot of work. The practice rounds and then the playing and 5 1/2- hour rounds. I'm good with it [my decision]."
If the pieces were to come together, the goodbye would be historic. Inkster is eight years older than when 45-year-old Fay Crocker won the 1960 Titleholders to become the oldest winner of an LPGA major championship. Babe Zaharias, 43, is the oldest to win the U.S. Women's Open. Beth Daniel, 46, is the oldest to win an LPGA event.
The odds are long. The work will be hard. Unless Wie stumbled badly on the second nine Saturday, the deficit would be significant.
"I was able to put it together today," Inkster said. "So who knows, tomorrow? I'm just going to enjoy it. It's a great golf course, so enjoy the walk."
She said she hadn't even thought about Tom Watson, who almost won the 2009 British Open at age 59. "You can think and you can dream all you want," Inkster said, "but the bottom line is you've got to come out and make the shots. So tomorrow, I've got to come out and make the shots."
At a championship in which an 11-year-old had a cameo role, a golfer old enough to be Lucy Li's grandmother is showing many of "the kids," as Watson calls them, how it's done.
"I'm very proud," Inkster said. Very proud of myself and athe way I came back and played today. I played aggressive. I hit a lot of beautiful iron shots. I putted good. I'm very, very pleased."
It was a special round by a special person smart enough to know it's not a home run in her last at-bat in the majors.
Not yet, anyway. She'll need an encore of the encore for that.