The Loop
With a retooled game and a new outlook, Paula Creamer could be ready to snap her winless streak
NASSAU, The Bahamas -- Can it really be that this is Paula Creamer's 10th year on the LPGA? And can it really be that she is nearly four years removed from her last tour victory?
Time certainly has a way of flying.
When Creamer won the 2005 Sybase Classic on a raw, blustery Sunday at Wykagyl CC in New York, she became the youngest winner of a multi-round LPGA event at 18, a record later broken by both Lexi Thompson and Lydia Ko.
Two months later, after going to her high school graduation, Creamer picked up victory No. 2 at the Evian Masters in France then partied with Juli Inkster in town, despite being barely older than Juli's daughters.
And in 2010, Paula magnificently dominated the final six holes of an extremely difficult Oakmont CC to win the U.S. Women's Open. No one would have guessed then that, 42 months later, she would still be stuck on nine career LPGA wins.
But at the 2014 season-opening PureSilk Bahamas LPGA Classic, Creamer, now 28 and on the verge of marriage, is showing signs of returning to her best.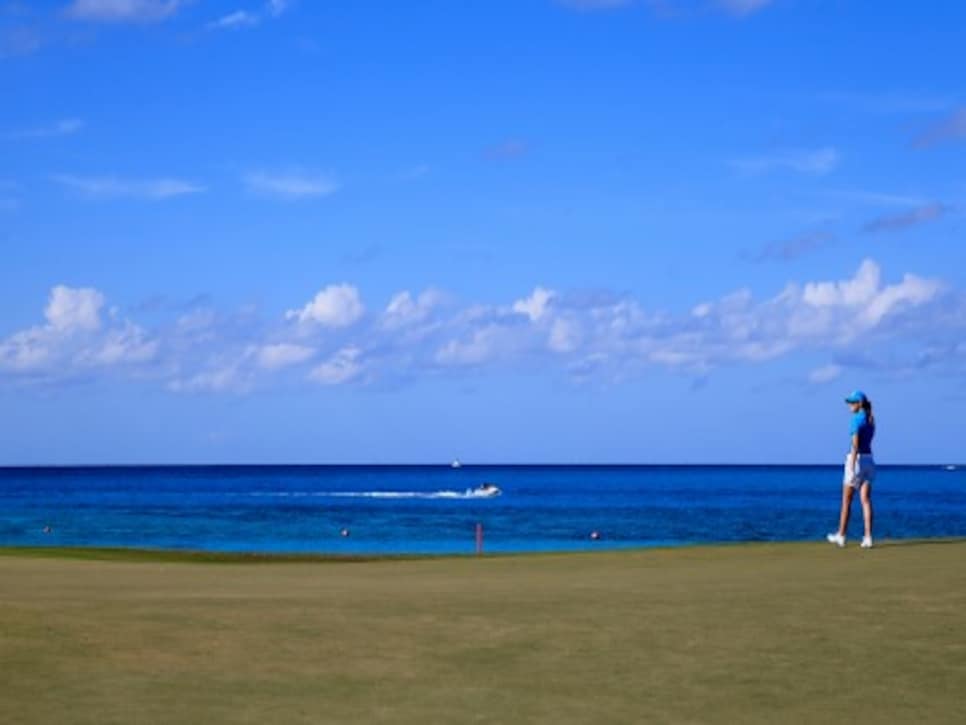 She opened 71-65 to be one stroke off the lead going to the weekend and was still sitting in that position when she made a sloppy triple-bogey 8 on No. 15 during Saturday's third round.
Still, she never quit and when she hit a 5-wood from 227 yards to three feet on the par-5 18th on the Ocean Course, she finished with an eagle for a 71 that put her at 12 under par and within three strokes of Na Yeon Choi's lead going to Sunday.
"I'm proud of how I finished mentally," Creamer said. "You can hit it into the hazard and still make a bogey," she said about her adventures on No. 15. "There was no reason to make a triple."
At her peak, Creamer was not only one of the best players in the woman's game but also the most marketable -- a title she still holds today. She is the only woman on the 2014 Golf Digest 50 All-Encompassing money list, thanks to deals with TaylorMade, SAP, Ricoh and CDW among others.
Some swing tweaks and a new TaylorMade driver have added distance, and Creamer is still one of the best iron players on tour. If she can get her putter -- once her best club -- a little more reliable, that winless streak will end very soon.
"I am in such a great place," Creamer said about her mindset going into the new season after recently getting engaged with 33-year-old Derek Heath, a pilot from Newport, Calif. "I'm so happy. Derek just makes me want to be a better person. This is my 10th year out here, and it's just kind of a refreshing new thing. I needed something to kind of help with things."
That new attitude -- call it a recharging of her batteries -- combined with a renewed commitment to the game have translated into results for Creamer.
"Well, I pretty much broke down my golf swing before we went to Asia last year," Creamer said. "I just wanted to stick with those changes, and I put a new driver in. I'm hitting the ball a little bit further. But [it's] just trusting what [long-time swing coach] David Whelan and I have been doing. I became way too technical. I needed to become a player again, and I lost that for a while."
The fact that Heath is a graduate of the Air Force Academy will make for some interesting discussions at family gatherings. Paul Creamer is a pilot who graduated from the Naval Academy, and he has pride in his branch of the service.
"You know the difference between an Air Force pilot and a Navy pilot?" Paul once asked me. "My runway is bobbing up and down in the middle of the ocean," he said about landing on an aircraft carrier.
I wonder if he has told that joke to Derek yet. I'm guessing he has.
It is all part of Paula's new life, and the first returns could come in the Bahamas, where she played her way out of the title -- and then right back into it.
The Pink Panther might be back.