The Loop
With a new perspective on life, Hunter Mahan is ready to get back to golf
ROCHESTER, N.Y. -- With apologies to hard-luck Open Championship loser Lee Westwood and any other player desperate to win his first major title, the sentimental favorite for this week's 95th PGA Championship is the guy who has changed more diapers than hit golf balls in the last week -- and he wouldn't have it any other way. Just nine days after his wife, Kandi, gave birth to their first child, Hunter Mahan has returned to the competitive golf ranks, still brimming with confidence but a bit wiser and philosophically enlightened. "It just makes things matter a little bit more, and, at the same time, matter a little bit less," Mahan said about golf since his daughter, Zoe, came into the world at 3:26 a.m. Saturday, July 28. That's called balance. Perspective.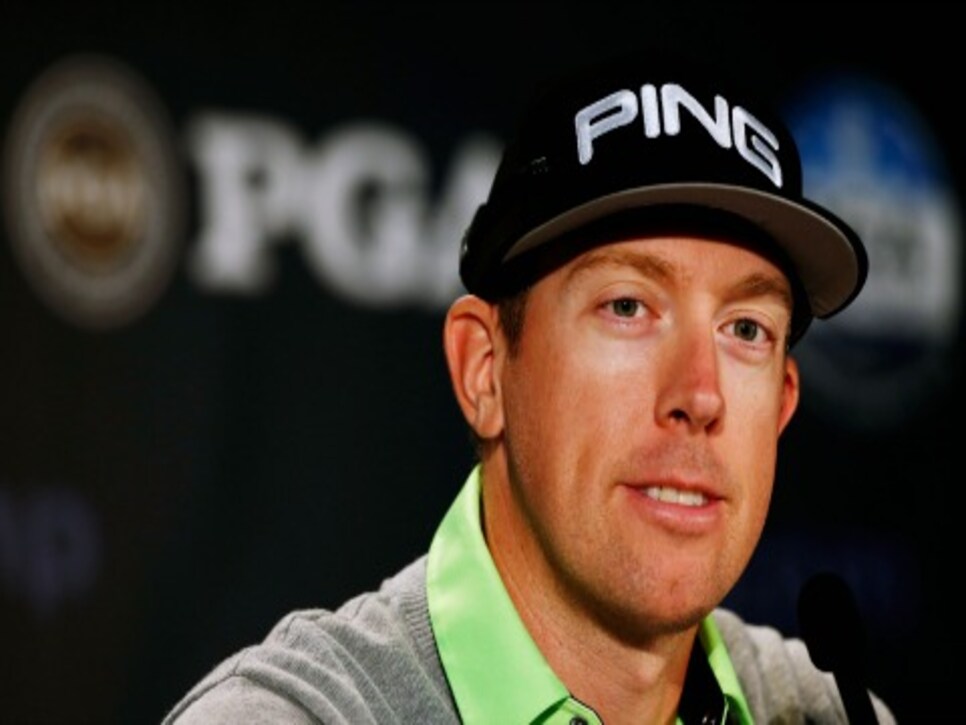 Related: Hunter Mahan joins our list of odd withdrawals Mahan's agent, Chris Armstrong, received a call from Kandi just after Armstrong had had lunch with Hunter. Kandi asked where her husband was, and Armstrong explained that he was just heading out towards the practice range to join him. Kandi's next word was telling. "Run," she advised him. "I haven't met anyone who has said I made the wrong decision," Mahan, 31, a five-time PGA Tour winner, said. "I went on Twitter after everything to see what the response would be, because usually Twitter, they tell me how much I suck all the time and how dumb I am, so I figured somebody would say, you're an idiot, you didn't know what you're doing, you can't throw away [a tournament], but I didn't see that." "He made the perfect choice," Tiger Woods said. "Actually, there wasn't any. The birth of your first child, or any child, for that matter, that takes precedent over anything you do. That's the most beautiful day that you can possibly have in your life is to be there to witness the birth of your child." Asked about why his decision had garnered so much national coverage, Mahan replied, "I think people are just ready for a great story in sports, and it was a great time." It certainly would be a great story if Mahan could pick up where he left off and navigate Oak Hill CC with the same precision he showed in Canada. Don't bet against it. Mahan said his lack of practice has in no way dimmed the confidence he was feeling after tearing up Glen Abbey, where he opened 67-64-131, 13 under par. Prior to that he finished T-9 in the Open Championship at Muirfield, where he played in Sunday's final pairing for the second straight major.
Related: Hunter Mahan Swing Sequence He is clearly back on the upswing after playing so poorly down the stretch last year that Davis Love III left him off the U.S. Ryder Cup team - despite two victories earlier in the year. Skipping last week's no-cut WGC-Bridgestone Invitational, where he won in 2010, also was an easy decision. Now he is hungry to compete and to improve on his best career finish in the PGA, a T-16 in the 2009 edition at Hazeltine National GC. "I felt like I haven't been on the course, played a tournament, in a long time, and it's only been, what, eight or nine days. So it's a little weird feeling, like it feels very unfamiliar; I feel like I've had a month off," he said. "But I think having last week, staying home last week, really just cherishing that time and being with Kandi and Zoe and my parents were there, so that was a lot of fun to have them there. I really soaked it in and appreciated it and used it wisely. I felt like I got that out of my system to where I can come back to here and be focused and play."
And perhaps pick up where he left off.