The Loop
With a familiar foe standing in his way, Woods keeps rolling at the Players
PONTE VEDRA BEACH, Fla. -- When Tiger Woods hits a full shot that satisfies him, he gives the club a rhythmic twirl, grabbing it after it has finished its revolution in the firm, sure way a conductor handles the baton while directing a world-class orchestra.
There have been a lot of those twirls the first two days at the Players as Woods, whose stroke average in 55 previous rounds on The Stadium Course at TPC Sawgrass was 71.44, has opened with a pair of 67s.
In fact, I'm not sure of the last time I've seen as many shots by Woods punctuated with a club twirl as I did in Friday's second round. You probably have to go back to 2008, the last year in which he won a major championship -- the U.S. Open at Torrey Pines.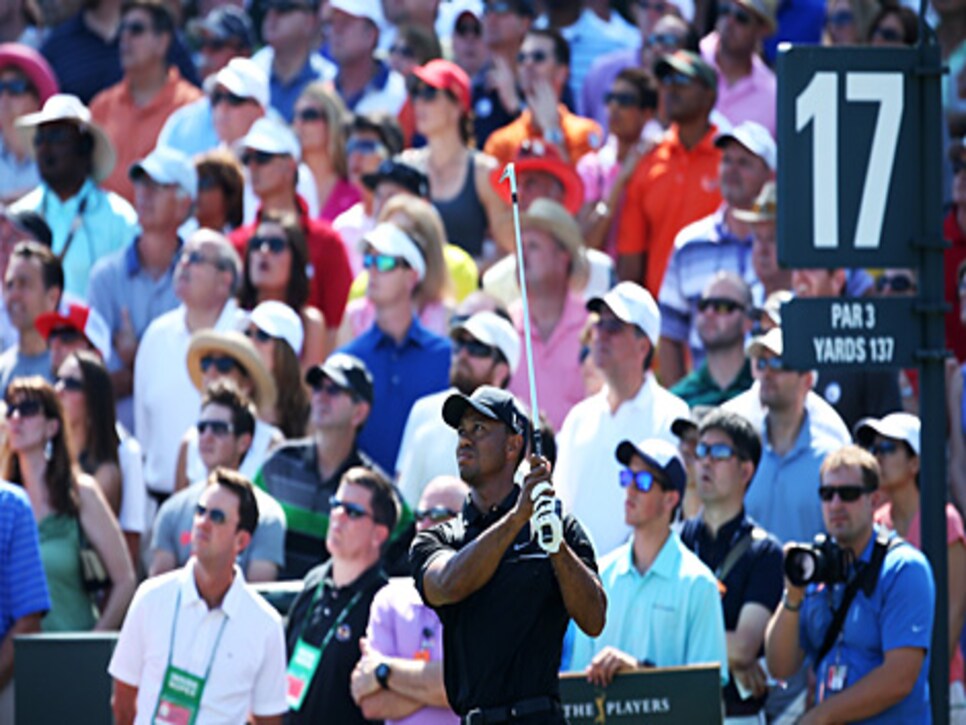 So far, Woods has been a maestro in control who has the look of someone determined to finish what he has started. His reaction to his closing birdie on Friday -- a 20-footer on No. 9 -- had the fire of old.
"I'm pleased with every facet of [my game]," Woods said. "I feel like I'm driving it well, hitting it well with my irons, my distance control is good, short game is really solid, and I'm making my share of putts."
Just like that, Tiger is looking more like the guy who won here in 2001 than the player who has had only one top-10 finish in the Players since.
And just like that, we go into the weekend with the possibility of a Woods showdown with one of his annoyances in life -- Sergio Garcia.
The actor formerly known as El Nino also has only one victory here -- 2008 -- and a bushel of frustration with a 71.83 scoring average in 48 rounds before this year.
But Sergio backed up his 68 in the opening round with a 65 on Friday in which he ran off five consecutive birdies at one point and six in seven holes. He's one stroke ahead of Woods at 11 under par going into the weekend.
"I hit the ball very well, hit a lot of good iron shots and gave myself a lot of good birdie opportunities," Garcia said following the second round. "I wasn't able to convert many on the front nine, which was 10 to 18 for me. But I got going on the back nine, and I got on a great run there."
Sergio fell off Tiger's Christmas card list at the made-for-TV "Battle at Bighorn" in 2000, the year after he worked his way into the hearts of many golf fans when he hopped, skipped and jumped his way down the 16th fairway at Medinah in the final round of the PGA Championship.
Tiger came into Bighorn exhausted and under the weather. He had just won the PGA Championship in a grueling playoff with Bob May and then closed out the NEC Championship at Firestone in near darkness.
After a flight from Ohio to California, Woods arrived at Bighorn the next day with a touch of the flu and was lethargic in his round, clearly both sick and tired.
Garcia, meanwhile, got more animated as the round went on and when he closed out Woods on the last hole acted as if he had just won a major championship.
If there is such a thing as X-rated body language, that's what Tiger was speaking as Sergio cavorted. Lost on Garcia in the celebration, apparently, was the fact Woods had just won four of the five previous majors.
Likely not lost on Woods is the fact that the major championship scorecard between he and Garcia now stands at 14-0 in Tiger's favor.
"I think that I was headed into the right direction coming into this week," Woods said at Sawgrass. "I played well at Augusta [where he finished T-4]. My last two weeks of practice have been really solid and I came in here with some confidence."
A confident Tiger Woods is a scary opponent, especially if he has experienced disrespectful behavior -- perceived or real -- by the guy he is playing.
I have seen almost no athlete in my lifetime -- maybe Michael Jordan -- who can find motivation in as many places as Woods. The guess here is that if he is paired with Garcia in the final group on Sunday the adrenaline meter will be off the charts.
Garcia has a way of annoying his opponents with gestures, outbursts and antics. Woods sends a quiet but firm message with his cub twirls -- sort of a silent "take that." Even more than a Woods-Rory McIlroy showdown, this is the final group we should be rooting for.
I have a feeling we are going to see a lot more club twirls by Woods this weekend at TPC Sawgrass. And I have a feeling Tiger would love to have Garcia on the receiving end.
But deep down, we all know it doesn't matter. Woods plays tournament golf for only one reason -- to win. He could care less who he beats. But a Tiger-Sergio showdown sure would be fun -- even if this isn't a major, or the Battle of Bighorn. Darn, even Vijay Singh might tune in to that one.