News
Why Tony Jacklin's 1970 U.S. Open win deserves more respect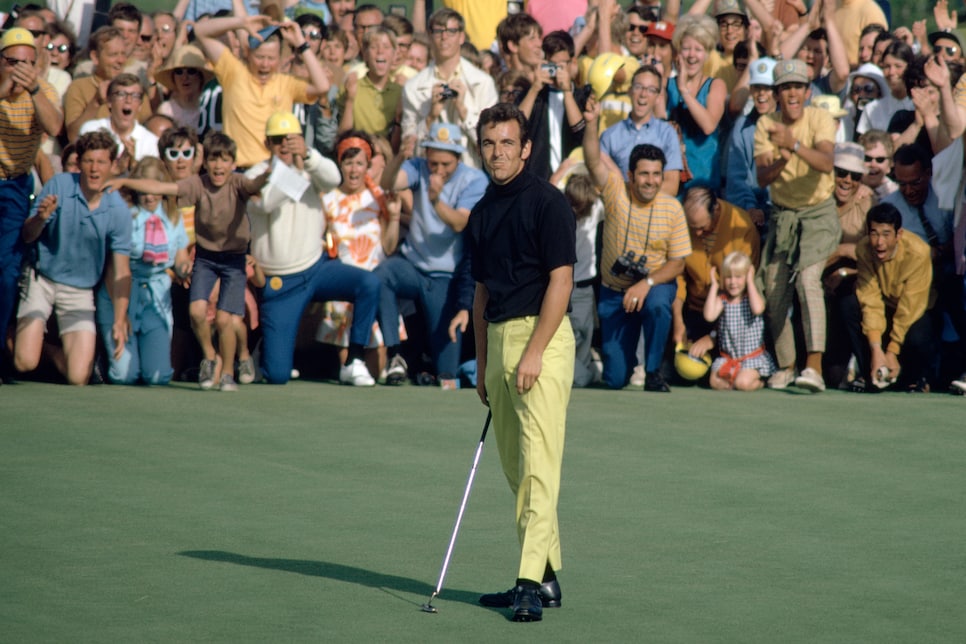 Photo By: Leonard Kamsler/Popperfoto
On June 21, 1970, something well out of the ordinary took place. A man born in the United Kingdom of Great Britain & Northern Ireland won the United States Open. That hadn't happened since 1927, when Scotsman Tommy Armour claimed the New World title at Oakmont. And it wouldn't happen again for four more decades, until Northern Ireland's Graeme McDowell finished first at Pebble Beach in 2010.
Tony Jacklin did it in style, too. The only man able to break Hazeltine National's par 72 on Day 1—Arnold Palmer shot 79, Gary Player 80 and Jack Nicklaus 81—the then 25-year-old steadily increased his advantage day-by-day. Two shots became three. Three became four. And four ended up as seven, courtesy of four sub-par rounds capped perfectly by a 25-foot putt for one last birdie on the 72nd green. Jacklin's seven-under 281 total (71-70-70-70) was then a new championship record relative to par, in what the Englishman rather perversely claims is "the hardest event in golf to win."
Indeed, there was certainly nothing straightforward about the Minnesota weather in that now far-off week. The first round that blew away the chances of the so-called "Big Three" was marked by 40 mile-per-hour gusts and temperatures Jacklin likens more to "October in Scunthorpe," the industrial Lincolnshire town of his birth.
Exactly half a century on from the win he understandably ranks second only behind his Open Championship victory at Royal Lytham 11 months previously, Jacklin looks back on his week at Hazeltine with unabashed pleasure. During that brief period in 1969-'70, no one was playing better golf. Jacklin remains even now the only European player in history to simultaneously hold golf's two most important Open titles—albeit for only 21 days.
The strength of Jacklin's game over the four days in which he played the best golf of his life was, ironically, not his already acclaimed ball-striking. For once, it was his work on the greens that set him apart from the rest. After months of struggling with the shortest club in his bag, a last-minute tip made all the difference.
"On the eve of the championship I got a putting lesson from Jim Yancey, the older brother of my close friend on tour, Bert," says Jacklin, who today makes his home in Florida. "I had played that day with Tom Weiskopf and Bert, and hit the ball well enough. But my putting was awful. Jim told me to try looking at the hole while I putted. I was on the practice green for an hour or so and by the time I left, I had acquired a tremendous feel for distance. Just by looking at the hole as I hit the ball. It was a weird sensation, a bit like darts, where you zero in on the board rather than the object you are throwing at the target."
That newly found touch and feel stayed with him throughout the 72 holes. On the first green, Jacklin holed from 20 feet for birdie and never looked back. Despite a mildly deflating finish, that opening 71 was the building block on which his ultimately comfortable victory was constructed.
"It blew a gale that first round," says Jacklin of a day when as many as 69 members of the 150-strong field failed to break 80. "But I was used to that. I played a lot of golf in conditions like those back then, especially in the U.K. It was like playing links golf. My score could have been even better, too. I made a double on the 17th. But so many others shot themselves out of it. Getting ahead on the first day was huge for me. I was immediately engaged on a higher level than normal. A two-shot lead after only one round got my attention. I was inspired."
Not many others were saying the same, not about Hazeltine National anyway. Relatively young at the time (it opened in 1962), the Robert Trent Jones layout came in for a chorus of public and private criticism from just about everyone. Dave Hill screamed longest and loudest, however. A sample:
"If I had to play this course every day for fun, I'd find me another game," ranted the eventual runner-up. "All it lacks is 80 acres of corn and a few cows. They ruined a good farm when they built this course. I'd plough it up and start all over again. The man who designed this place had the blueprints upside down. My two boys could have done as well with the eighth hole. If I didn't have some friends with me, I probably would have left Tuesday. But we sit around and have some drinks and laugh."
In contrast, none of the officials found Hill's comments even remotely amusing. Soon enough, PGA Tour commissioner Joe Dey fined Hill $150 for his comments. That turned out to be exactly 1 percent of what Hill was paid for his second-place finish and a sum many felt should have been multiplied many times over.
"I'm not sure how you define 'bad' when a course is set up for a major championship," said Jacklin, who won $30,000. "I recall a lot of doglegs and half-blind approaches. The rough was severe. And it was out there on the plains in wild country. When the wind blew there wasn't much to stop it. It was just an unusual environment for the Americans, which is why half of them were blown away in the first round. Not that I was complaining."
As for Hill, Jacklin knew him to be a loose cannon, and didn't let the comments—or the possible impetus for the comments—distract him.
"He chose to make a lot of statements, which, to some degree, took away from the event," Jacklin said. "From a personal point of view, it seemed to me—and still does—that the American press was having a hard time accepting that an outsider was beating all their men so badly. I think they wanted to pretend it wasn't happening. So they were happy to give Dave the headlines because he was controversial. I'm not sure I ever got full value or credit for my performance."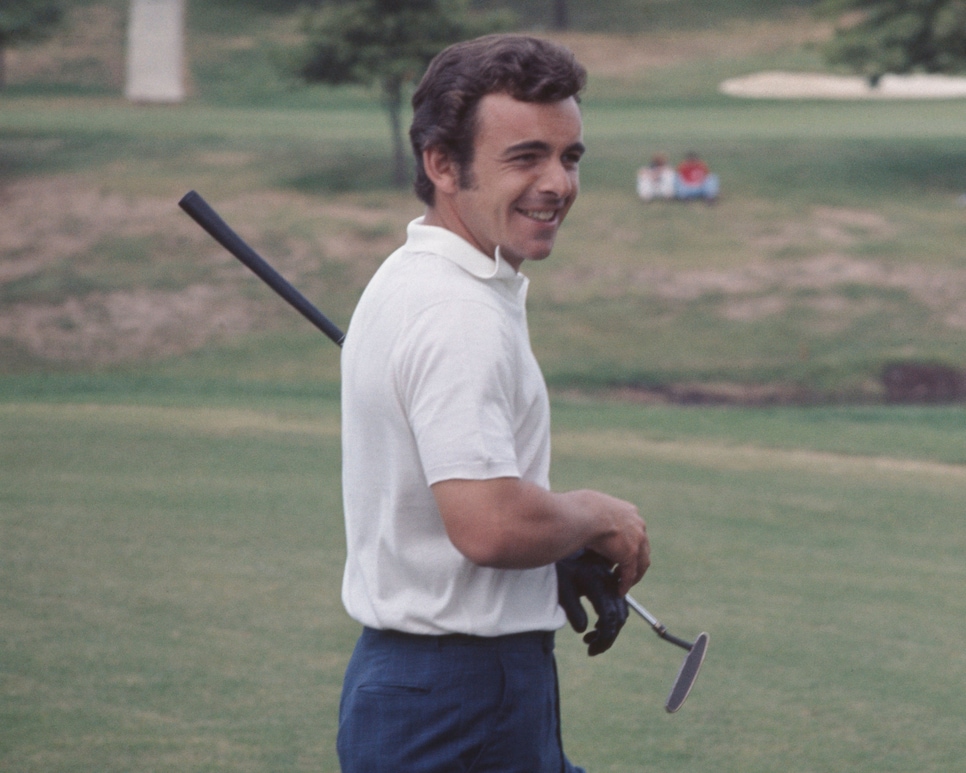 A putting tip on the eve of the major proved critical for Jacklin at Hazeltine National.
Rolls Press/Popperfoto
Which is a pity. For all that, Jacklin won by what was then the second-biggest margin in U.S. Open history (Jim Barnes was nine shots ahead of the runner-up in 1921), yet he inevitably had doubts along the way. Especially before the final round, he was, in his own words, "a bag of nerves." Little wonder then that Weiskopf, knowing his friend's tendencies under pressure, left a one-word note in his locker: tempo.
"Although that week was the best I ever putted over 72. holes, certainly in a major, it wasn't a cakewalk by any means," Jacklin said. "I was as nervous as I have ever been going out for the final round. I knew if I didn't win I'd be branded a choker. At first, all I did was put one foot in front of the other. Then I got the big break I needed. I had maybe a 35-foot putt for birdie on the ninth green. And I hit it far too hard. But the ball struck the back of the cup, jumped a foot in the air and decided to go in. At that moment I felt the pressure roll away, to the point where I really enjoyed the final nine holes.
"Standing on the final green, I was looking at my birdie putt thinking, Wouldn't this be a great way to finish? And it was. It went in, too. It was the week of my life really. And there was no better time to do it."
Well, yes and no. Because his club and clothing contracts were all in place as a result of his 1969 Open victory, the benefits to Jacklin's already burgeoning bottom line were minimal as a result of his second major win. There was a new deal with the now defunct Pan-Am airline, but nothing else.
Still, being a double major winner did bring with it some perks, albeit the most memorable are all intangible. There was a less-extravagant equivalent of a ticker-tape parade down main street in Scunthorpe perched on a large white Cadillac. There was, two months later, a practice round with Ben Hogan prior to the 1970 PGA Championship at Southern Hills. And there was an obvious appreciation for his achievements emanating from every member of the four European Ryder Cup sides Jacklin captained between 1983 and 1989.
The game with Hogan actually took a while to materialize. Still new to the PGA Tour, Jacklin had first approached the supposedly unapproachable Texan at the 1967 Masters, a bold move that provoked a "polite" but negative response. More than three years on, however, things had changed.
"Before that PGA, Jackie Burke asked me if I would like to play with Hogan the next day," Jacklin said. "And yes, it was marvelous. Hogan was the best ball-striker I've ever seen. To me, his 'secret' was that he was double-jointed. He could create an amazing angle in his wrists at the top of his swing. But just before he completed his backswing, his legs would 'fire.' He created so much lag. He was something to watch."
As ever with the man they called "the Hawk," there was an edge to the proceedings.
"On the putting green beforehand, I was approached by another tour pro, Terry Dill," Jacklin recalled. "He asked if I had a game. I told him I did, with Hogan. He then asked if we had four. I told him I would check. So I went to Hogan.
"I told him, 'Terry Dill.'"
"It was a bit embarrassing teeing off as a three-ball with Dill standing there. About an hour later, Hogan told me Dill had come up to him before. He had asked how Ben prepared mentally for majors. The response: 'The first thing I do is never go up to people and talk on the putting green.' Ben didn't like dumb questions."
Nor does Jacklin, a man who has always known his own mind. As Ryder Cup skipper he rallied the previously hapless Europeans into a formidable fighting unit. Jacklin's status as a player only aided his unifying cause within a group that included major winners like Nick Faldo, Seve Ballesteros, Bernhard Langer, Ian Woosnam, Sandy Lyle and Jose Maria Olazabal. Significantly, however, none ever won America's national championship.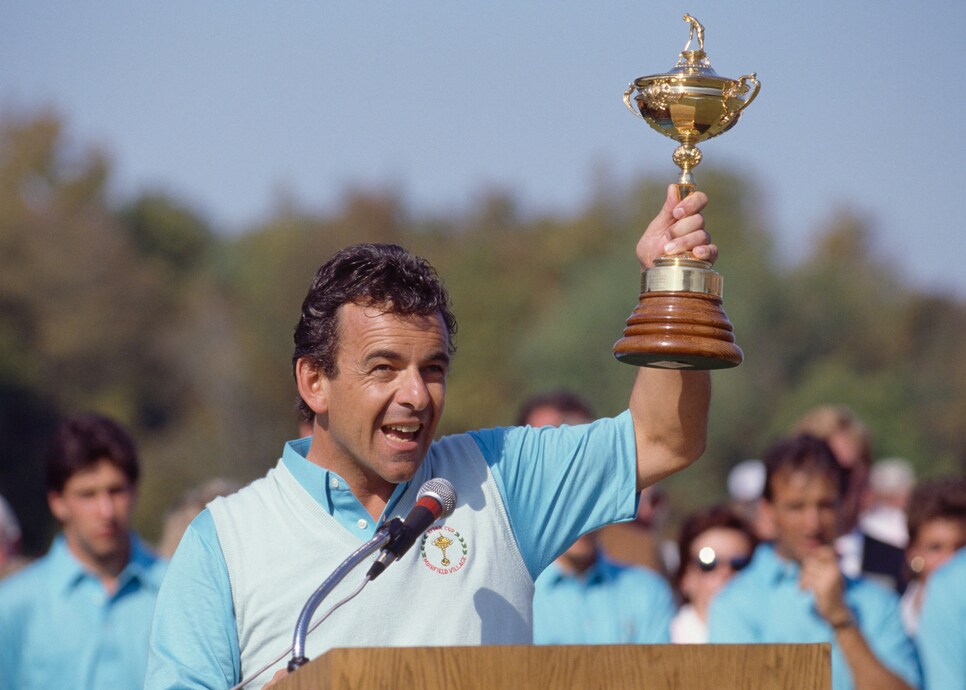 Jacklin's playing success helped him be viewed as a compelling leader when he captained the European Ryder Cup team in the 1980s, going 2-1-1 and helping make the biennial event competitive.
Paul Popper/Popperfoto
"I guess winning the U.S. Open did help me when I was Ryder Cup captain," said Jacklin, whose four matches in charge produced one loss, one draw and two wins. "I had the respect of the top players, I think. It was mutual, of course. Even if none of them had done what I had done. But there were never any egos in the sides I captained. I told everyone to leave their egos at the door to the team room. Mine included. We all had a job to do and we were, as far as I was concerned, all equals."
Mere parity was never Jacklin's aim as an individual on tour though. From his late teens working as an assistant pro at the Potters Bar club north of London he wanted to be nothing less than the No. 1 golfer on the planet.
"To be the very best was always my ambition," said Jacklin, who was inducted into the World Golf Hall of Fame in 2002. "I never set out to accumulate as many majors as I could. My message to myself was to become the best player in the world. That inspired me to take on the likes of Player, Nicklaus and Palmer. To achieve my ultimate goal, I had to beat those guys."
And, over four days in Minnesota half a century ago, he did just that. By 21, 23 and 25 shots respectively. For the first time in a long time, Queen and country rejoiced.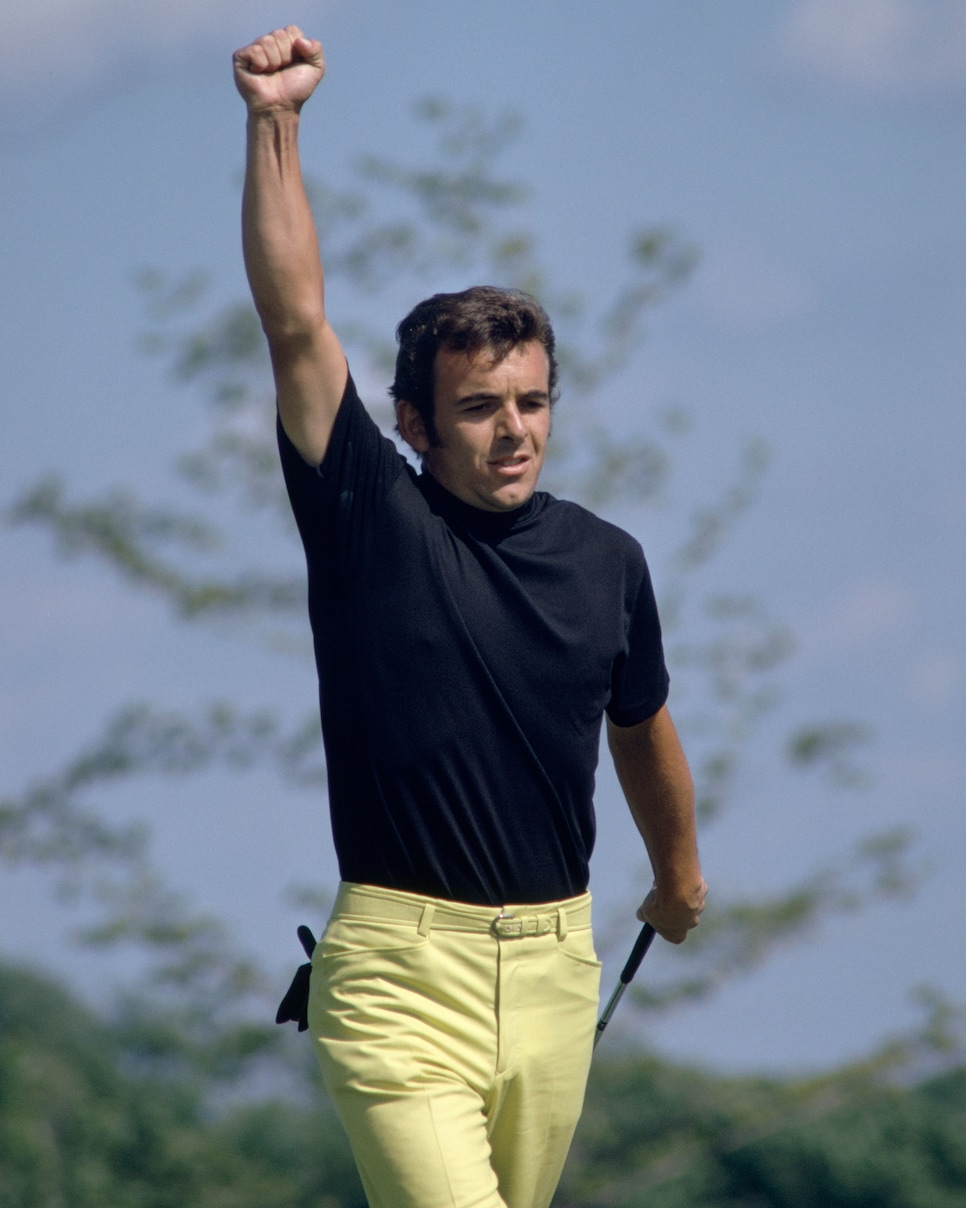 Leonard Kamsler/Popperfoto