The Loop
Wisconsin Day 2: Blackwolf Run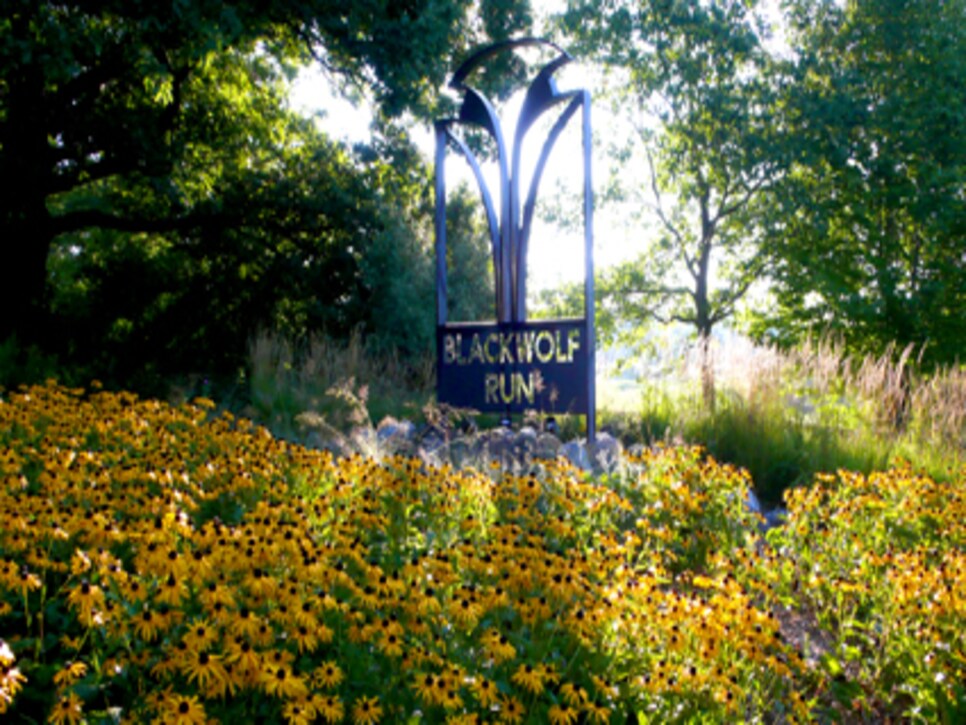 Tuesday morning, steam was coming off the pond, the men mowing the greens were only a few holes ahead of me and I had an eight-foot putt for birdie. Looking back at the fairway I could see my footprints leading up to the first green of Blackwolf Run. Scanning the expanse of trees, the Sheboygan River and smelling fresh-cut grass, I wondered, "If this place looks this good at the end of summer, what does the scene do to innocent eyeballs in the heart of the fall?"
And then I made the putt.
Relax Mr. Dye. Wherever you are. You know that I know that making birdie on the first hole is the kiss of a bad amateur round. Especially on one of your courses, playing from just under 7,000 yards. I shot 85.
Blackwolf Run, normally 36 holes, has closed 18 of 'em for reseeding and some other minor adjustments in preparation for the 2012 Women's U.S. Open. We (my freind Kevin Price and I) played the 18 they won't be playing for a national championship. We played holes 5 through 13 on the River Course and the front nine of the Meadow Valleys Course. That's another change they should make. Pick one: Meadow or Valleys, but those two words don't work side-by-side. I say go with Meadow.
Blackwolf Run is owned by Herb Kohler--The King of all Thrones. For many more reasons than a good throne, I love Herb Kohler. He has us play a makeshift course at Blackwolf Run but he calls the USGA out to establish a course rating and slope, prints new scorecards and changes the plaques on each hole to match the temporary routing. The man tells a good story, appreciates great Scotch and spares no expense. What's not to love?
As far as Dye goes, I love him, but what's to like? The man messes with our minds, our swings and our psyches. He buries our egos in the rough, which is usually eight feet from the green. Today we played two contrasting nines, both by Pete Dye. You have the hit-it-through-a-tube Pete Dye: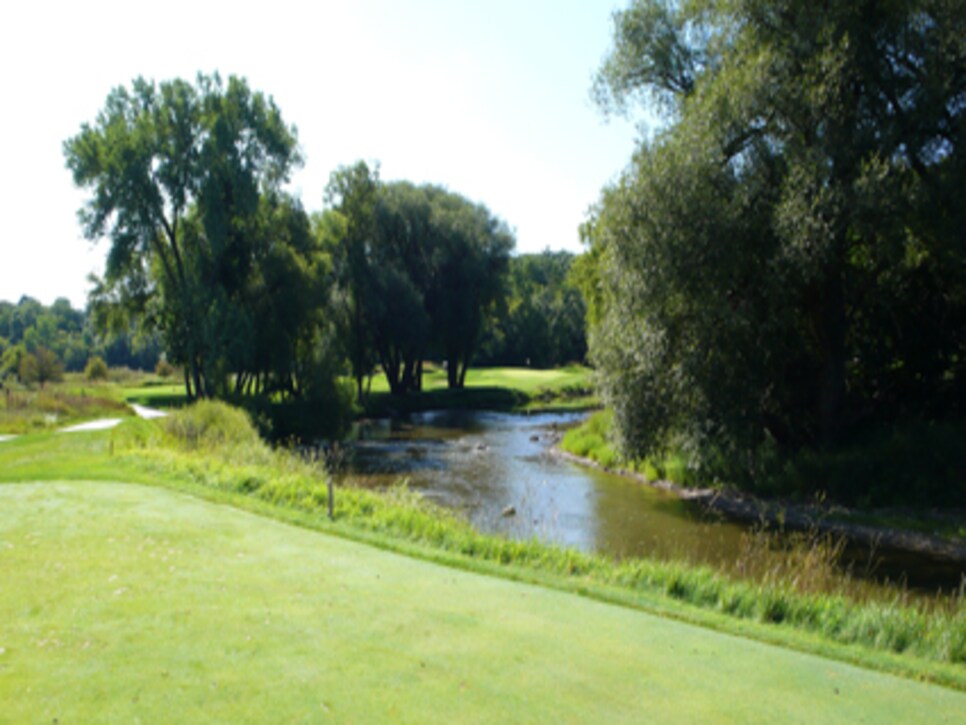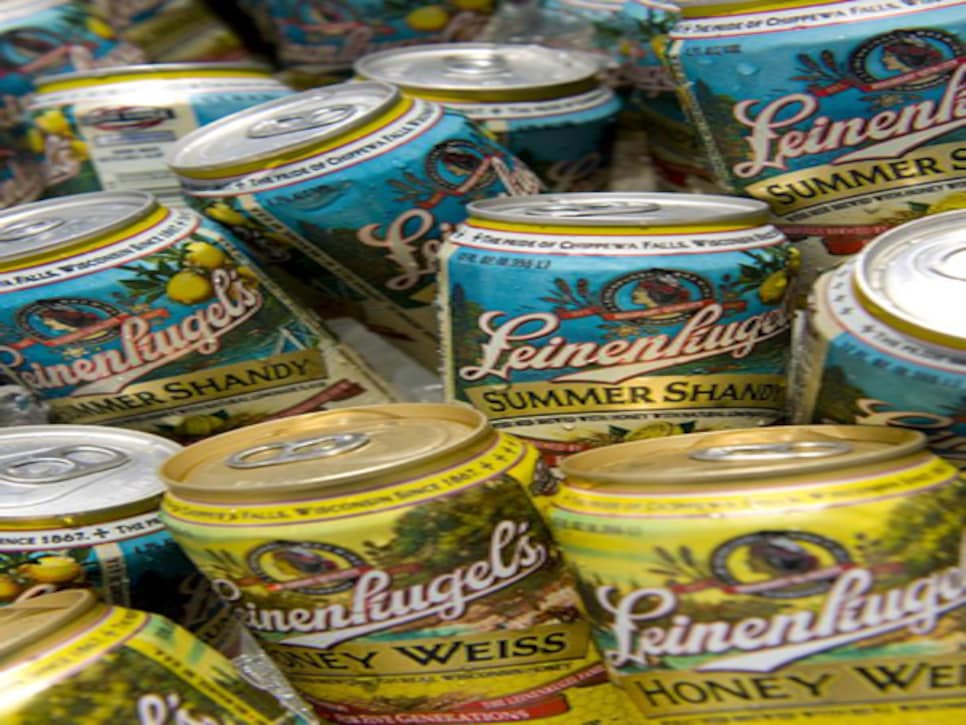 No real complaints from this camp. The course is in perfect shape, hospitality was rolling at a 13 and I'm coming back with at least one profile of a cute beverage cart girl. You'll meet Marla Penkwitz later this week.
I tweeted on Twitter all day. Here are a few notable entries: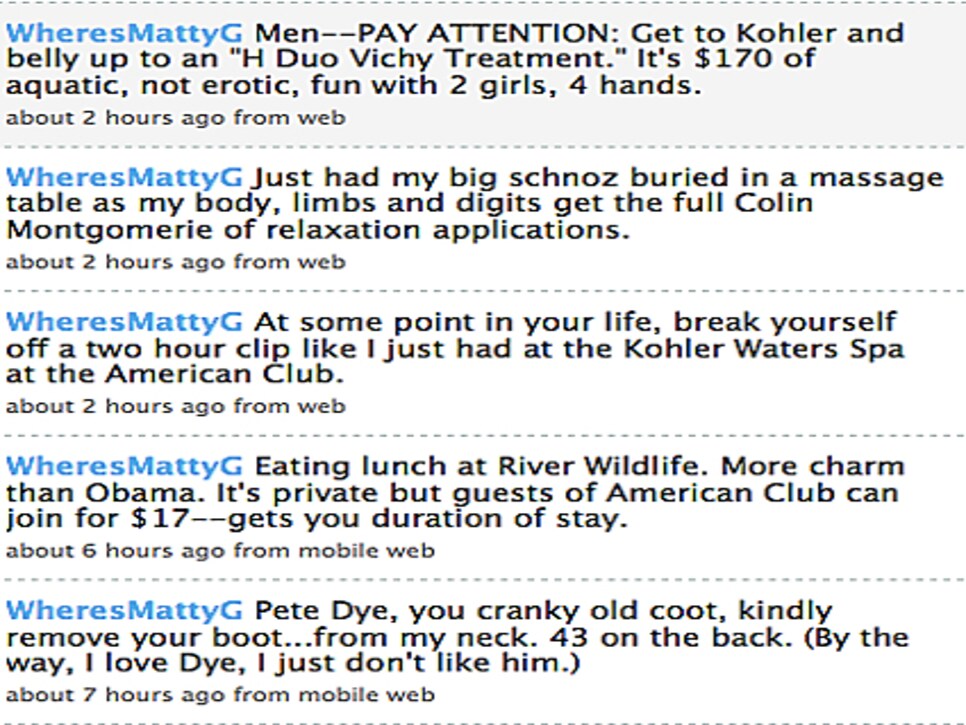 Look for more tweets and blogs from Kohler this week. The Wednesday itinerary calls for Straits and Irish. A 36 under the same sun that should rival past days of Pinehurst No. 2 and Pine Needles, Pebble and Spyglass, Pacific Dunes and Bandon Dunes. Take that Pete Dye--my life has no rough.