The Loop
Wimbledon is the embarrassing mess of the sports universe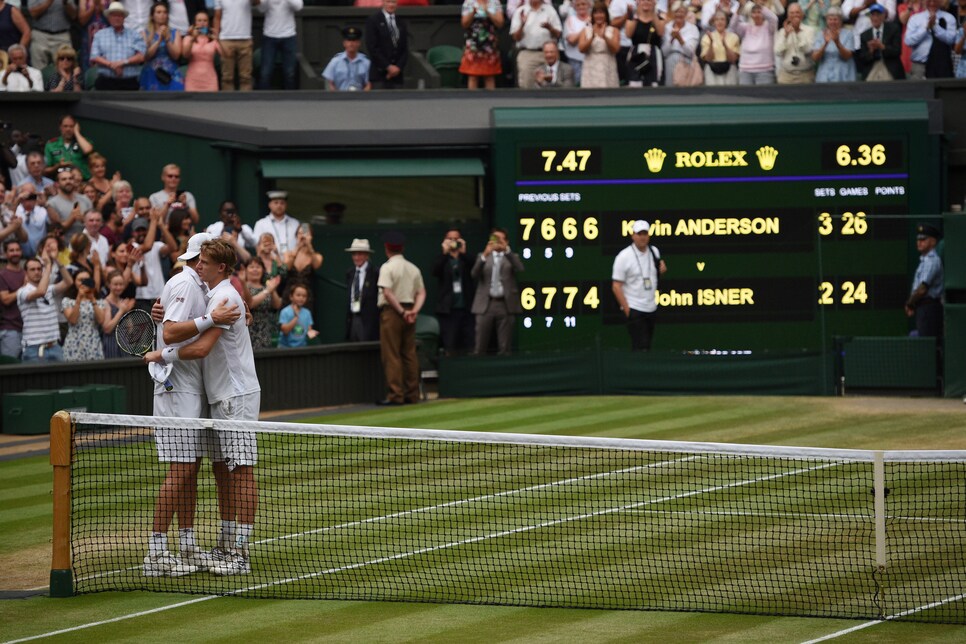 Starting on Friday afternoon, let's count the ways Wimbledon screwed up. It's pretty impressive stuff.
1. The tournament had two men's semifinals on the schedule, and past history has shown us that men's grand slam matches can take an extremely long time (partly because of a stupid rule, but we'll get to that in a moment). So what time did the organizers start the first match? 1pm. ONE. EFFING. PM. Because why use any part of a perfectly good morning when you can split the best match into a two-day session under an unnecessary roof and OH BOY I'M GETTING AHEAD OF MYSELF AGAIN.
2. They had one marquee match in Rafael Nadal vs. Novak Djokovic, and one garbage servebot match in Kevin Anderson vs. the Servebot Lord Himself, John Isner. The worst case scenario for them was that the tall goobers would play so long that it would delay the good match that everyone wanted to see, either pushing it to Saturday or pushing the start time back so often that they lost viewers. (In the end, they managed both.) Since breaks of serve would be rare, there was an extremely good chance that a bunch of sets would go to tiebreakers and the fifth could stretch on forever. The obvious play was to send Rafa-Djoker out first. So what did they do? Of course—lead with the servebots.
3. In the fifth set, after the 'bots split the first four, neither one could come close to forcing a break. With mechanical repetition, they held and held and held and held. Luckily, the match ended at 7-6 in the fifth set when they played a tiebreaker, and sanity prevailed, and everything was fine.
EXCEPT IT DIDN'T, AND IT WASN'T. See, Wimbledon (and the French Open, and the Australian Open) has a rule that there can be no fifth set tiebreaker because God only knows why (I'm assuming tiebreakers are consider gauche by the elbow patch tweed people at the club, or something), which means that a match can go on indefinitely until somebody wins by two. Now, in a rational world this would have changed a few years ago, when John Isner defeated Nicolas Mahut in a match which had the actual scoreline of 6-4, 3-6, 6-7, 7-6, 70-68.
Let me repeat that last set score: Seventy. To. Sixty-Eight.
And believe me, even though that might sound cool, it's about as awful as tennis gets. What happens is that you take two players who are good at serving and not very much else, add debilitating fatigue, and suddenly you have a situation where nobody is even really trying to break serve. At that point, you're locked in a never-ending death spiral. That particular match went on for three days and more than 11 hours, and was the clearest empirical evidence that the no-tiebreaker rule needed to be changed.
Instead, fast forward to the present—there we were on Friday in the year 2018, with the same Most High ServeGod Isner facing Kevin Anderson, and the same damn thing happened. This time it "only" went to 26-24, and the match time was "only" six hours-plus. But it was probably more nightmarish, because it happened in a semifinal. As John McEnroe and various other announcers said afterward, it was bad for the fans, the players on the court, the players waiting, and also the sport in general. In short, CHANGE THE DAMN RULE.
4. About those other players: Because of the first three screw-ups listed above, Nadal and Djokovic didn't take the court until daylight was practically gone. Since this is an outdoor tournament and it was pretty obvious they weren't going to finish, Wimbledon should have swallowed its pride and postponed their match until Saturday. They didn't.
5. Instead, they moved under the roof, which is fundamentally unfair because Djokovic is a better indoor player than Nadal, and this is not supposed to be an indoor tournament. Nevertheless, the tennis was great, and after Djokovic won the third set, it was shaping up to be a great end to the match, until...
6. They stopped play because of a #%$ CURFEW. Yes, a curfew. Like the kind your strict parents would enforce when you're not a grown adult.
Due to the fact that the Wimbledon Council of Olden Magistrates and Barristers still rules the roost at the All England Lawn Tennis and Croquet club—for Americans who don't know, Wimbledon is basically Augusta National in terms of tradition getting in the way of what is otherwise a really good event—there can be no play past 11 p.m. even on a Friday night. To the chagrin of the crowd, they had to suspend the match after the third set breaker. It was also to Nadal's chagrin—he's in better shape than Djokovic at the moment, and despite being down two sets to one, he had what looked like a significant fitness advantage that could carry him through. That edge went down the drain when they gave Djokovic the rest of the night off and allowed him to return refreshed in the morning.
7. In the morning, they resumed the match, but even though the sky was clear, they closed the roof again! Why? Because they also have a rule that unless both players agree otherwise, a match has to be played entirely under the same conditions. Clearly, Djokovic wanted to stay under the roof, so Nadal was forced to play once more at a disadvantage. That moment, with the sun shining at 1 p.m. and the roof still closed over centre court, is probably the best embodiment of the absurdity of the whole affair.
Nevertheless, the tennis was once again great, and Djokovic won a classic by the score of 10-8 in the fifth set.
8. Which delayed the women's final, inevitably resulting in fewer viewers as Serena Williams attempted (and failed) to tie Margaret Court's all-time Grand Slam record with her 24th title.
9. And then, on Sunday, they scheduled the men's championship at the same time as the World Cup final. Which, by the way, almost featured England.
After all these bogus decisions, the remarkable upshot is that Wimbledon accidentally protected Roger Federer's overall Grand Slam lead. By virtue of their own incompetence, they helped keep Nadal at 17 Slams, three behind Federer's 20, and may have actually changed the course of tennis history in the process.
Other than that? Pretty good tournament, Wimbledon.
The "This Guy is Ruining Tennis" Player of the Week: John Isner
It is almost unbearably sad that John Isner is currently the best American man playing tennis, because his style is atrocious and soul-killing. I joked on Twitter that other than his extremely good serve, he's a USTA 3.5, and while that statement is not at all true, it has a truthy quality. He is incredibly one-dimensional, and while I give him full credit for forging a very good career on the strength of his one very good trick, the fact is that the brand of tennis he plays is incredibly boring. Seeing his name in the latter stages of a tournament is like seeing Italy in a World Cup final—you just know it's going to be a stilted, unpleasant slog.
Luckily for everyone, one-dimensional tennis isn't good enough to win Grand Slam titles in the modern era...you need to have actual skills beyond the serve and volley. Still, Isner is good and influential enough that he can hang around to the bitter end in Wimbledon and almost unilaterally—with only a crew of moronic organizers helping him—ruin a good thing. Ban Isner!
The Tennis Hot Take of the Millennium: Peak Djokovic is the Greatest Player of All-Time
Hear me out: He's 23-22 against Federer, including 9-6 at grand slams. He's 27-25 against Nadal, and while he's only 5-9 against him at slams, he's 4-3 when you don't count matches played at Nadal's clay kingdom in Paris. But those are just longevity stats—I am convinced that Djokovic at his best is better than anyone who has ever played the sport. He owns the greatest season in men's tennis history, but even beyond that, the way he can do absolutely everything on a court—serving, defense-into-offense, net play when needed, the world's greatest return game, and ground strokes that make my eyes bug out—has no equal, even in Federer and Nadal.
This is not a career measurement, of course, because on that front it's Federer/Nadal and nobody else....yet. I will perhaps be confined to tennis prison for this heresy, but I'll say it anyway—at his best, the Djoker has played the most sublime, perfect tennis in world history. And if he can keep his head straight and maintain the level owe saw at Wimbledon—ie, if he can be the Djoker of old—it's not impossible that he'll accumulate eight more majors and one day overtake Federer as the G.O.A.T. by any measure.