The Loop
Try this 8-course, 5-day golf trip to Williamsburg, Va., and you will NOT be disappointed
The mark of a great golf trip is not being able to determine the best or worst course played along the way. As some friends and I drove back from a five-day journey to Williamsburg, Va., we happily struggled with both. So how did we get to that point? Here's a look back at our itinerary.
Day 1: Williamsburg had been mentioned as a possible venue for the annual HGGA (don't ask) Championship for years, but the underrated golf destination became a more popular choice as we passed signs for it on our way to Myrtle Beach last summer. Our group likes to drive from the N.Y. area and cutting the time in the car almost in half was very appealing. We broke up the sevenish-hour drive down even more by stopping in Maryland to play Bulle Rock Golf Club. Good choice. The Pete Dye course, which has hosted the LPGA Championship five times and is No. 78 on Golf Digest's list of America's 100 Greatest Public Golf Courses, was a treat to play, even in high winds that made a tough track even more difficult. The green fee was $130 and we paid an extra $25 plus tip to have a forecaddie. Worth it. Then we got back in the car and continued south. When we hit rush hour traffic, we waited it out by stopping for a long meal at Chili's . . . savvy! We arrived in Williamsburg around 10 p.m. and checked into the luxurious Kingsmill Resort. Not that we spent that much time inside or at the spa and pool -- there was too much golf to be played!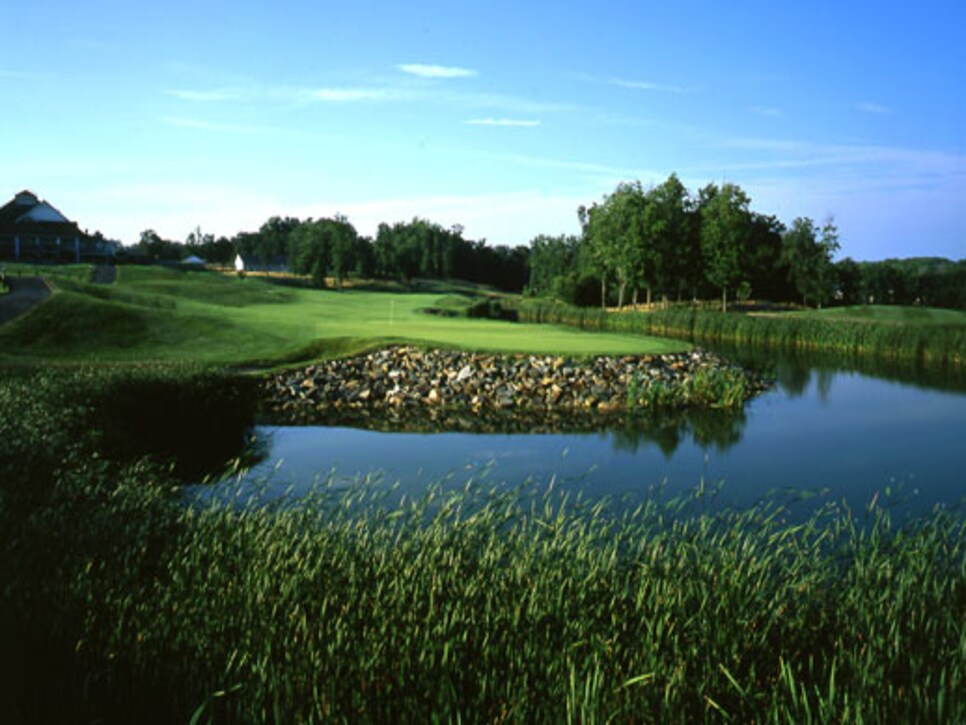 The par-4 18th at Bulle Rock.
Day 2 - Morning: The opening round of the tournament was 10 minutes down the road at Golden Horseshoe Golf Club. In the morning, we played the Gold Course, which Robert Trent Jones Sr. called his "finest design" and is No. 54 in Golf Digest's list of America's 100 Greatest Public Golf Courses. The course was in immaculate condition and featured one of the best collection of par 3s I've ever seen, including an island green on No. 16 that the starter made sure to inform us pre-dated TPC Sawgrass' No. 17 by nearly 20 years. Just be ready when you make the turn. A 450-yard par 4 starts a much more difficult back nine that also includes a 600-plus-yard par 5.
The par-3 16th at Golden Horseshoe (Gold).
Afternoon: We drove about five minutes to get to the Golden Horseshoe's Green Course, designed by Rees Jones and the site of Yani Tseng's win over Michelle Wie in the final of the 2004 U.S. Women's Amateur Public Links Championship. Despite Jones' reputation as the "(U.S.) Open Doctor," this was a perfect spot for a fun afternoon round, with mounds on many holes that acted as side boards to keep the ball in the fairway. The course wasn't in as great of shape as its sister course (but what is?), but it had nearly as many interesting holes, including the uphill par-5 18th.
Day 3 - Morning: Speaking of interesting holes, welcome to Tradition Golf Club at Stonehouse. Among its accolades, the course was named "Best New Upscale Golf Course" by Golf Digest in 1996. Unfortunately, the course's conditioning has apparently gone down since then. Or maybe we just caught it at a bad time. There was, after all, a crane digging dirt from the side of the 18th green that we had to try to avoid with our approach shots. Not even the innovative architect Mike Strantz meant for it to play like that.
Afternoon: If Stonehouse was an adventure, Ford's Colony Country Club was a more traditional layout. We played the Blackheath Course there and enjoyed being on a well-manicured course that didn't make you think about where to hit on every single shot, but still featured more than its fair share of dangerous spots with water coming into play on 13 holes.
__Day 4 - Morning:__After walking and driving around Kingsmill Resort for a few days, it was nice to finally get out on the actual courses within the resort. Up first, the River Course, which currently hosts the LPGA Kingsmill Championship every year and was previously a PGA Tour stop for 22 years. Ranked No. 90 on Golf Digest's list of America's 100 Greatest Public Golf Courses, its first 15 holes are very good and its last three are spectacular. The 17th is a stunning par 3 by the water and you might remember the 18th as the hole Jiyai Shin and Paula Creamer played eight times in a playoff at the 2013 Kingsmill before Shin won the next morning on the ninth try.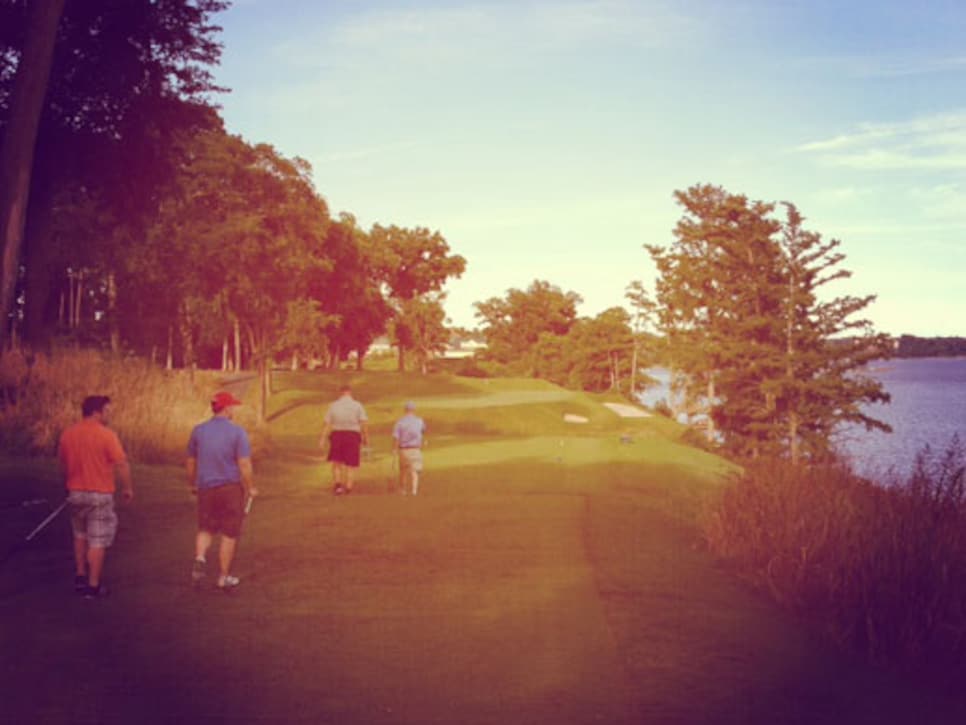 The par-3 17th at Kingsmill (River).
Afternoon: Instead of replaying the River Course, we tried Kingsmill's Plantation Course, which only cost $30 in the afternoon. After a few pedestrian holes, this course got really good. And not just good for $30 good. After finishing No. 18, we were left near that glorious finishing stretch of the River Course. Remember when we mentioned that long LPGA playoff? Well, we may have played that 18th hole an extra time, too. Shh. . .
Day 5: We played The Tradition Golf Club at Royal New Kent, another Mike Strantz design to finish things off, in part because it was 40 minutes in the direction we'd be driving home. Like Stonehouse, the links-style course featured some unique holes. But also like Stonehouse, the course had fallen off in the conditions department from when it was featured in Golf Digest's Top 100 Public Courses in 2007-2008. Another negative was all the blind shots, but that's something that wouldn't be as big of a deal a second or third time around.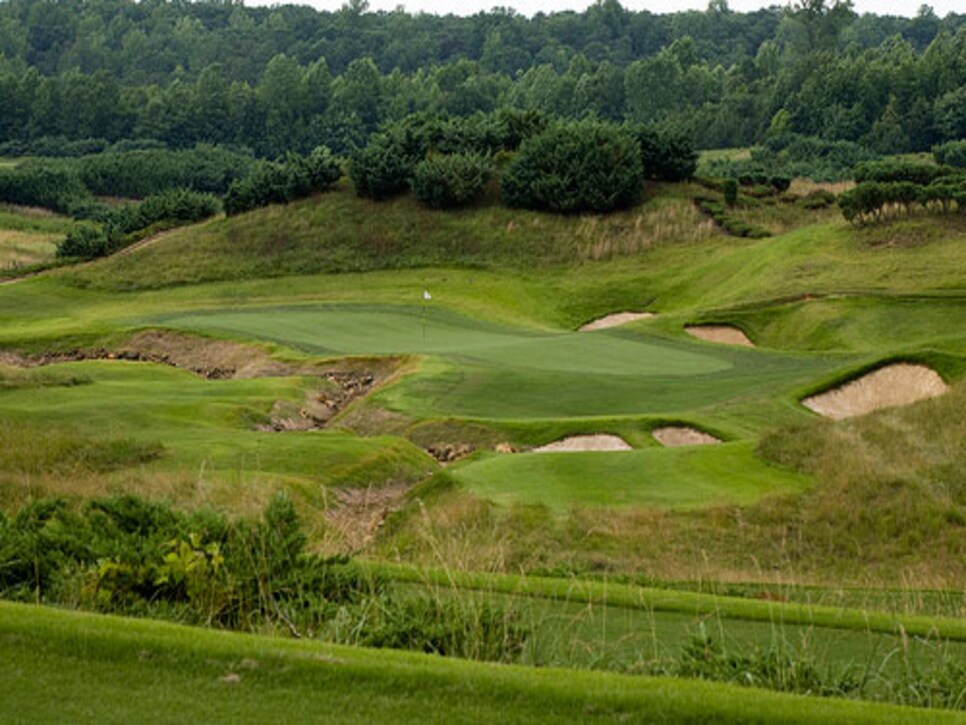 The par-3 7th at Royal New Kent.
So there you have it. Five days, eight different courses, and six very satisfied golfers. Williamsburg more than delivered when it comes to high-quality golf -- enough to leave everyone struggling to pick just one favorite track and unable to pick a least favorite. Throw in reasonable early summer rates and a reasonable drive and you've got the makings of a great trip. We'll be back.