The Loop
College freshman's Thursday plans: Play Riviera in the morning and do some homework in the afternoon
A group of 14 college golfers participated in then Northern Trust's Collegiate Showcase on Monday, but only one was able to extend his stay at Riviera. Wake Forest freshman Will Zalatoris shot 67 to win the inaugural event by five shots and earn a spot in this week's PGA Tour event.
Thanks to Presidents Day and some rare snow in Winston Salem, N.C., Zalatoris, who played with fellow Demon Deacon Bill Haas in Monday's qualifier, won't be missing too many classes, but that doesn't mean his schoolwork stopped.
"Got a couple of labs due on Thursday, so I'll be playing golf in the morning and doing some homework in the afternoon," Zalatoris. Good for him.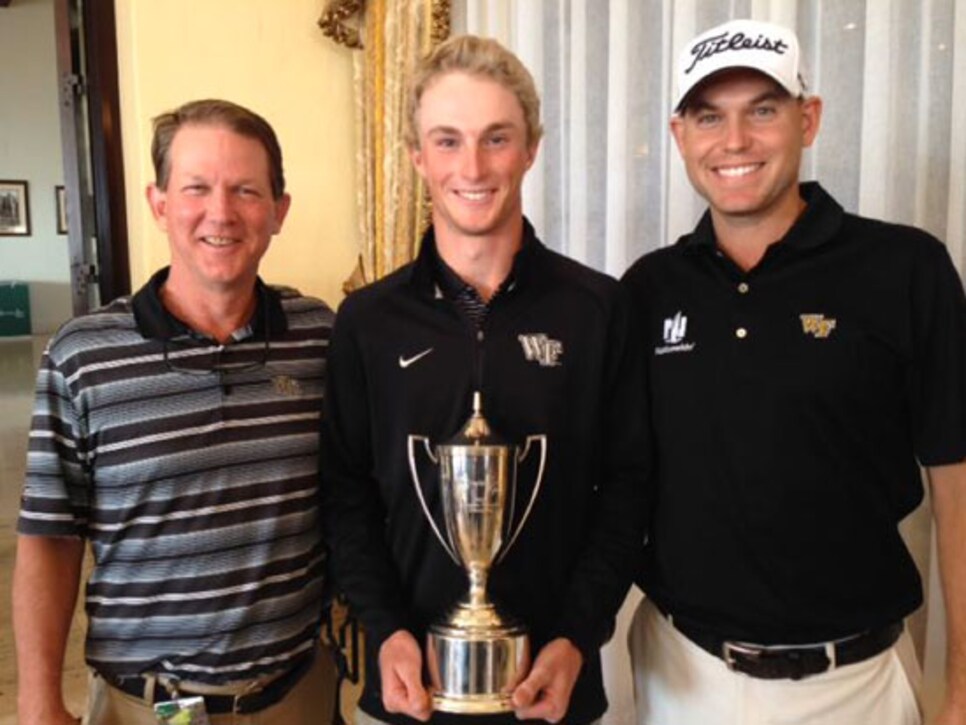 Zalatoris (center) with Bill Haas (right) and Wake Forest men's golf coach Jerry Haas.
Despite his youth, Zalatoris is just as diligent when it comes to studying his own game. Thanks to the influence of his caddie, Scott Fawcett, Zalatoris is a big fan of statistical analysis.
"It's actually statistical numbers off of actually course management," he said. "So figuring out if I should be trying to challenge a bunker or challenging a green or doing stuff like that. So taking a lot of the numbers from Mark Broadie in strokes gained and applying them actually as a guide to how I play. So it's kind of a new way of looking at things, and it's really helped me."
Zalatoris will tee off Riviera's first hole at 8:35 a.m. local time and the reigning U.S. Junior champ will be playing with Alex Prugh and Carlos Sainz Jr. After easily winning the qualifier, the 18-year-old Texan will walk to the historic first tee with a lot of confidence.
"I don't think I'll be nervous at all," he said. "I know if I play my game, some people -- there will be very few people I think will beat me. It's exciting for me. I know a lot of guys always talk about that first tee shot. But if anything, this is what I've been working towards. In my mind, I've already hit that first tee shot in my mind a thousand times."