News
Will married life make McIlroy a better golfer? Rory is anxious to find out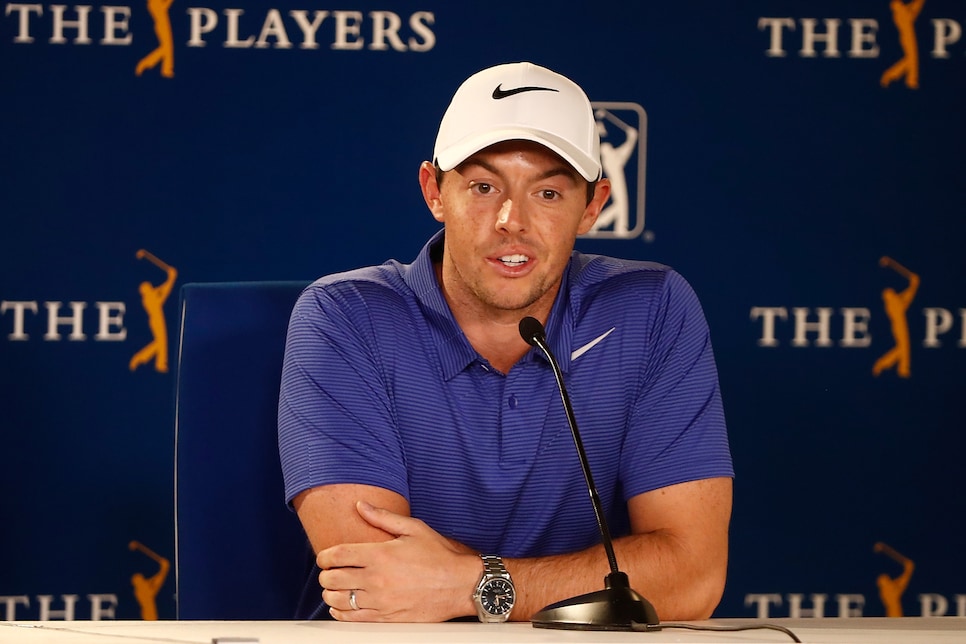 PONTE VEDRA BEACH — Rory McIlroy's completion of the career Grand Slam will have to wait another year, but his disappointment didn't last too long.
After tying for seventh at the Masters, he raced back to his rental home for the final few holes of the tournament to watch close friend Sergio Garcia win his first career major.
"I cried," McIlroy said Tuesday from the Players Championship, where he's teeing it up for the first time since the final round at Augusta and playing for the first time since getting married two weeks ago. "It was unbelievable. Justin [Rose] is a great friend of mine but … I hadn't seen Sergio since and the first time I saw him was when he got in for our wedding on Friday night, and I gave him the biggest bear hug.
"Just to see what he'd been through and the struggles—and for it to be there. I'm getting goosebumps even talking about it. It was a great story."
McIlroy, meanwhile, is looking forward to authoring the next chapter of his career and life.
The 28-year-old tied the knot with Erica Stoll, a former employee of the PGA of America, two weeks ago in what was by all accounts an epic ceremony at Ashford Castle. He and his new bride then disappeared for 10 days for their honeymoon on Canouan Island in St. Vincent and the Grenadines in the Caribbean, where they stayed at $14,000-a-night posh resort on the private island owned by billionaire tycoon and Celtic Soccer Club owner Dermot Desmond.
Shortly after returning to his Florida home last Friday, McIlroy signed an endorsement deal with TaylorMade to play the company's clubs and its new TP5x ball.
"I needed to address a few issues after Augusta," he said. "I wasn't really happy with the golf ball I was playing, and I needed to do something. I felt like I struggled in the wind. So I sort of went back to the drawing board and tested for about 10 days pretty extensively after Augusta, worked with a lot of different things."
With everything settled in his life, on and off the course, McIlroy is hoping all of it will only help when it comes to his play.
He also doesn't envision the same sort of struggles he faced when he rushed into an equipment change a few years ago.
"There's not many question marks going on in my life right now," he said. "I feel like everything's exactly where it's meant to be, and if you feel like that off the golf course, then I can only imagine that it will help you on it."