The Loop
Will Bradley's win prompt a rush on long putters?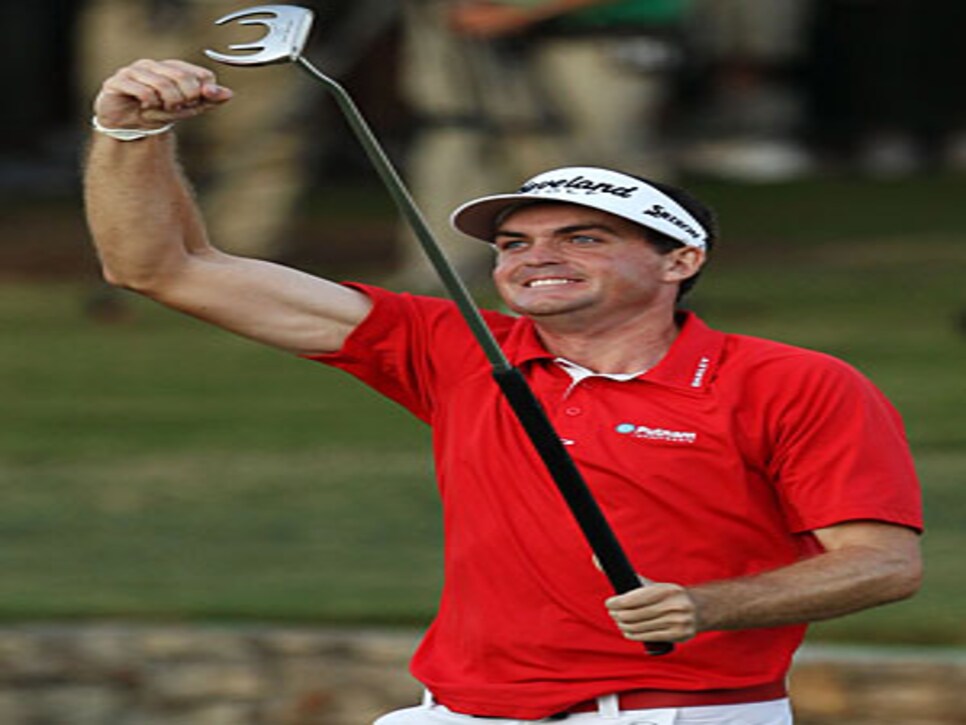 By winning the PGA Championship at Atlanta AC, Keegan Bradley became the first player to win a major with a long putter.
Now before folks get all worked up. This means one of the Grand Slam events. There have been senior majors won with long putters (Charles Coody, Bruce Lietzke and, most recently, Bernhard Langer) and Angel Cabrera won the Masters in 2009 using a belly-length putter (although he did not stick it in his stomach). And although Bradley calls it a "belly putter" and uses it as such, in our mind it's the length of the club, not the technique used, that matters. Bradley's Odyssey White Hot XG Sabertooth with a double-bend ski-pole shaft is 46.75 inches long -- or just more than two inches shy of Adam Scott's 49-inch Scotty Cameron by Titleist broomstick. That qualifies.
Of course, Paul Runyan started this whole thing. In the 1936 Belmont Open held in Boston, Runyan used the forebearer of the belly putter by sticking his putter in his stomach and widening his stance for balance in the wind. When he found after a while that he couldn't find the touch on longer putts, he lengthened his putter. Runyan later wrote in Golf Digest something that seemed to side with the point of view that broomsticks should be swept away because they provided an advantage for those feeling nerves on the greens.
"An advantage I hadn't expected is that this system minimizes the adverse effect of nervous tension," Runyan once wrote in Golf Digest.
A week ago, Golf Digest senior editor for equipment, Mike Stachura, posted an item on long putters. In it, he cited the USGA's Mike Davis on Golf Channel's "Morning Drive" program, saying of long putters, "We don't see this as a big trend. It's not as if all the junior golfers out there are doing this. No one's even won a major using one of these things anchored to themselves. So we don't see this as something that is really detrimental to the game."
Perhaps not. But plenty of golfers do. What do you think? Should belly and long putters be allowed or banned?
Follow on Twitter: [@EMichaelGW
](http://twitter.com/emichaelgw)
(Photo: Andrew Redington/Getty Images)