Will another engagement again derail Rory McIlroy's career?
Stories of interest you might have missed…
Will history repeat itself in the case of Rory McIlroy, who is engaged again? James Corrigan of the Telegraph argues that it won't. "If any of Rory McIlroy's admirers fear his recent engagement [to Erica Stoll] will lead to a repeat of history, and another derailing of his career, they need not worry," he writes. "Different times, different characters and, for McIlroy, the sense that his 'low-key' relationship will actually assist his quest to return to world No  1."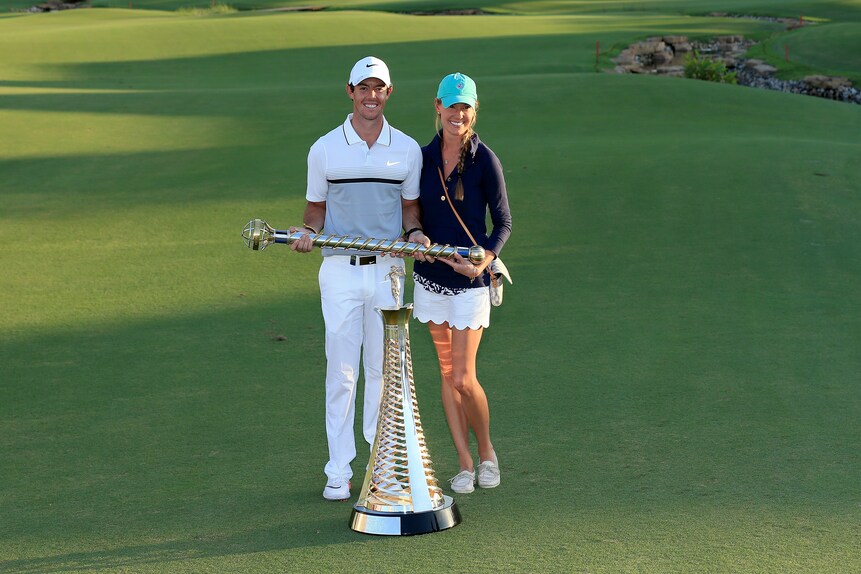 Rory-McIlroy-Erica-Stoll.jpg
DUBAI, UNITED ARAB EMIRATES - NOVEMBER 22: Rory McIlroy of Northern Ireland poses with his girlfriend Erica Stoll and the DP World Tour Championship and Race to Dubai trophy after his one shot win in the final round of the 2015 DP World Tour Championship on the Earth Course at Jumeirah Golf Estates on November 22, 2015 in Dubai, United Arab Emirates. (Photo by David Cannon/Getty Images)
"Ryder Cup legend Paul McGinley believes America's grand blueprint to regain parity in golf's greatest team competition has put them under 'massive pressure' ahead of next year's clash at Hazeltine," John Greechan of the Scottish Daily Mail writes. "'There's a lot of expectation because they've made a lot of decisions they think are going to guarantee their success,' McGinley said. 'You travel around America and everyone there thinks this will be a walkover for them. But playing with expectation on your shoulders is a difficult position to be in – because you've nowhere to go from there.'"
How did Italy wind up getting the 2022 Ryder Cup? Iain Carter of the BBC has the answer: "The decisive factor in Italy's successful fight to stage the 2022 Ryder Cup was the usual one in these circumstances - money. This may seem a cynical assessment, especially when bid documents are laced with words like 'legacy,' 'integration' and 'participation.' But the European Tour came clean when it acknowledged that Italian golf's financial pledge was 'hugely significant.'"
You are using an unsupported version of Internet Explorer. Please upgrade to Internet Explorer 11 or use a different web browser.