Wild Card: Poker Champion Phil Hellmuth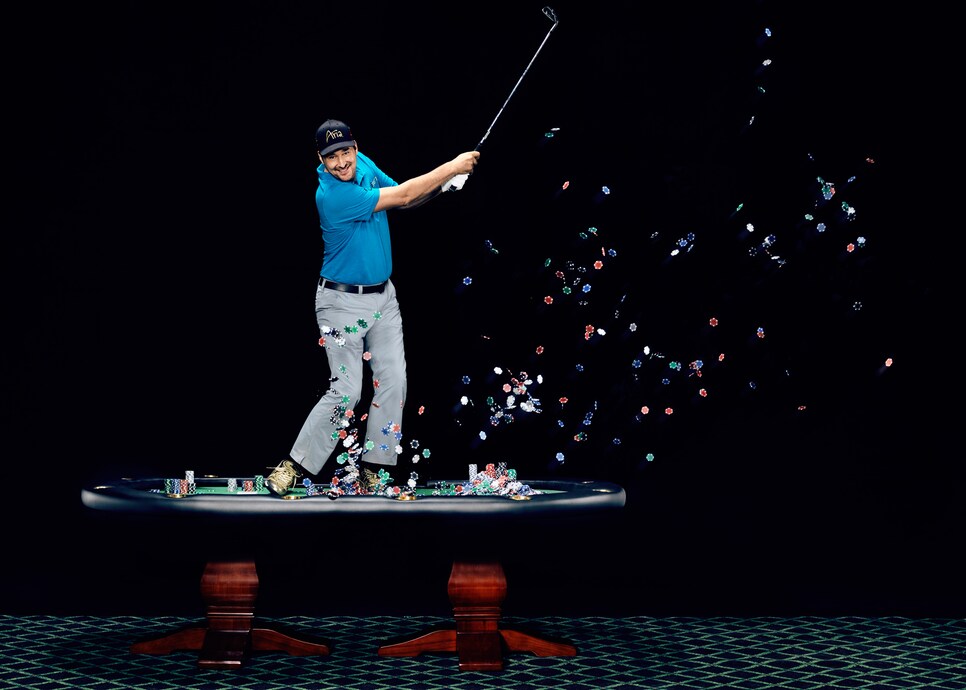 Phil Hellmuth ranks among the best—and most colorful—poker players of all time. With 14 World Series of Poker championships, he has won more of the game's coveted gold bracelets than any other player, accruing tournament winnings in excess of $19 million. But there's more to his life than holding and folding. When the card-room action dries up, you'll often find Hellmuth, 51, on the golf course, where he goes head to head with professional athletes, casino bosses and stone-cold hustlers.
Golf Digest: What came first, poker or golf?
Phil Hellmuth: Golf. I started playing when I was 14 or 15 years old. I wanted to become good at golf because I saw a lot of really successful people being good at it—and I planned on being successful.
How do you compare golf with poker?
There's more luck in poker. Getting good at golf requires a certain amount of physical aptitude. Both take a lot of patience. Both require knowing when to gamble—either with a big bluff or a high-risk shot. Both can be infuriating. I'm known for showing emotion at the poker table, and I used to be the same way with golf, throwing clubs and acting like a complete brat, until about five years ago. That was when I realized that I'll never really excel at golf. I'm a 16-handicap! With poker, I'm supposed to be great. There are records at stake and a lot of cash on the line. So I feel more emotionally connected to things going wrong with poker.
Did you start gambling at golf right away?
Not until the 1980s. That's when I began playing poker in Vegas. For a lot of the era's top guys, people like Doyle Brunson and Puggy Pearson, poker extended to the golf course. If you're playing poker professionally and spending a lot of time in casinos, golf is perfect. You get sunshine, exercise and continue competing against one another for money.
Puggy was known for being one of the poker world's biggest hustlers. What do you do when you're against a guy like that and clearly in over your head?
I try to avoid those situations. When I don't know my opponent, I suggest adjusting three times per round. At the completion of six holes, you get a half-stroke for every hole that you're down. If I'm ahead by three holes after the first six, you get 1½ strokes for the middle six. It keeps the game honest. Otherwise, I might try buying my way out—you offer to give your opponent a portion of the money that's been wagered and stop the match.
How often do you buy your way out of matches?
If I'm getting beaten real badly, it's something I consider doing. Not long ago, I was playing at Shadow Creek against Bill McBeath, a good friend of mine who runs the Cosmopolitan of Las Vegas hotel and casino. We were playing nine holes, my 7-iron against his 9-iron, for $1,000 per hole. McBeath was crushing me from the start. After the fifth hole, I asked what my option would be for buying out of the match. He said, "Phil, here's your option: We go to the clubhouse, have a nice, cold beer, and you pay me for all nine holes." Bill is a great guy, but he has gamesmanship, and, at the moment, I was thinking, Effing McBeath ... I managed to tie two of the holes and lost $7,000.
I hear McBeath set you up with a locker at Shadow Creek, which comes with unlimited free golf.
That's right. Other people who have lockers there are George Bush I and II, Bill Clinton, Freddie Couples, Michael Jordan. One time I was in Vegas with M.J. and his crew. I had dinner with them, gambled with them, clubbed with them. And Michael said that I should meet them for golf at 11 a.m. I told him that I don't get up that early. He started laughing and said, "That's right. You're a poker player." I promised to be there at 3, got there at 3:30, and they were on their 32nd hole of the day. It was a July afternoon, and he was out there in his sky-blue North Carolina golf cart, blasting tunes, going faster than the other guys in his ninesome. They roll real quickly, talk while the other guys are hitting and gamble for all kinds of money. I was ready to play when M.J. said to me, "Phil, it's so hot, we're going to call it a day." That was a little disappointing. But we went to the clubhouse—which is totally baller—for Louis XIII cognac and 70-year-old scotch. Next time I get invited to play with Michael Jordan, I'll get up a little earlier.
"When strangers walk up to me and want to play golf for money, I worry."
You once spent some time with Tiger?
I did. I participate in a charity event called Tiger Jam, which Tiger puts on at Shadow Creek. One year I was told that he wants to meet me. I was excited and figured it would be really memorable. I played the round, made it to the 18th green, and there, finally, was Tiger. But Jon Bon Jovi's dad was with him. I was, like, OK, this is cool, but not as special as I thought.
It was supposed to be just Tiger and me. Then somebody said to give us room so Tiger and I could hit balls together. We each had a pile of brand-new balls and started talking. He messed up a shot, slammed down his club, and used the F-word. That behavior seemed familiar to me. We talked about passion and being perfectionists at what we do and hating to make mistakes. We hit for half an hour and had a good time. Later, that night, we played high-stakes blackjack. At the time, he had won 14 majors and I had 13 World Series of Poker bracelets. When I won my 14th, this past summer, I sent him a text message: I caught you.
What's Tiger like at the blackjack table?
Tiger is excellent at blackjack. He bears down a little bit, pays attention, and plays perfect basic strategy. He takes his losing hands well and doesn't get upset, though you do see that extra bit of focus at times. I remember having a 13 against the dealer's 2 and not being sure what to do. Tiger immediately told me to stand—and he was right. It's the correct play. I said, "Aren't you supposed to be a dumb golfer?"
He cracked up. I remember that Tiger won big that night. I'm not going into the number. But if I say big, of course it was six figures.
With all the time you spend playing golf in Vegas, have you had any encounters with Butch Harmon?
I met Butch on the day I was caddieing for Corey Pavin and ...
Wait, what were you doing caddieing for Corey Pavin?
We have a mutual friend, and Corey and I started hanging out. We hit it off really well, and I said, "I'd love to caddie for you sometime." In 2004, he told me to come to the tour event in Las Vegas at TPC Canyons. He hadn't played in Vegas a lot, so I expected to help him a little bit with reading the greens. He told me to stand up and shut up. We talked a bit, but he did not want golf advice from me. On the 18th hole, in the second round, he was right on the cut line. He turned to me and said, "Phil, don't say a damn word." That was probably smart on his part. He played the hole conservatively and made the cut.
Back to Butch: What were your dealings with him?
I was on the driving range, and Butch came out with Natalie Gulbis. She picked up a club, and I talked to Butch about golf and poker and living in Vegas. But, really, we were watching Natalie hitting balls. She has great golfing skills.
Being a well-known poker player, you come into contact with lots of big-time athletes. How competitive do they get during friendly games of golf?
Most pro athletes are super competitive, super clutch, and they don't want to lose at anything. Last season, after the Golden State Warriors won the NBA Championship, I ran into some of the guys at Marquee in Vegas. We were hanging out, and Andre Iguodala started talking about wanting to play Shadow Creek. I said I could arrange it. Next morning—I did get up early for the Warriors—I met Iggy, Harrison Barnes and Chamath Palihapitiya [a Silicon Valley entrepreneur and part owner of the Warriors] on the course.
I teamed with Iggy, who had just been named MVP for the Finals. He was still in the groove. He'd step up with a 180-yard shot and get right at the pin. When we needed him for 140 yards, he pulled out his 9-iron and ... boom! All day long he was clutch. Wayne Gretzky's the same way. Playing with Wayne at Sherwood, I conceded a $1,000 hole to him.
I was out of it, but he was 22 feet away for eagle. He made it without showing a whole lot of effort. Then, in a joking way, with no ego, Wayne said, "That's why they call me The Great One." I thought it was awesome—even though I lost the bet.
Serious gamblers play by fairly unique rules. I've seen guys in Vegas openly greasing their clubheads with vaseline to keep the ball straight. have you seen anything like that?
One time, playing at Bali Hai, me and a guy named Jeff Friedman were up against a professional golf gambler named Denny Mason and his partner. We started gambling for $2,000 a hole and moved ahead by a good sum of money. That's when Denny turned to his partner and shouted, "You're not good enough!" All of a sudden Denny's partner left the course, and a new guy rolled in to take his place. Denny had one guy on his bag and another on his speed dial. This other guy was warming up somewhere, waiting to be called in.
Did you freak out?
Jeff is a great golfer. He told me not to worry. Plus, Denny liked to drink. And the more he got buried, the more he drank—in the desert! We wound up winning $55,000 that day. This might sound really weird to you, but it was only a little weird to me. [Mason died in 2014.]
Is there a way to know upfront when somebody is hustling or sandbagging?
When strangers walk up to me and want to play golf for money, I worry. I wonder why they're coming to me, and I begin asking questions: When did you start playing? What's your best score? Are you playing your best golf right now? Where do you play? Usually I can tell if they're lying. Beyond that, if a guy tells me he shoots 90 and it turns out that he plays every few days at Industry Hills, I know he'll shave off some strokes on most any other course. Industry Hills has one of the highest Slopes out there. People can hustle without lying; they just withhold information. When a guy tells me that he shoots 100 but has a few 8s and 10s on his scorecard, I figure he shoots 91 and will want to play every hole for a lot of money instead of a nassau, where I can lose just three bets on the whole round.
When there's a large sum of money at stake, does that make you a better golfer?
If I'm messing around for a couple hundred dollars a hole, I seem unfocused. When the stakes go high, there's the extra grit, extra focus, and an extra 10 seconds taken before making my shot. I welcome moments to be clutch, and the money helps me to get there. It's no coincidence that I've parred an unbelievable number of ninth and 18th holes. That's because I had to par them to win the side. When I really need it, I'm there, and I deliver. Like only a few other things in life, golf [played for high stakes] gives me those moments in which I have to be clutch.